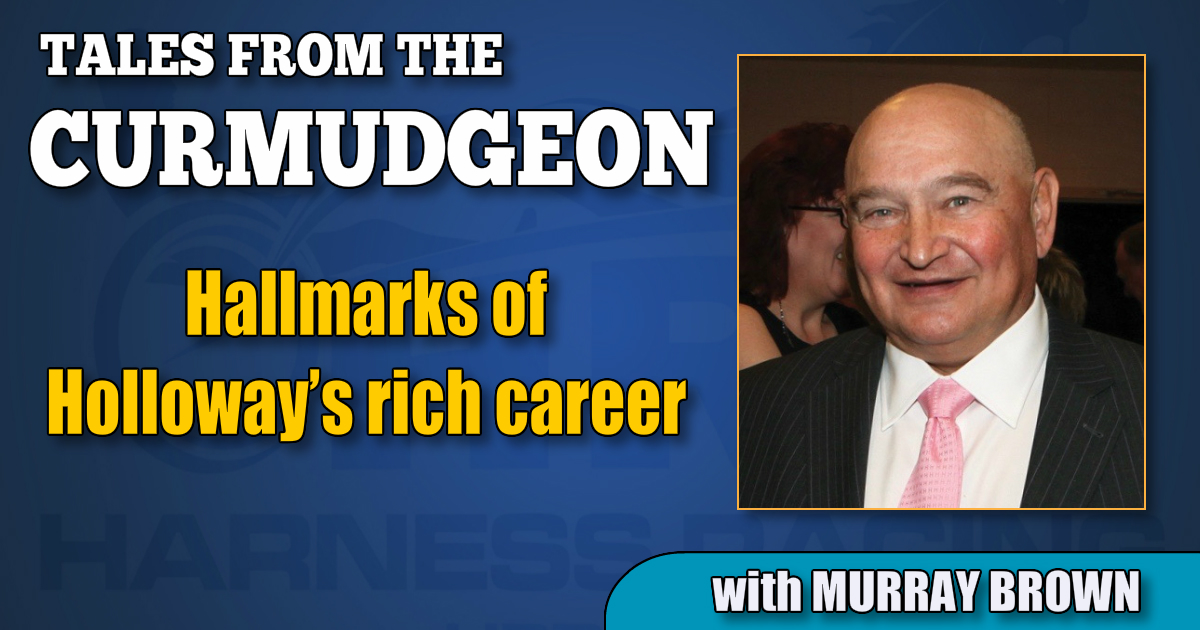 Hallmarks of Holloway's rich career
Hall of Famer Joe Holloway — who may have had more prominent Grand Circuit owners than anybody — believed he was in the sunset of his training career when along came superstar Perfect Sting.
by Murray Brown
Joe Holloway had no background in harness racing, although growing up in close proximity to Brandywine Raceway certainly was the main factor in it eventually becoming his lifetime profession.
His first introduction to the sport was through a Catholic priest, Father Francis Tierney, who trained a couple of horses on his own when apart from his flock.
While in high school and at the University of Delaware, Holloway worked intermittently for Dominic Marusco and Jack Parker Jr.
Holloway decided to go on his own and trained and raced on the Liberty Bell, Brandywine Circuit.
He describes those years as basically living from hand to mouth. His first and probably only horse of any stature at the time was Pentagon which he had claimed at The Meadowlands.
He credits Harold Kelly and Jackie Parker with teaching him a lot in those years.
The turning point in his career came when he answered an ad placed in the Harness Horse magazine by the father son team of Milton and David Rovine. The elder Rovine had a farm in Delaware from where the horses were domiciled. They were shipped to various trainers in neighboring racetracks — to Ray Remmen at The Meadowlands, to Stevie Warrington at Liberty Bell and Brandywine and got Bib Roberts at Rosecroft and Freestate.
The purpose of the ad was to secure a full-time trainer under whose responsibility all of the horses would be trained from a central location. They would be shipped to where they were to race and brought back to the Rovine training facility. The fact that the elder Rovine also had a shipping company made the transportation of the horses fairly easy.
Holloway met with the Rovines and was hired.
"All I had to do was train the horses," Holloway said. "David Rovine did everything else. He put together partnership groups. He entered all the horses. If there was staking involved, he took care of that. He arranged all the shipping. He paid all the bills and took care of the accounts receivable. My one and only job was to look after the horses."
To some degree, though certainly a lot smaller in numbers, it was comparable to the Ronnie Burke Stable, before anybody had even heard of Ronnie Burke.
"It was a great opportunity and together we went on an incredible run. At just about every horse sale, we sold a bunch and usually bought more," Holloway said.
He was with the Rovines for five years and was certainly treated well.
They trained some wonderful horses including Banker Blue Chip, Glen Almahurst, Dragon's Lair, Ramblin Storm, Tuff Choice and Stonebridge Skipper.
It wasn't unusual for them to have five or six in on a given Saturday night at The Meadowlands when that was the epitome of high-powered racing.
Jim Plate was involved in some of the Rovine partnerships. He told Holloway that he was leaving and was going to set up his own stable. In addition to racehorses, he would also be entering the yearling game. He offered Holloway the opportunity to come along with him as his trainer.
After some soul searching, Holloway thought he might never again get such an opportunity to guide his own ship at such a high level and he decided to leave.
Under the ownership of Plate, Holloway purchased four yearlings. They all turned out just okay. The best of them was a good pacer by the name of Yankee Tradition.
The first real good horse that Joe had a hand in developing was Tooter Scooter. Tooter Scooter's misfortune was being in the same crop that featured horses named Die Laughing, Artsplace, Precious Bunny and Cambest.
Holloway had drawn the eye of Mickey Chasanoff who together with his brother Allan owned the Alnoff Stable, one of the leading Grand Circuit Stables of the time.
"Mickey was a great guy and was really good to me, but I had my problems with his son Bobby," Holloway said. "Eventually our relationship ended."
The best thing that came out of my association with the Chasanoffs was that it was through them that I began my association with my number one patron Marty Granoff. That has lasted 25 years and counting.
But there were several other great owners waiting to secure the services of this then rising young star. It could probably be said that through the years Joe Holloway has had more prominent Grand Circuit owners than anybody.
Although, through all the years he has operated a public stable, it usually had one or two very prominent and well known owners.
The next to come along was Bob Suslow whom Holloway describes as being a truly wonderful human being.
"It was a pleasure training his horses. He was always so kind and generous and appreciative of any success we had together. I suppose the best horse I had for him was America's Pastime. Then came Lee Devisser, a man who I consider to be without par in this business. For him I had Florida Jewell, a horse that was the first truly great horse that I had a hand in developing. He was an exceptional trotter over here and then went overseas and earned almost $400,000 over there competing and sometimes beating the best horses on the continent. Unfortunately, those earnings and stakes wins are not credited him due to the USTA's antiquated record keeping."
The best was yet to come. Holloway trained the world champion pacing filly She's A Great Lady for Devisser. She was destined to produce another top filly in Lady MacBeach. Then came Lee's homebred Jenna's Beach Boy, a horse who until this year Holloway considered the best horse that he or maybe anyone else had ever had.
He was a world champion every year that he raced — at 2, at 3 and 4 — and retired as the fastest racing standardbred ever.
I won't speak for Holloway, who surely believes it, but somehow when speaking of the great horses ever, history often appears to forget Jenna's Beach Boy.
Then when John Celli, another Delawarean, was looking for a trainer for his $120,000 yearling Western Hanover son, Badlands Hanover. He chose Joe Holloway. All Badlands Hanover did was become the sport's first sub-1.50 2-year-old en route to winning the Breeders Crown. Unfortunately he did not come back at 3 to become the horse that his connections expected him to be.
Here's an anecdote regarding Badlands. Between his 2 and 3-year-old year, Kentuckiana Farms purchased a significant interest in Badlands. As part of the purchase, the horse underwent a physical examination. It was found that he had OCDs in both hind ankles. Presumably, he had raced his world championship 2-year-old season with those OCDs present. He underwent surgery to remove them. Was this the reason, or part of it, that he didn't come back to be the 3-year-old that most expected him to? Holloway thinks perhaps.
It would be unfair to omit Joe Hurley from any discussion regarding Joe Holloway. Another fellow Delawarean, he has been with Holloway virtually from the beginning.
In speaking of Joe Hurley, one automatically has to segue to Always B Miki.
When people speak of ABM, Hurley's name is rarely mentioned. But if not for him, there would have been no Always B Miki. Hurley not only bred Always B Miki, but he also bred his sire Always A Virgin and his dam Artstopper.
When Holloway speaks of Always A Virgin, he mentions that although he has been an excellent sire, he believes he might have been even better if he had landed somewhere other than Indiana. Not that the folks at Victory Hill Farm haven't done a great job with him. They most certainly have. He feels that if he had won the Little Brown Jug, he would have likely had access to a better selection of mares than he eventually received.
But this world of harness racing, as is life in general, is full of could haves, should haves and would haves.
Another of Holloway's most loyal owners through the years has been Mitchel Skolnick, who stuck with Holloway through thick and thin for many years. Ironically, it was an irreconcilable disagreement with Skolnick that caused the breakup in the Always B Miki partnership that resulted in his being moved from Holloway to Jimmy Takter.
Holloway's next world champion was a filly by the name of Shebestingin.
He recalls thinking and telling his owners that she was his favorite yearling pacing filly being sold that year. He remembers Ted Gewertz, one of her owners, asking if he felt she was the best one, then why did several others bring more money? The answer of course is that different buyers have different tastes and varying pocketbooks.
She was extremely fast. She retired as the fastest pacing filly ever. But she sometimes lacked consistency. When she was on her game, she could catch birds. But she wasn't always on her game. After retiring, her first two foals were poor individuals.
The next year, Always B Miki was first going to the breeding shed. What would be more appropriate than to breed the fastest standardbred ever to the fastest female ever? Nothing. The decision was made to do just that.
The resultant foal was a lovely bay colt that his breeders Marty Granoff and George Segal named Perfect Sting.
There was no doubt that this colt would be retained, rather than be offered for sale as a yearling. There was even less doubt that he would be given to Joe Holloway, who had trained both his sire and dam, to break and train.
That year, 2019, Holloway was installed in the Harness Racing Living Hall of Fame. It is said that good things (as do bad ones) often come in bunches.
Holloway reflects that he is now in the sunset of his training career (I don't believe him) and he went into 2020 thinking that his years of having had great horses, certainly one as great as Jennas Beach Boy, were in the past. After all, he was a once in a lifetime horse. He had others that weren't quite as good, but were excellent nonetheless.
From the very beginning, this colt acted as though he could be special. Holloway had occasionally felt the same way about others and then had the racing gods disappoint him. But this colt just seemed different. He had the "IT" factor, whatever that "IT" factor might be.
Perfect Sting not only lived up to all his trainer's hopes, but he surpassed them. He went undefeated and is a sure thing to win the Dan Patch Award as the Two Year Old Pacer of 2020.
Holloway, as are Granoff and Segal, is looking forward to 2021 to race their prodigy. They hope that history can repeat itself and that maybe, just maybe, Perfect Sting can do what Jennas Beach Boy accomplished at 3 and 4.
It is hopes and dreams such as these that keep us going in this wonderful sport of ours.
Have a question or comment for The Curmudgeon?
Reach him by email at: hofmurray@aol.com.