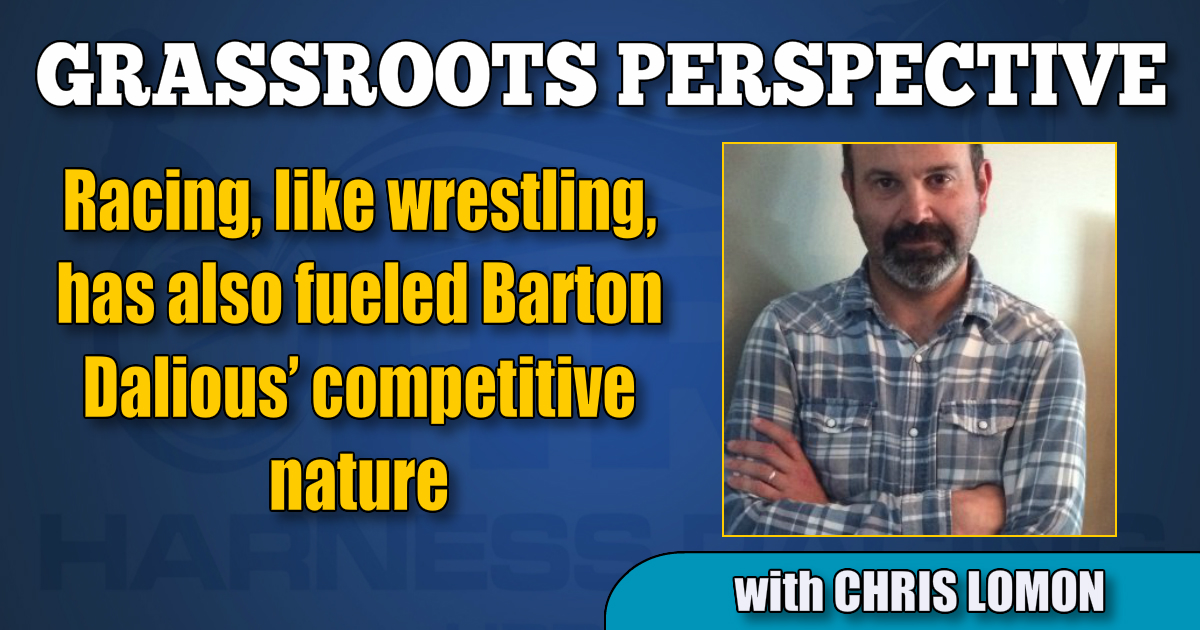 Racing, like wrestling, has also fueled Barton Dalious' competitive nature.
by Chris Lomon
When Barton Dalious questioned what he wanted to do for a career, he wound up getting the answer straight from the horse's mouth.
It would have been easy – and certainly understandable – if the young man from Delaware had joined the ranks of the standardbred world because of his father.
William "Bart" Dalious had long ago established himself as a talented horseman in The First State, a driver/trainer who has campaigned several stars over the years, including Table Talk, the multiple stakes-winning daughter of Bettors Delight.
When the younger Dalious, at his father's behest, came to work for him at the barn, the standout wrestler at Milford Senior High School was still wrestling with a major life decision.
Warrawee Monarch helped him figure it out.
"He was the first horse I jogged," said Dalious, of the bay son of Dragon Again. "He had a lot of attitude, but he was also lovable. I kind of liked that about him. So, when I jogged him, something about it just felt right that day. I was just out of college and I really didn't know what I was going to do. I had come out to the barn and helped out a little bit. I jogged Warrawee about two weeks into being there. And when I did, I thought, 'Man, this just feels right.' We went over to Pocomoke Fair and I won my first race over there with him. He'll always have a special place in my heart."
So too does a feisty 4-year-old pacing daughter of Big Jim.
Disturbed Hanover, bred by Hanover Shoe Farms and owned by The Wiz Kids Stable LLC, delivered Dalious his biggest racing thrill so far, a 1 ¼-length score on March 4 at Dover Downs.
While the margin of victory and the final time, 1:53.3, were both impressive, that's not what stands out for the young reinsman.
"That was my first win," said Dalious. "I almost felt like I didn't even know what I was doing. I was on the front and when I hit the top of the stretch, I knew I had a big chance to win. All the way down the lane, I was just so happy. It's about as good a feeling as you can have."
He has high praise for the bay mare that was a $10,000 purchase at the 2017 Harrisburg Sale.
"She's way up there on my list of my favorite horses. I've really grown to like her. She's treated me so well. I love Warrawee, but I think Disturbed is slowly taking his spot as my No. 1. She has a lot of attitude, but I put up with it because I lover her."
Although he had an appreciation for standardbreds well before he sat in the race bike, Dalious has developed a much deeper connection with pacers and trotters over the past two years.
"Honestly, it's great to be around all of them. It's so rewarding to work with the horses, especially the ones you really like and they race well for you. I feel like it takes a special person to be able to work in the horse business, get up early every day and take care of the horses. Then, you work all the way through the night and do it all over again the next day."
Although he had stopped wrestling after high school, Dalious, who won several competitions and was twice runner-up in state finals, has been able to take some of the skills he learned on the mat and transfer them to the racetrack.
Racing, like wrestling, has also fueled his competitive nature.
"I was very competitive when I was wrestling and I'm the same way with driving. It's almost, as a driver, that you're more of a coach than the athlete. I did a little bit of coaching when I was wrestling and that's how I feel towards the horses as I would with a younger wrestler."
Although his laid-back demeanor would suggest quite the opposite, Dalious doesn't like to lose.
In fact, he bristles at the very thought.
That said, he's found a winning formula in how to deal with a tough beat.
"I feel like I'm pretty good about moving on to the next race. Sometimes, when I mistake, I'll think, 'I should have won that race.' Those carry over a little bit harder, but usually, I don't think about them too much until the races are over. That's when I'll reevaluate what I did."
He also keeps in mind the plentiful advice he's received from his father. Two words in particular come to mind.
"Advice-wise, my dad told me, 'Be careful,'" Dalious said with a laugh. "It's pretty simple. But it's something you need to do. Anything can happen on the racetrack at any moment. It could be someone around you or it could be you. My dad gets really excited when I'm driving. I love having him there. I appreciate all the help and everything he does for me. It's good to have him rooting and cheering for me."
He's not the only one whose voice goes up a few octaves during those races.
The man holding the reins can be quite vocal as well.
"I like to yell a lot when I'm out there," said Dalious. "And it's always words of encouragement."
When he wants to escape the often-hectic standardbred world for a bit, you'll find him hitting the local lanes in his hometown.
Although he hasn't come close to bowling a perfect game, Dalious sees the sport as an ideal way to have some fun and also maintain his competitive edge.
"I like to keep a little bit of a social life. If I want to get some alone time, I'll stay at home and watch some TV or play some video games. But I enjoy going out with my friends and doing some bowling. I like to think that I'm good sometimes. I think the best game I had was when I bowled 180-something."
When he isn't trying to knock down a 7-10 split, Dalious is devoted to upping his standardbred game.
Now that he's found his calling, he's not about to let anything get off-track.
"Where I'm at right now, I set a goal for each meet, in terms of amount of wins. My goal is to always get a check with every horse I drive. I know that's not always possible, but long term, I want to start picking up more drives and make a solid career out of this."
Thanks to Warrawee Monarch, Dalious won't need to jog his memory to remember how that came to be.