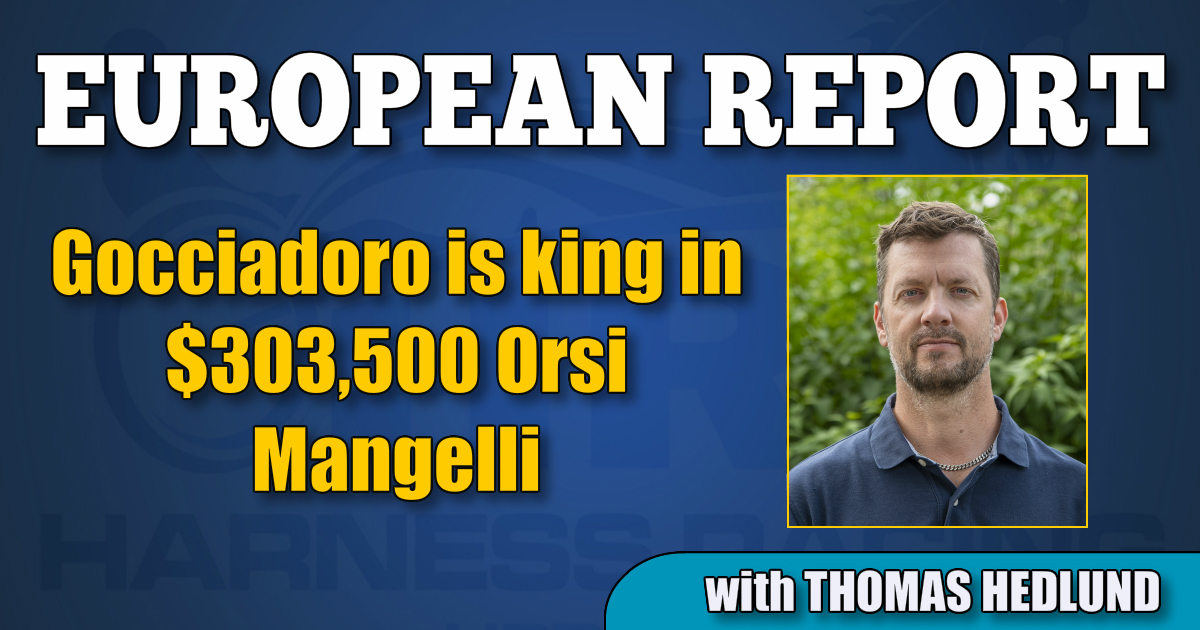 Gocciadoro is king in $303,500 Orsi Mangelli
by Thomas Hedlund
The dominance of Alessandro Gocciadoro in Italian harness racing business is close to total. Few other trainers present horses in the big races like Gocciadoro and when the classic 3-year-old race the $303,500 Orsi Mangelli was held in Turin on Sunday afternoon, he claimed both eliminations and won the final.
Gocciadoro opted to take elimination winner Bubble Effe as his drive in the final, but the Nesta Effe offspring broke stride in the last part of the race. Instead, leader Bepi Bi (Donato Hanover), paired with Federico Esposito, took a safe wire-to-wire victory in 1:55.2.
Holger Ehlert trained horses grabbed the spots behind the winner. Derby winner Bleef Dipa finished strongly from third over as runner up while Bonneville Gifont finished third.
Orsi Mangelli winner Bepi Bi (Donato Hanover) has a well-known half-brother in International Trot winner Twister Bi (Varenne), who had a great career for trainer Jerry Riordan in Europe.
The Bank has an interesting offspring in 2-year-old filly Caramel Club in Italy. Caramel Club claimed her fifth consecutive win in $180,000 Gran Premio Anact in Turin, Sunday and she was superior from the lead in 1:59.3.
In the $180,000 Gran Premio Anact for colts, Varenne son Cris Mail won in 2:00.1.
Breeders Crown finals set for Sunday in Sweden
Sunday (Nov. 8) is the last big stakes card in Sweden for 2020. Four divisions of the $360,000 Breeders Crown are on the race card in Eskilstuna and, traditionally, this racing day closes the season for most of the well merited talents that participate in the four races.
The 4-year-old mares initiates the day and as we've earlier told, Finnish star Mascate Match makes an interesting start before she will be sold at a sale in Finland on Dec. 30. The Muscle Mass daughter has won 13 out of 14 starts this season and from post 2 she'll be the one to beat. The purse for her (and American-bred Golden Tricks) is $180,000 in the race since they are bred outside of Sweden, which leads to that they can't get the "Premiechansningen". Premiechansningen is a chance for horses to earn twice the first price in several stakes races in Sweden, so basically, the purse in all Breeders Crown finals is $180,000.
BC 4-year-old mares — 2,140 meters
Horse (Sire) – Driver
1. Mahma Lane (Maharajah) – Peter Untersteiner
2. Mascate Match (Muscle Mass) – Pekka Korpi
3. Grande Diva Sisu (Ready Cash) – Per Nordström
4. Gina Mearas (Cantab Hall) – Johan Untersteiner
5. Ghostintheshell (From Above) – Rikard N Skoglund
6. Groupie Doll (Bold Eagle) – Erik Adialsson
7. Orlando (Classic Photo) – Ulf Ohlsson
8. Dontlooseallmoney (Bold Eagle) – Kevin Oscarsson
9. Ganga Bae (Muscle Hill) – Jorma Kontio
10. Milady Grace (Ready Cash) – Örjan Kihlström
11. Golden Tricks (Trixton) – Björn Goop
12. Global Allegiance (S.J.'s Caviar) – Magnus A Djuse
BC 4-year-old colts and geldings — 2,140 meters
Horse (Sire) – Driver
1. Guzz Mearas (Muscle Mass) – Johan Untersteiner
2. Power (Googoo Gaagaa) – Örjan Kihlström
3. Hail Mary (Googoo Gaagaa) – Per Lennartsson
4. Ultion Face (Joke Face) – Adrian Kolgjini
5. Admiral As (Ready Cash) – Ulf Ohlsson
6. Brother Bill (From Above) – Jorma Kontio
7. Gulfstream Am (Trixton) – Conrad Lugauer
8. Bythebook (Googoo Gaagaa) – Magnus A Djuse
9. Rackham (Love You) – Christoffer Eriksson
10. Fort Knox (Muscle Hill) – Björn Goop
11. Global Adventure (S.J.'s Caviar) – Erik Adielsson
12. Jareth Boko (Explosive Matter) – Kaj Widell
BC 3-year-old fillies — 2,140 meters
Horse (Sire) – Driver
1. Eagle Eye Sherry (Bold Eagle) – Björn Goop
2. Bank Wise As (Muscle Hill) – Örjan Kihlström
3. Global Brilliance (S.J.'s Caviar) – Peter Untersteiner
4. Barbro Kronos (Trixton) – Ulf Ohlsson
5. Hill's Angel (Muscle Hill) – Carl Johan Jepson
6. No Business (The Bank) – Magnus A Djuse
7. Crashed Eggs (Readly Express) – Torbjörn Jansson
8. M.T.Perette (The Bank) – Mattias Djuse
9. Loaded Maria (Trixton) – Markus B Svedberg
10. Fabulous Pellini (Ready Cash) – Erik Adielsson
11. Maggiore (Googoo Gaagaa) – Conrad Lugauer
12. Florist (Wellino Boko) – Kevin Oscarsson
BC 3-year-old colts and geldings — 2,140 meters
Horse (Sire) – Driver
1. Mister Hercules (Trixton) – Örjan Kihlström
2. Selected News (Maharajah) – Torbjörn Jansson
3. Bandido Gar (Maharajah) – Jorma Kontio
4. San Moteur (Panne de Moteur) – Björn Goop
5. Manny Muscle (Muscle Hill) – Ulf Ohlsson
6. Revelation (Readly Express) – Per Lennartsson
7. Hulken Sisu (Readly Express) – Carl Johan Jepson
8. Custom Cheval (Farifant) – Rikard N Skoglund
9. Hector Sisu (Zola Boko) – Erik Adielsson
10. Gilmore Trot (Muscle Hill) – Magnus A Djuse
11. Elegant Ima (Maharajah) – Magnus Teien Gundersen
12. Big Top Lindy (Cantab Hall) – André Eklundh