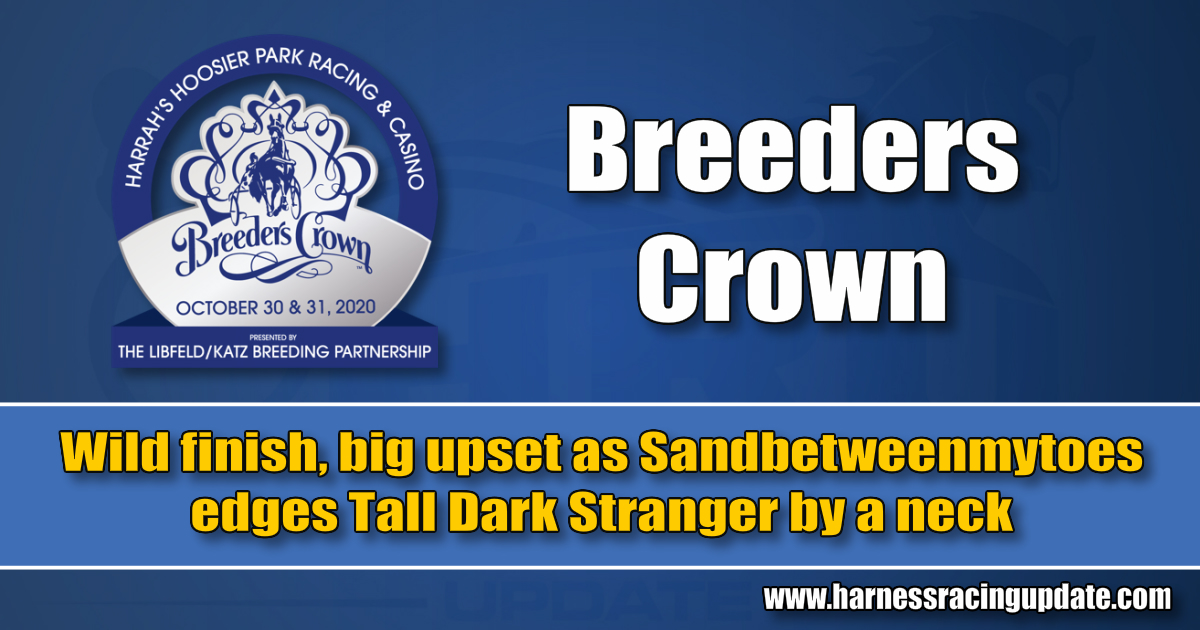 Wild finish, big upset as Sandbetweenmytoes edges Tall Dark Stranger by a neck
quotes by James Platz / story by Jay Wolf
Over the past 36 years, the Breeders Crown has featured some of the most memorable races the sport has ever seen. Thanks to one of the wildest finishes and a record pay-out, this year's edition of the 3-year-old colt pace may move to the top of that list.
As the field of 10 was sent on their way, Cattlewash (David Miller) and Warrawee Vital (Tim Tetrick) were hustled off the gates wings and Cattlewash passed the quarter-mile pole in :25.3.
The heavy bettor's choice, Tall Dark Stranger (Yannick Gingras) popped out of the three hole and took the lead before the half mile in :52.3.
The top positions remained unchanged as the field passed the three-quarters in 1:20.3. It was at that point all 10 entries seemed to have a legitimate shot at Tall Dark Stranger and the field started to fan out down the long Harrah's Hoosier Park home stretch.
Scott Zeron had the eventual winner Sandbetweenmytoes in ninth as they turned for home and used a :26.2 last quarter to get the final call in a six-horse photo finish in 1:48.3.
Tall Dark Stranger was second by a neck, and thanks to his stablemate's upset win over previously undefeated Party Girl Hill and his own gutsy performance, he may have put the "Horse of the Year" race out of reach. The division leader won 11 of 12 starts coming into the $500,000 Breeders Crown Final.
Cattlewash (beaten ¼ length) edged Save Me A Dance (Andrew McCarthy) and No Lou Zing (Dexter Dunn) for third. The LittleBrown Jug champion, Captain Barbossa (Joe Bongiorno) was sixth, only three-quarters of a length from the leader.
While Sandbetweenmytoes' connections were confident in their chances, the betting public was not. They sent the gelding off at odds of 203-1. The win price of $409.80 shattered the Crown record established by Kadealia ($152) in the sophomore filly trot in 2008.
"Given the circumstances, getting away ninth with the speed that they had… even with all that, I had to fan him out really wide, so he was pretty game to do what he did," said Zeron.
"There's no doubt it was a long enough stretch, that's for sure, but it just seems that every horse that's been sitting second or third, it's really hard to make up that ground with these types of horses – they are not coming back to you, so it was pretty exciting from where I was to get up."
Zeron, who hoisted the Breeders Crown trophy for the third time, wasn't sure he got up in time.
"I couldn't see across (the track), it was probably exciting for everyone with eight horses lined up right across the wire, but I'm happy he came out on top."
Trainer Jim Campbell was even less sure he won.
"I wasn't confident until they flashed his number up because I watched one angle and I thought maybe we had a shot, then I saw another angle and I thought, 'Oh, no way.' Watching the race live, I couldn't tell, and there were a few other people in the race standing beside me and they didn't know either, so it was tight."
"Last week (in a fifth place finish in the elimination), Scotty got off the bike and said, 'I know the video doesn't show it, but this is the best that this horse has ever raced for me.' He paced home in :25.3," said Campbell. "I took a lot from what Scotty said. He was happy with the way he paced home."
"He had a good week and, before the race, Scotty and I talked it over and from where we were at we just had to hope for a hot pace up front. We got it and Sandbetweenmytoes took advantage of it," added Campbell, who has trained six Breeders Crown champs including Next Level Stuff (3-year-old filly trot) earlier in the evening.
Sandbetweenmytoes is owned and bred by Jules Siegel's Fashion Farm. Siegel now owns six of the 12-inch tall crystal trophies.
The pacer's sire, Somebeachsomewhere (2008 three-year-old colt pace), and dam, Galleria (1998 three-year-old filly pace), were also Breeders Crown champions.
"(Sandbetweenmytoes) did what his mother did when she was a 3-year-old. She won a Breeders Crown and I know Jules is sitting at home very proud of Galleria," said Campbell.
With the $250,000 first place check, the gelding increased his career earnings to $516,532. He won for the seventh time in 16 seasonal starts.