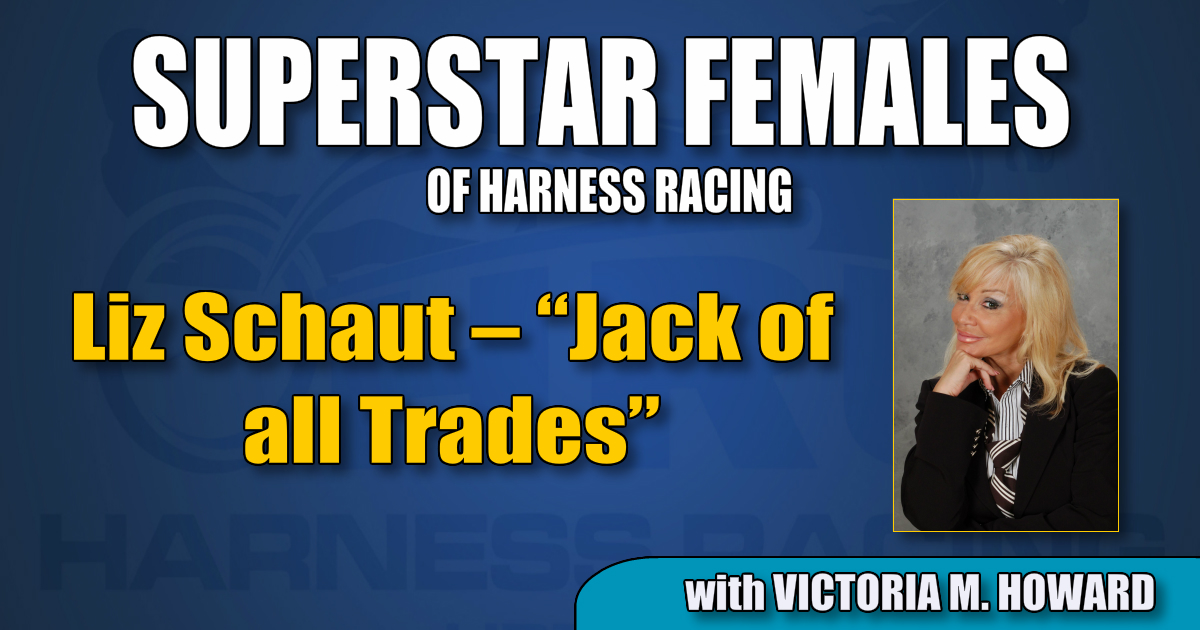 Liz Schaut – "Jack of all Trades"
by Victoria M. Howard
They say a multi-talented person is a 'Jack of all Trades.' A woman named Liz Schaut, born in 1960 in Innisfail, AB, must be one of those people for she has certainly done it all.
Although her parents were not into racing horses, her grandmother's uncle was. His name was Benjamin Franklin (Ben) White, and he is a legendary hero in the sport of harness racing. With a name like that he was born to make an indelible mark in whatever he did — and Ben White did just that.
With a racing career that lasted over 60 years his memorable wins are many. He won his first Hambletonian in 1933 with Mary Reynolds and in 1936 won the Hambletonian with his fastest trotter, a mare named Rosalind, in a time of 1:56.3. This was 84 years ago.
But that wasn't quite enough for White for he won the prestigious trotting event again in 1942 with The Ambassador, and the following year with Volo Song.
"My dad's father was a blacksmith in Ontario and my mother's grandfather raced high-wheeled sulkies in England," said Liz.
"I got into the business when I was 18 years old when I went to work for trainer Eddie Stewart at Stampede Park in Calgary, Alberta.
"My brother Jim Thomson (who played professional hockey with Wayne Gretzky and the L.A. Kings) played hockey with Stewart's sons. When Eddie found out Jim's sister (me) loved horses, the rest was history.
"I started driving in ladies races back in Alberta and trained, ran my own stable, and bred horses for over 20 years. I stood two commercial stallions and usually had 15-20 mares to foal out."
Schaut is an innovator who always looks for ways to improve the sport and safety of horses.
"One thing I'm very proud of is that I started "Groom of the Year" in Alberta. Grooms deserve all the credit for they devote their entire life to a horse that is not his/her own — but treat it as if it were
"I also co-founded 'Performance Standardbreds'— one of the oldest re-homing groups for standardbred racehorses in Alberta. I have personally helped hundreds of racehorses that could no longer compete find new, loving forever homes. I will never turn my back on any horse."
Besides being an advocate of horses, Schaut's talents are many. She was once an outrider that rode a retired pacer at Edmonton Northlands.Besides outriding, the pair barrel-raced, jumped and cattle penned.
Schaut also rode cows and started The Miss Rodeo Airdrie Pageant.
"In 1981, I was a contestant in the Miss Rodeo America Pageant representing Canada as 'Miss Rodeo Alberta. Something else I'm proud of," she said.
"As far as my favorite all-time horse, it is difficult to say for each and every one was special; but if I had to pick one I suppose it would be Dude's Leaving Town. He was the first horse I foaled, broke, trained and raced for owner Ed James of Aurora, Ontario (SSG Stable)."
James owns the remarkable horse McWicked, the richest pacing stallion in harness racing history that raced for seven years and earned $5.1 million. McWicked is now standing stud in Canada.
"It was such an honor to train for Ed — one of the nicest men in the sport — for he trusted me to race and campaign Dude, who won 24 of his 44 starts and banked $540,000."
During his campaign Dude broke track records and was named 'Horse of the Year' in Alberta.
After moving to the United States, Schaut met and married horseman Rick Schaut.
"Rick and I bought a farm outside of Anderson, IN, which we owned and operated for five years. We trained and bred mares, and at the time it was so gratifying and fun, but after five years we decided to sell the farm and move to Florida where the winters were much better.
"We weren't getting younger and running a farm is hard enough, but the Indiana winters, like those in Alberta, can be brutal."
That brings us to the present day where Liz and Rick run the tack shop at Sunshine Meadows Equestrian Village in South Florida.
"In Alberta, I had a couple tack shops I operated for 27 years, so I had previous experience. One day, Scott Miller from Sunshine Meadows approached us about opening a tack shop on the grounds there. We took the plunge and opened 'Sunshine and Horses Stable Supplies.'
Sunshine Meadows is a training center for harness horses with big names such as Tony Alagna, Casie Coleman, Rick Zeron, Peter Wrenn, Frank M. Antonacci, Fred Grant, and many others that winter train there, but there are also equestrian stables who also benefit from Schaut's tack shop.
"At Sunshine and Horse Supplies we carry both racing and riding supplies and if we don't have it, I'll get it," said Liz.
"Presently I don't own any horses of my own, but I'm hoping to get myself a yearling someday again. My husband and his sister, Trish Soulsby, co-own a wonderful trotting filly named ATC Queenie, who Rick trains in the winter at Sunshine.
"The tack shop keeps me quite busy and I enjoy engaging and interacting with the customers from all walks of life. We are blessed for we live in Paradise and are doing exactly what we love to do, so I don't consider it a job. We wake up every day and watch the beautiful horses jog on the track.
"What more could a girl want."