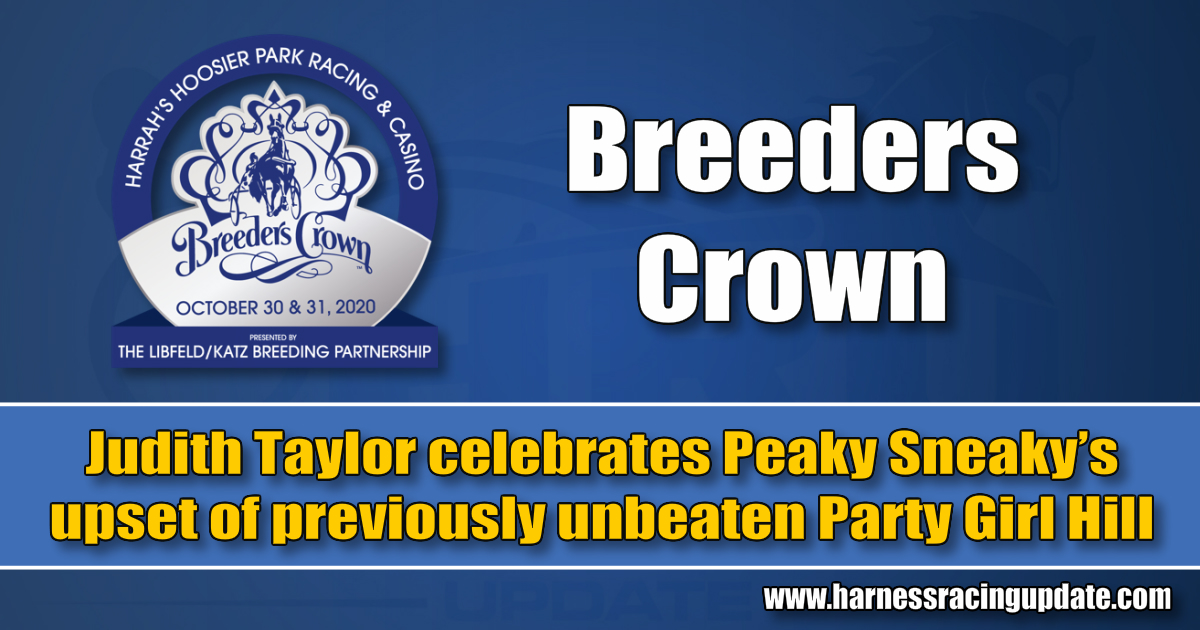 Judith Taylor celebrates Peaky Sneaky's upset of previously unbeaten Party Girl Hill
quotes by James Platz / story by Debbie Little
The Breeders Crown 3-year-old filly pace was expected to be the final jewel in an undefeated season for Party Girl Hill.
Instead it turned into a celebration for a different female, co-owner Judith Taylor.
Peaky Sneaky, co-owned by Judith, her son Howard and Order By Stable, sat the pocket behind 1-5 favorite Party Girl Hill and in deep stretch came through on the inside to garner the victory in a stakes record 1:49.
"I was told that there was one horse that [Peaky Sneaky] could not beat, the one that's won every race," said Judith. "I expected her to race well and finish second because I was told [Party Girl Hill] could not be beaten and indeed she wasn't until tonight."
In the winner's circle following the victory by the daughter of Bettor's Delight—World Of Rock, Taylor's son Howard talked about why winning this race might matter a little more to him.
"Higher than it probably should because this is my mom's horse," said Howard. "She owns it with me and she's never had a really good horse before. She was going to come out and she had some doubts with everything that's going around in the world, so she cancelled at the last minute. So, shout out to my mom. Shout out to Stefan [Balazi, Order By Stable), my partner and I couldn't be happier.
"Party Girl Hill is a great horse, there's no doubt about it, but I thought if anybody had a shot to beat her, we would and I thought the trip would come out just like it did where we were in a dual and then just take a shot up the rail."
Judith had her ticket and a cab scheduled to pick her up at her Pennsylvania home at 6 a.m. on Halloween but ended up having second thoughts.
"It actually wasn't COVID-19 that kept me from going," Judith said. "Last night and early this morning I just did not feel well."
She went on to say that it was a long trip where she had to change planes and then drive an hour to a hotel near the track.
"So, I thought this is not a good idea," Judith said. "And it probably wouldn't have been but of course now I'm heartbroken. And my son is telling me about the champagne and all the celebrating afterwards."
I'm fine now. I guess that's why the horse won to cheer me up. I just still can't believe it. I'm pinching myself."
Peaky Sneaky (7-1), driven by Yannick Gingras, paid $16.20 notching her sixth victory of the year.
"For sure, Party Girl Hill is a tremendous filly, probably one of the best fillies ever," said Gingras. "I have all the respect in the world for her, but I had all the confidence in the world in mine as well, so it was a great race and luckily we came out on top."
As for Party Girl Hill, her driver Dexter Dunn said, "she raced great. She probably just wasn't on top of her game slightly, but still raced great and had a great year. It's disappointing not to finish it off with a Crown, but she still raced really good."
Party Girl Hill's trainer, Chris Ryder, said, "She went a good race. Obviously, we were looking to win it, the whole world thought we would. She was strong to the half and more than strong at the three-quarter pole, but we got beat. It happens. It's a bad night to have it happen, but they all get beat sooner or later. Honestly, as a trainer, you know it's going to happen, you just pray it doesn't.
"I was pretty happy with her this week, everything went right. I think we'll race her in the Matron. She scoped clean. I haven't had much time to talk to Dexter. He didn't have much to tell me after the race. She only got beat half-a-length, right? It's tough."
The Taylors felt the loss by Party Girl Hill could only help Tall Dark Stranger who is co-owned by Howard.
Tall Dark Stranger and Party Girl Hill are currently ranked one and two, respectively, in the Hambletonian Society/Breeders Crown Top 10 Poll.
But Tall Dark Stranger also lost his Crown race so the battle for Horse of the Year continues.