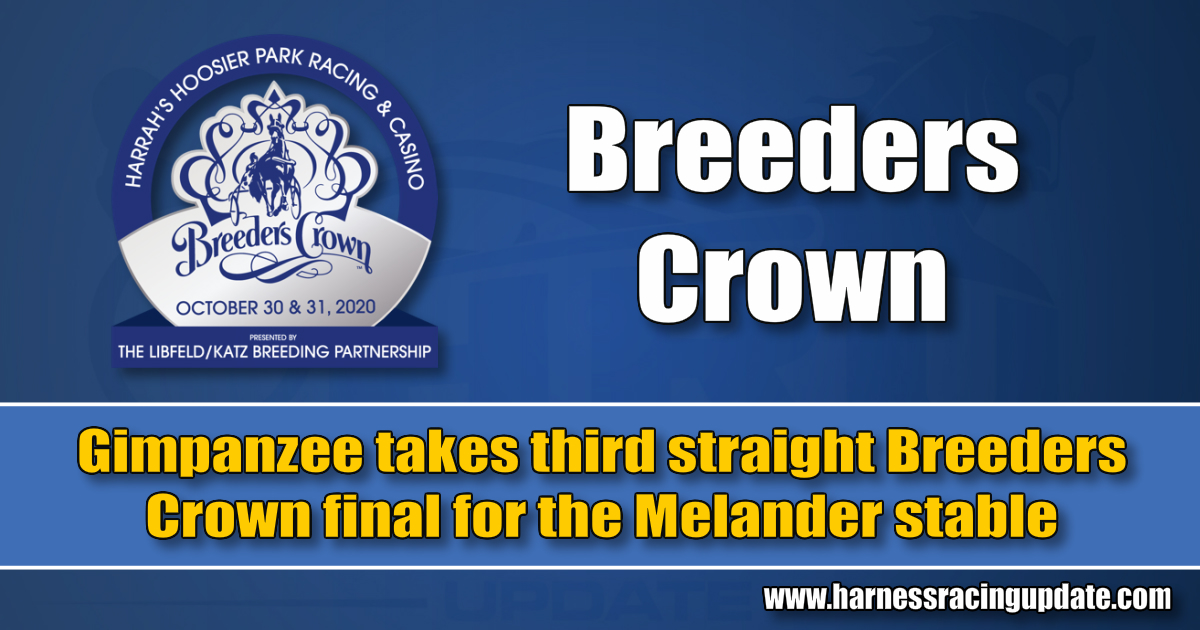 Gimpanzee takes third straight Breeders Crown final for the Melander stable
quotes by James Platz / story by Frank Cotolo
In the $500,000 Breeders Crown Open Trot, the best of the older-trotting division, including mare Atlanta, continued to yield to Gimpanzee as the Marcus Melander-trained and Brian Sears-driven bulldozer won in 1:51.3 on Saturday (Oct. 31) at Harrah's Hoosier Park.
It was the third straight Breeders Crown championship for Gimpanzee (Chapter Seven—Steamy Windows) — he won his Breeders Crown division final at 2, 3 and on this night, at 4.
Last year, Gimpanzee was the co-star of Melander's trotting triptych. He was the New York Sires Stakes champ at 3, unbeaten in that series, and came into the Hambletonian against his two barn mates, Greenshoe and Green Manalishi S. Although Gimpanzee raced big in the August classic, finishing third off a tough outside trip, he still lost to Greenshoe and beat Green Manlishi.
Melander lost the Breeders Crown sophomore colt trot final with his top charge, Greenshoe because Gimpanzee won. It was a mild omen for his 4-year-old campaign, which has brought him his eighth win and 25th lifetime.
Melander won the bidding for Gimpanzee as a yearling and at 2, while the colt ravaged the New York Sires Stakes program, Melander said before the Hambletonian that he thought Gimpanzee was the best of the big three.
"He's an amazing horse," Melander said, "and he means a lot to me."
Melander's prophecy was correct, since neither Greenshoe nor Green Manalishi S came back at 4.
In the Oct. 31 Open Trot, Gimpanzee left along with outsider Crystal Fashion. The latter, a 22-1 shot, did not have a chance to lead past a :27.3 first quarter because Brian Sears tipped out of the second spot and cruised by the leader to take the field through a :56.4 half, a 1:24.1 three-quarters and was never touched by Sears as Atlanta and attempted to get him on the outside but Crystal Fashion pushed hard late on the rail but could only beat Atlanta to get second. Majestic Player A took the fourth spot.
Gimpanzee paid $4.00 to win.
"I don't really know what Brian had planned," Melander said about pre-race strategy. "I think Gimpanzee is a little better chasing horses, but they went a little softer here on the back side. He's hard to catch, though, once he is on the lead."
Gimpanzee's successive Breeders Crown wins took place at three different tracks. At 2, he won in 1:54.4 at Pocono Downs and a 3 he won in 1:52.3 at Woodbine Mohawk Park.
Melander said he could not truly put into words his exuberance concerning the trotter's Breeders Crown feat over the years. "He's been with us since the start," Melander said, "since we bought him at the Harrisburg sale, and it's just amazing what a journey it's been for us. It's very tough to win these Breeders Crown races. I've had some good shots this weekend and [Gimpanzee] is our first win. I'm very happy, having done this with Gimpanzee. Taking his third Breeders Crown, just shows how good of a horse he is."
Sears loves this mount, and remember, he was the driver for Melander's top sophomore Greenshoe.
"The horse is so easy to drive," Sear said. "He knows his job and exactly what he's supposed to do. He's got every manner you could ask for in a horse, just a great example of a standardbred with personality and disposition. They don't come along quite as nice as him very often, that's for sure.
Gimpanzee was runner-up to Greenshoe for Dan Patch honors in 2019. Greenshoe was named best 3-year-old male trotter and Trotter of the Year. Yet, both trotters earned more than $1 million while Melander became the second trainer in harness racing history to have two million-dollar-earning trotters in the same division in the same season, a feat only otherwise performed by Jimmy Takter.
Melander was voted Trainer of the Year in 2019 by the U.S. Harness Writers Association. He remains the youngest trainer to receive the award. His stable in 2019 won 86 races and $5.36 million in purses, ranking him fourth for earnings in North America.
In 2014, the Melanders moved from Stockholm to New Egypt, NJ, to develop a career in the U.S. Melander's younger brother, Mattias, is an assistant with training and drives occasionally. Their sister, Mikaela, is a caretaker.
Melander is the nephew of Stefan Melander, trainer and driver of 2001 Hambletonian champ Scarlet Knight.