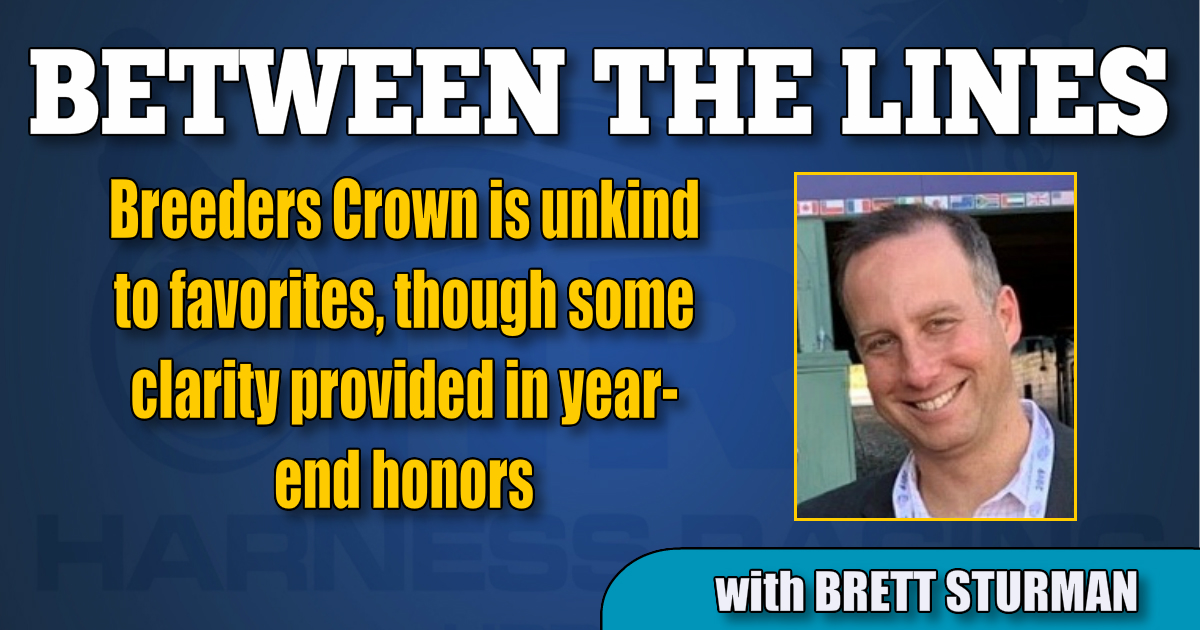 Breeders Crown is unkind to favorites, though some clarity provided in year-end honors
I can't envision a scenario in any remaining races where Party Girl Hill could, nor should, overtake Tall Dark Stranger for Horse of the Year.
by Brett Sturman
Over the past couple of years, the Breeders Crown has become a sort of graveyard for favorites. Last year, the Horse of Year leading contenders Shartin N, Greenshoe and Bettor's Wish all lost. This year, the number 1 and 2 ranked horses in the current Hambletonian/Breeders Crown Society poll again went down too. And in the case of #1 ranked Tall Dark Stranger, his 3-year-old colt pace Crown was won by a horse that paid $409; the highest paying horse in Breeders Crown history. So, what is the fallout and implications for year-end honors?
Even though Tall Dark Stranger lost – because it was coupled with the loss of Party Girl Hill in the 3-year-old filly pace – as of this moment he should be Horse of the Year. He's been sensational in every major race this year and it would have taken a perfect campaign from Party Girl Hill to overthrow him in the top spot. Even though she beat the 3-year-old colts in the Tattersalls Pace two races back and despite she was valiant in defeat on Saturday, I can't envision a scenario in any remaining races where she could, nor should, overtake Tall Dark Stranger.
Say what you want about the passing lane at Hoosier, but race after race produced horses coming from everywhere in the stretch. It got Party Girl Hill, and a few races afterwards it got Tall Dark Stranger. Both horses dug in for all they were worth after moving to the lead through comparably quick fractions but couldn't prevail in the end.
In the case of Tall Dark Stranger, it looked like he was going to be passed by about five different challengers in the stretch and in the shadow of the wire looked like he miraculously fought all of them off, just as he somehow always does. It took a 203-1 shot who came from out of the clouds on the far outside to snap him, and if anything, that race only adds to the lure of Tall Dark Stranger. Because of the nature of that race, he may actually add to his lead in the next poll. It was a similar story for Party Girl Hill who was stung by eventual race winner Peaky Sneaky when brushing to the lead, only to be passed late by that well-meant rival as well as Lyons Sentinel. She too shouldn't be punished for a race of that quality and I'd expect her to remain in the #2 spot, but it doesn't seem anymore that there's a viable path to #1. Also, I didn't forget about Ramona Hill. She obviously gets a ton of credit as a Hambletonian-winning filly, but she lost a couple towards the end of the year and even with Breeders Crown losses by other rivals, those top two should still rate higher.
Within the individual divisions where the Breeders Crown results could provide some added intrigue, let's start with the 2-year-old's.
From Friday's quarter of freshmen crowns, Lady Chaos won the Breeders Crown for trotting fillies and that should nail down her claim to the division. In a division with no clear standouts, she danced most of the big dances. Runner-up in the Peaceful Way also won the KYSS finals and then swept the Breeders Crown elimination and final; is deserving to get the nod.
For the frosh colt trotters, Venerate could only manage a third-place finish in the Breeders Crown off a tough trip but he's probably still done enough to garner divisional honors. It would have potentially been close between him and Southwind Tyrion had that horse not scratched out of the Breeders Crown, but Venerate, the KYSS champion, also won the inaugural Mohawk Million in addition to pinning the first career defeat to Captain Corey in his Breeders Crown elimination. It would be hard to see Venerate not winning.
Perfect Sting should be unanimous on the 2-year-old colt pacing side, but things were made a little more interesting with the young filly pacers. Conventional wisdom is that Test Of Faith already had this division locked up prior to the Breeders Crown and my guess is that she probably still does win it. But the resume for Breeders Crown winner Fire Start Hanover suddenly doesn't look much different. Not staked to the Breeders Crown, the NYSS champ won the Kentuckiana, Bluegrass and International Stallion Stake; the latter in a near world record time. But Fire Start Hanover, despite not having the look of a star at first, ended the season on a tear. She too won the Bluegrass, International Stallion Stake and after a fluky Breeders Crown elimination, she came back to win the final. Depending how much weight you put into a Breeders Crown win, I'd think Fire Start Hanover deserves serious consideration.
For the 3-year-old colt trotters, Amigo Volo did just enough to hang on in the Breeders Crown and in the process clinched that division. I thought last year that an outside chance for divisional honors could have been made for him when he won the Breeders Crown then too. He didn't get it then, but this year's PASS, Kentucky Futurity and repeat Breeders Crown champion will get it now. He's been the best sophomore trotting colt the second half of the season.
All other 3-year-old divisions are foregone conclusions as no matter what happens between now and year end, Ramona Hill, Party Girl Hill and Tall Dark Stranger will all take those remaining age-restricted divisions.
In the older divisions, Shartin N looked like she was going to put a brief scare into Kissin In The Sand as it was Tetrick up the inside again (Next Level Stuff), but Kissin In The Sand was able to keep Shartin N at bay and she'll earn the honor as older pacing mare in a change of the guard. With his Breeders Crown win, as of this moment Gimpanzee would win out over Atlanta for older trotter and may very well vault up to #3 when the new weekly poll comes out.