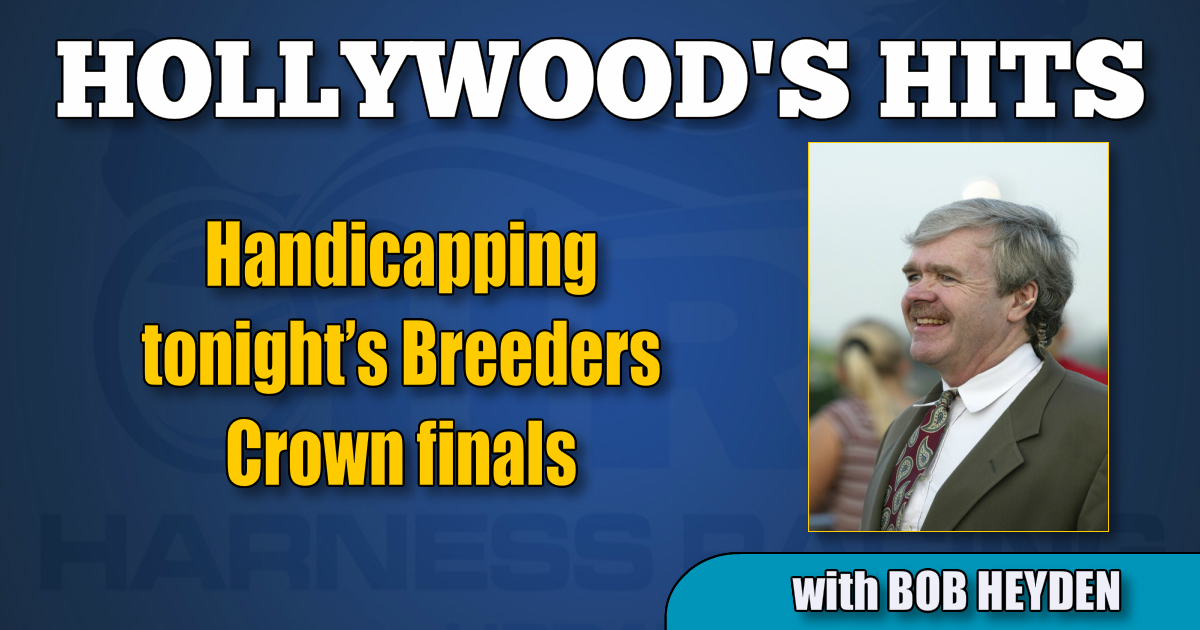 Handicapping tonight's Breeders Crown finals
by Bob Heyden
Race 8 – Open Mare Trot final
The only Crown race with fewer than 10 starters:
#1 Weslynn Quest's— sire won the Crown (2YOCT) in 2010 (Manofmanymissions). Has raced at five straight different tracks. Tough spot.
#2 Conway Kellyanne— is the rare Breeders Crown starter by a 1990s award winner — 2YOCT of the Year Conway Hall (1997). In Deep.
#3 Pat Matters— is no doubt entering the Crown at the right time. Peaking. Nifty got money with all five Crowns starters in 2019.
#4 When Dovescry— is in a matchup of the last two years' Oaks winners. Pelling was the 2003 leading money-winning Crown trainer and goes back to 1996 with Mystical Maddy for his first score in the Breeders Crown series.
#5 Plunge Blue Chip— was on the board a year ago in this. She's won at two different tracks in sub-1:50 and is the first 3-year-old to do so at the Meadowlands, male or female.
#6 Felicity Shagwell S— tries to get Ake's barn started in the Crown but 1-for-20 covering two seasons will not help.
#7 Manchego— won here at 2 to complete a 12-for-12 season as the freshman leader. History's fastest female trotter is the single in here for those looking to jump-start their Pick-8 tickets.
#8 Grand Swan— is one of five Swan For Alls in the Crown (None closer than post 8) at the track where he won twice in 2017 in the inaugural Crown locally with daughter Hannelore Hanover and son Fifty Dallarbill. Grand Swan: 50% over the last two seasons: 13-for-26.
Race 9 – 3YOFT
#1 Next Level Stuff— is 12-for-22 lifetime from the first crop of the late Sebastian K. Excellent betting affair.
#2 Crucial— squeaked into the final. One of 20 for Burke this weekend. Father Patrick was at his best come Crown time. (2013-2014 winner)
#3 May Baby— was short in this final last year and tries to carry the locals banner as far as she can.
#4 Sorella— is a homebred who has been right at the top of the division all year and carried herself well.
#5 Spoiled Princess— shows two big last quarters in October and that should translate into major contention.
#6 A Bs Attitudeexpress— is another shot for Lucas Wallin, who is trying to be the 165th trainer to win at least one Breeders Crown.
#7 Hypnotic Am— Brian Sears has six wins in this division and 12 sophomore Breeders Crown trotting trophies overall. No doubt the one to beat.
#8 Caviart Eva— is part of the Caviart Dream Season likely looking for a piece of this pie.
#9 Rock Swan— is handled by the only driver to win three of his first six Breeders Crowns — Trace Tetrick. Tough spot, though.
#10 Love A Good Story —….like the one the Pinskes are writing in 2020. The Pinske Express has just rolled into Dodge and I suggest we all pay close attention.
Race 10 – 3YOFP final
#1 Drama Act— closed in :25.1-and remember that it was Burke who lit up the board in this very division two years back at 50-1 with Percy Blue Chip.
#2 Party Girl Hill— 14-for-14. A filly for the ages. Chris Ryder's specialty. Dexter Dunn looks to make a loud statement tonight with HOY honors still up in the air.
#3 Lyons Sentinel— The best three-win season ever? She showed them her heels in the elims big time. Runner-up last year as the strong favorite. Best chance at an upset (PIck-8 players pay attention here).
#4 Peaky Sneaky— is super sharp as these top three have spread-eagled themselves from the others.
#5 Pettycoat Business— is like Party Girl Hill in one way. Neither raced at 2. Remember the 2017 winner of this Crown, Blazin Britches, had just a lone start and no money at 2.
#6 Rocknificent— is a daughter of Captaintreacherous — who was 1-2-3 in the 2YOFP a year back — and Rockclamation, who banked well over $2 million career.
#7 J K First Lady— is by a HOY sire-Western Ideal (Rocknroll Hanover) and out of the undefeated 2014 HOY JK Shesalady. A very consistent sort needs some help from others.
#8 Lady Lou— is a daughter of Sweet Lou who has won three Breeders Crown in 2018-2019. But 2-for-27 is what it is.
#9 Hen Party—has banked well over $500,000 and is by Crown-winning sire Roll With Joe (Racing Hill-2016).
#10 New Year— is Party Girl Hill's stablemate and Chris Ryders' pacing girls legacy includes Cathedra Dot Com, I Luv The Nitelife and Put On A Show.
Race 11 – 3YOCT final
#1 Capricornus— lit up the board in the elims. Marcus Melander is the defending Trainer of the Year and we just saw why a week ago.
#2 Amigo Volo— is the standout on the card tonight. If your max play is $20, double it. He's that good. Reminds me of 2007, when a gelding by the name of Arch Madness erupted onto the scene and handed Donato Hanover (the HOY), his only two defeats of the year.
#3 Ready For Moni— Hambletonian winners are just 6-for-37 through the years in the Breeders Crown in the same year. (Ramona Hill scratched from the Crown this year). Hambletonian runner-ups are 6-for-36. Tough to maintain your form that long.
#4 Play Trix On Me— No, your eyes are not deceiving you, $4,500 is the yearling price. But, hey, Mr Muscleman sold for $2,000 as a yearling and won two Crowns (3 and 5).
#5 Hillexotic— Trond Smedshammer has won nine Breeders Crowns all with Sears driving. He's 0-for-10 driving himself, but remember he did win the filly counterpart to this last year with Winndevie.
#6 Maesteraemon— is likely filling out the field, but didn't we say the same thing last week with Capricornus? Same barn, too.
#7 Back Of The Neck— hit the board in the Hambletonian. Must mind his manners and show he can trot both ends. The talent is there.
#8 Beads— quietly had one of the best elims of all. Remember Brian Sears has six wins in this division. Per Engblom worked for years under the Master, Jimmy Takter, who has 34 Crown wins lifetime.
#9 Chestnut Hill— paid $122.90 in the Canadian Trotting Classic. By the way, that was the second time this year Richard Norman lit up the board to a triple figure payoff in a big stake. He won the Dorothy Haughton also $108.20 over HOY Shartin N.
#10 Gangster Hanover— closed with abandon last out. Andy McCarthy posted a four-bagger last year in the Crown, the only driver ever to win his first four Crowns all in the same season.
Race 12 – Open Mare Pace final
#1 Sweet Lucy Lou— will try and post a monstrous upset. But, remember, Blazin Britches qualified seventh in 2017 here and won the final.
#2 Rockin Nola— has been the Horse of the Meet at Hoosier Park and father-son Putnams gave her the much deserved chance.
#3 Kissin In The Sand— has been great at 2-3-5, tough to do something like that, kinda like a Pure Country. She loves her work of late and is no doubt the fave.
#4 Caviart Ally— is the defending champ, but her prep was not what you'd want. Still, she's been remarkable and can get off the wings with any mare who has ever lived.
#5 Warrawee Ubeaut— goes for the three-peat. Only Jennas Beach Boy has done it three straight (1994-1995-1996) on the pacing side. Incredible mare goes to 50 per cent lifetime with a win (22-for-44).
#6 Shartin N— the 2019 HOY. Never has a pacer been named HOY and then won a Crown the following year. She can be the first. Wonderful race.
#7 Philly Hanover— more than pays her way but this division is deep — very deep.
#8 Treacherous Reign— remember Tony Alagna won three Crowns in 2019. From Captain's first crop.
#9 Trillions Hanover— qualified back in good order, but needs to pull a rabbit or two-out of her hat.
#10 Stonebridge Soul— hasn't won at three after a strong showing in 2019. Brett Miller won Pure Country's first Crown as she went undefeated in 2015.
Race 13 – 3YOCP final
#1 Tall Dark Stranger— has the inside draw with HOY implications in the air. He has the same career slate after 21 starts that Niatross did — 19-for-21. From the 15th crop of Bettors Delight. Yannick Gingras, somehow, has not won this division, but his 22-for-89 record in the Crown (last decade) speaks for itself. Congrats to Nancy, Katie and the entire team for a job very well done here.
#2 Manticore— for the man who won this race 10 years ago, Bruce Saunders, with Rock N Roll Heaven. This colt is deceptively sharp and can be used in exotics. Can Bill Matz do it again? In Indiana? (Beckhams Z Tam 2017).
#3 Cattlewash —Is there anyone hotter than this horse coming into the Crown? Sire SBSW leads all stallions with 14 Crown finalists. The pick to click.
#4 Warrawee Vital— fell a buck shy in his prep and clearly is better on the bigger track. He benefits the most from the long Hoosier stretch and Tim knows that. Quietly, Robert Fellows is in both sophomore Crowns.
#5 Save Me A Dance— is sired by Heston Blue Chip, who won this race in 2012. He's making money in the classics.
#6 No Lou Zing— has a world of talent and has not missed the board. Reminds me of Lather Up at the same point of their careers.
#7 Captain Barbossa— got his first win in the Jug with a stirring performance. Still very sharp, but the division is top heavy.
#8 Sandbetweenmytoes— is sired by the 2013 and 2018 winner of this race SBSW, who himself called it a career in 2008 after capturing the 3YOCP.
#9 The Greek Freak— pays his way and can pick up others. Matt Kakaley had three 100-1 shots a year ago in the Crown and unbelievably got money with all three.
#10 Elver Hanover— is history's fastest freshman and has been solid throughout. It's just that the water is deeper in this end.
Race 14 – Open Trot final
#1 Mission Accepted— is a son of a Breeders Crown winner and a stablemate to the great Atlanta. Along for a share.
#2 Majestic Player A— is 65 per cent on the year, but not a winner the last four, but still has been never better. Figure it out.
#3 Gimpanzee— looks to equal the great Mack Lobell's 1986-1987-1988 record of winning the Crown at 2-3-4. His prep was perfect.
#4 Reign Of Honor— a full brother to Amigo Volo, was sired by Father Patrick while he was still racing. Has gate speed that likely will be called on tonight.
#5 Atlanta— is looking for that elusive Crown. Past $2.5 million, the great mare is already in the category of Peaceful Way, Bee A Magician and Peace Corps. The one to beat.
#6 Lindy The Great— yielded late and is still winless for Team Miller. But remember they won the 2009 edition of this one with Lucky Jim.
#7 Soul Strong— needs to pick up his game a lot to get money. He did get fourth in the Hambletonian a year back.
#8 Katkin America— looks to complete the third father-son driving Crown double. The Yoders would join Ron/Randy Waples and Carl/Rod Allen.
#9 Crystal Fashion— was quietly the #1 trotting earner in the sport in 2018 and the Hambletonian fave. He is still plugging along and can be used in exotics.
#10 Fiftydallarbill —won this at 2 in 2017, but is facing a big uphill battle tonight.
Race 15 – Open Pace final
#1 Sectionline Bigry— showed that :24.4 close while weaving late. Sharp. Young and capable Tyler Smith has a good one here. Steve Bauder looks to get on the training board in Crown history.
#2 Filibuster Hanover— has 15 wins and $1.8 million showing how tough he is and how often he is a factor. Tonight too.
#3 Western Joe— hasn't won in a while but has stepped up when least expected before.
#4 Dorsudoro Hanover— won the Crown in 2018, and surges past $2 million career first or second tonight.
#5 Sintra— to me is the most interesting horse in the field. He benefits when they go tooth and nail. That figures to be the case tonight. Watch him pick up horses late and include on your ticket.
#6 Backstreet Shadow— is 17-for-40 covering 2019-2020 and against many of the best, including these. Cannot dismiss.
#7 Century Farroh— is a 50 per cent winner at 3/4 and has to be used.
#8 Dancin Lou— tries the very tough 3-4 Crown Daily Double. The fastest ever to 20 Crown wins, Mr. Sears will have him in position.
#9 Bettors Wish— figures to be the last to the top in what may be his final start. Just nipped by Dancin Lou a year ago. One to beat.
#10 This Is The Plan— is going to be a bomber. One of four Burke starters in the curtain closer.
TrackMaster PPs for Hoosier's Saturday races available here.