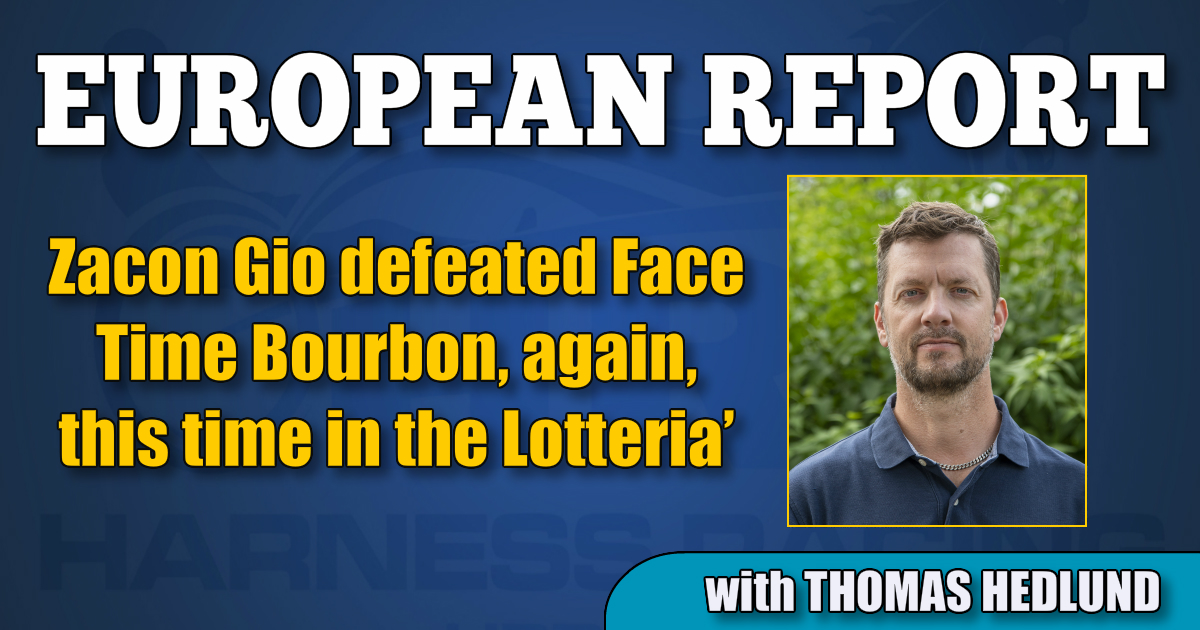 Zacon Gio defeated Face Time Bourbon, again, this time in the Lotteria
by Thomas Hedlund
Champion trotter Face Time Bourbon (Ready Cash) won his elimination for $780,000 Gran Premio della Lotteria in Naples paired with Björn Goop on Sunday afternoon (Oct. 25) and the duo went into the final as heavy favorites.
But Face Time Bourbon's elimination wasn't a spectacular race since the French champion made a break shortly after start, which actually didn't cost too much since Goop found a position in second over before the attack was set in at the back stretch of the 5/8 mile track in Naples.
Face Time Bourbon disarmed leader Vitruvio and seemed to have much power left for the final when he crossed the wire in a 1:55.3 mile.
Alessandro Gocciado's Vernissage Grif (Varenne) hit the lead at an early stage in the second elimination and Gocciadoro left the opponents with several lengths over the home stretch. Vernissage Grif landed on a 1:55.2 mile.
Holger Ehlert-trained Zacon Gio (Ruty Grif) could take the lead after a quarter of a mile in the last elimination and driver Roberto Vecchione had everything under control even if pocket trip trotter Billie de Montfort got close at the end. Zacon Gio, who defeated Face Time Bourbon in $200,000 Prix Unione Europea in Modena, Italy, in May 2019, trotted the fastest mile of the elimination winners: 1:55.3.
Zacon Gio started from post 1 behind the gate in the final and Roberto Vecchione was eager to keep the lead with Holger Ehlert's star trotter. With Vernissage Grif first over and Face Time Bourbon in fourth over, many factors told that Zacon Gio would claim the big trophy and even if the first choice Face Time Bourbon's effort was strong, he couldn't reach the leader who won in 1:55.2. Vivid Wise As grabbed the bronze medal.
Zacon Gio is a true champion and the victory in Lotteria was his fourth Group 1-win in his career. His biggest trophy so far is the International Trot win at Yonkers from 2019.
Mascate Match in favorite position, before sale
Finnish 4-year-old mare Mascate Match (Muscle Mass) is undoubtedly one of the best trotters ever bred in Finland and after Sunday's Breeders Crown semi-finals at Solvalla in Sweden, the Pekka Korpi trained horse will be the horse to beat in the final in Eskilstuna on November 8.
Mascate Match was one of the more impressive winners at Solvalla's race card on Sunday afternoon, a card that contained 12 races, all semi-finals for Breeders Crown.
Alongside Mascate Match, Mahma Lane (Maharajah) and Grande Diva Sisu (Ready Cash) won their semi-finals, respectively.
Robert Bergh's Googoo Gaagaa duo Power and Hail Mary both impressed a lot in the eliminations for 4-year-old colts and geldings and in the same category, Johan Untersteiner's Guzz Mearas (Muscle Mass) won his heat in Sunday's best mile rate, 1:54.4 over 1.3 miles.
Winners in eliminations for 3-year-old fillies: Global Brilliance (S.J.'s Caviar), Eagle Eye Sherry (Bold Eagle) and Bank Wise As (Muscle Hill).
Winners in eliminations for 3-year-old colts and geldings: San Moteur (Panne de Moteur), Selected News (Maharajah), and Bandido Gar (Maharajah).
But back to Mascate Match. The story of this talented trotter is interesting. She was sold as a yearling in Finland and is owned by 1,000 fractional partners where every share cost 100 euro. The Muscle Mass daughter is one out of 12 contenders in something called "Raviliiga", "The Trot League", in Finland and it's a collaboration between harness racing and the Ice Hockey league in the nordic European country.
Several hockey players are involved with the 12 trotters that compete in the Raviliiga and this was from the beginning a project aimed towards finding new horse owners in Finland. The success of Mascate Match is of course a fairytale, but it's also well known that every fairytale must come to an end. In the contract it's said that the project of Raviliiga ends after this season and all horses will be for sale in December. Most likely an online sale will take place and rumors say that big owners from America have shown interest in the great Mascate Match.
It should not be a wild guess to say that Mascate Match will be an attractive object in December.
Mascate Match's record so far, ahead of the Breeders Crown final on Nov. 8 is 28 wins in 32 starts and $830,904 in lifetime earnings.