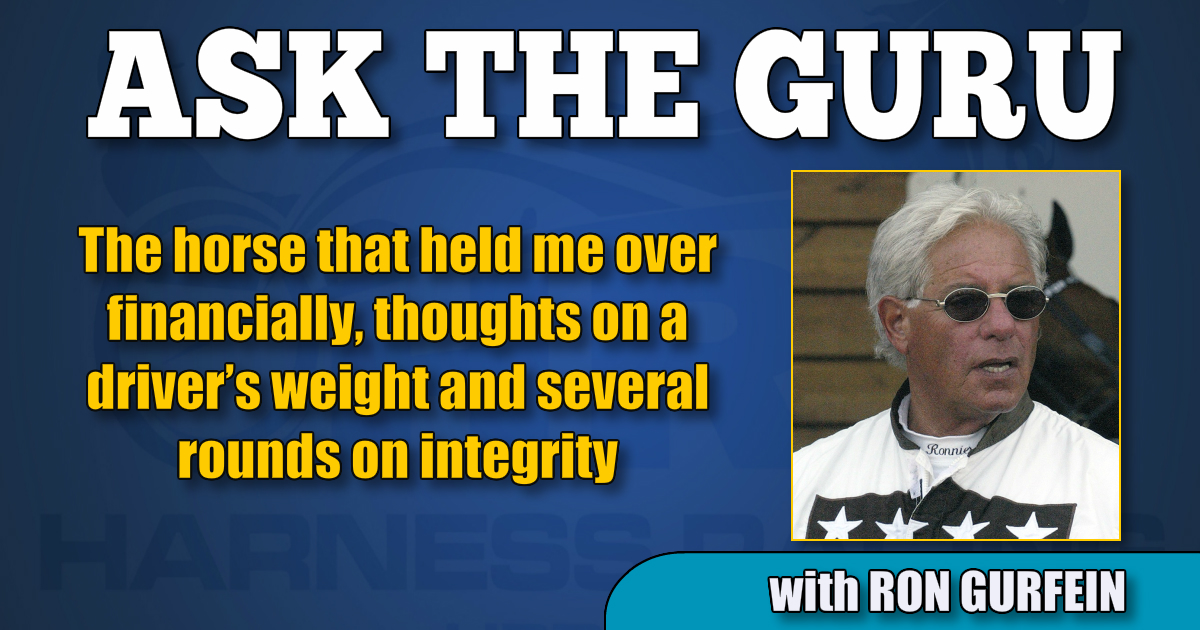 The horse that held me over financially, thoughts on drivers' weight and several rounds on integrity
by Ron Gurfein
Tidbits: There was major buzz in Lexington about how most if not all of the suspected blood dopers that were missed by the first wave of Federal indictments have been basically silent in the winner's column.
So, why do we still hear the voices of Joe Faraldo and Russell Williams still resonate within our sport. There was a good letter in HRU back on Oct. 10 by David Siegel a USTA director and president of TrackMaster (full story here) who is convinced, as I am, that we will have no trouble working out our differences with Jim Gagliano and the thoroughbred group and should join in support of the Horseracing Integrity and Safety Act (HISA).
The 30 indictments were just the tip of the iceberg. There are more than twice that on the way according to the grapevine and sticking with our thoroughbred counterparts in this dark hour will enable us to move forward with strength.
This is David and Goliath all over again EXCEPT WE DON'T HAVE A SLINGSHOT.
Joining would be the better part of valor. To both Joe and Russell, both of whom I considered friends before this dilemma ensued, why not at least sit down with Jim Gagliano and try to work out a positive agreement? I don't know Jim well, but I have spent some time with him in Lexington when he first got the job with The Jockey Club and my impressions of him were that he is a nice, easy-to-talk-to gentleman.
* * *
It's interesting to follow the thoroughbred cluster f—k on the Scopolamine positives. Evidently, the supposed Sport of Kings has the ability to get down and dirty.
Never in my weakened memory state have I ever witnessed an owner of a second-place finisher in a major stake oppose the decision of the stewards to refuse to disqualify a horse from first place.
In one of the litigations in process, The California Racing Board is being sued to reopen the Baffert case from the long ago run Santa Anita Derby when they found mild traces of Scopolamine in his horse's system. There is no question in this writer's mind that it has been well documented that a Jimson Weed derivative was an environmentally-based problem and the fact that there were numerous positives at the same time proves the point.
It seems all the top trainers in both sports have a target on their back created purely by success. I find this very troubling, especially when the same sportswriter keeps on the bashing a certain horseman.
When I started in this business you were always presumed innocent when a problem occurred. Somewhere along the way both the commissions and the press have reversed this theory of late.
* * *
It does not all come down to the Breeders Crown. Certainly we have come to the unanimous conclusion that 2020 is unusual to say the least. I am in no way making excuses for any horse at all, simply pointing out that at this time winning the Breeders Crown in no way is a definite road to year-end honors.
Let's start with the extraordinary Ramona Hill. Her year in many ways reflects that of Continentalvictory with one major exception. There was no Tall Dark Stranger in 1996, thank goodness.
That said, beating the boys in an electrifying manner in the Hambletonian alone makes her at worst 3-year-old filly trotter and most likely Trotter of the Year.
With that said, nothing that happens in the next few weeks can deter me from thinking the aforementioned Tall Dark Stranger is 3-year-old pacer of the year and Horse of the Year. His week in and week out amazing finishes is a testament to his greatness. Some horses are simply faster than their rivals and the "guts" ingredient never comes into play till they have to perform in the breeding shed. This colt is all heart every start with few exceptions. He has come from impossible places to garner victory in a rough and tumble fashion.
I have offered my thoughts, the other divisions I will leave to the sportswriters.
* * *
I love the analogy of my esteemed editor of The Girl With The Dragon Tattoo and the Propulsion investigation in Sweden. Without question, the Swedish Association created the mess and it would be a shameful exercise to pawn off the blame on Daniel Réden who admittedly was unaware of the situation at the inception. In fact, the paperwork was filed, and although he is not completely innocent, the association's job was to immediately insure that the rules were followed. Evidently no one ever looked at the papers to find the notice that the horse had been nerved. But, somehow, most likely an act of god four years later, Voila.
As I have previously stated, the nerves grow back as proven by the fact that Swedish veterinarians inspected the horse and tested his feet and found him to be 100 per cent responsive a couple of years after the fact.
It is certainly not my position to criticize the Swedish rule book. It is however time that they admit to making an error of omission and put the damn thing to rest. What will they gain by carrying this circus any further? Unlike what is happening in the U.S thoroughbred world (see above) no one that finished second to the great Propulsion is suing or has threatened to sue.
If the Swedish authorities don't want him to race in their country I am sure he would be more than welcome to our shores as a racehorse or a stallion.
* * *
I received a lot of nasty comments on my portrayal of Canadian drivers as being less talented than their U.S. counterparts. One in particular caught my eye sent by Donna Males in which she stated that all Dexter Dunn and Brian Sears had to do was sit there and stay out of trouble. Sounds easy doesn't it? It definitely is not or I would be doing it.
There are many very good Canadian reinsman, but none are in a league with the U.S. colony, many of whom are from Canada. Think for a moment. In my lifetime many of the best if not most of the best harness drivers were from north of the border.
The best Canada had to offer came to America.
Michel Lachance, John Campbell, Herve Filion, Ron Waples, Buddy Gilmour, Bill O'Donnell, Yannick Gingras and Wally Hennessey, all were or are top drivers based mainly in the U.S. and when it's said and done all Hall of Famers.
Tom Santoro asks: Forget about the champions. Bill O'Donnell said he had a horse that was able to hold him over financially. Did you ever have a horse do that for you?
I certainly did. The story started at lunch at the Chateau restaurant directly across from Monticello Raceway, with my boss at the time Peter Rhulen, the major insurer of standardbreds at the time. I was training a private stable for him. The year was 1979 and the beginning of the summer.
He handed me a round trip ticket to Pittsburgh and a rental car voucher and a blank check. "I want you to go to The Meadows tomorrow and warm this horse up. If you like him buy him."
I had never been to The Meadows and warming up a horse that was petrified of tractors, I thought, "I am surely going to end up in what looks like the Grand Canyon just beyond the hub rail."
I survived and came home with a very nice looking jet black Dream Of Glory gelding named Hardesty, at what I thought was a more than reasonable price of $30,000.
He could have been a top class horse with his superior attitude and speed, however he was far from good gaited and chronically sore in his right knee and shoulder which made negotiating the turns on any size track a problem. I raced him at the Meadowlands and even for a stint at Hollywood Park.
Then one morning I got fired. I asked Peter if I could buy the horse and was turned down. Most of the horses were sold, but Hardesty and a few others went to another trainer who, after trying for a while to get him to trot, turned him out. The horse disappeared for almost a year and ended up in the summer sale at the Meadowlands. My partner Roy Brown and I went to the sale to buy him and when we approached his stall, he recognized Roy immediately. We proceeded to the sale pavilion after deciding Hardesty was in perfect condition after a much-needed year's rest and made one bid and bought him for $1,200. With a year off and the bones having a chance to remodel, plus the great hands of Billy Parker, he was able to negotiate the half-mile at Monticello Raceway. He raced successfully there for many years in the top class as well as the Meadowlands where he got his lifetime mark at age 10. Sadly, at 13, he died doing what he loved to do, racing. He is the only horse buried on the grounds of Monticello Raceway.
That in itself, took close to an act of god.
Speaking of Billy "O", he drove Hardesty a lot at the Meadowlands and I have a great winner's circle quote from him in about the horse. "I have no idea what he was doing around the last turn, but he sure as hell was doing it faster than they were."
Hardesty won almost 60 races and close to $400,000. RIP "old man."
Rory Mercurio asks: I remember years ago the drivers weight was listed on the program. I even remember a driver weighing in at 320 lbs. They said the bikes were so perfectly balanced that weight didn't matter. Is that so and why don't they list weight anymore?
I really don't remember any driver listed over 300 lbs. However, Willem Geerson, the driver of Hairos II in the 1960 Roosevelt International, came pretty close.
Remember, there were many years of harness racing before the advent of catch drivers. Trainers always drove their own horses for the most part with the exception of race entries.
All horseman didn't weigh 135 lbs, so naturally there were many larger-bodied drivers.
I remember plenty of good big drivers, even after the little catch driver became popular. At Monticello, we had Marvin Maker about 100 lbs soaking wet and David Marshall maybe 225, both getting many drives.
Today it is a dead issue. There are a few bigger good drivers and a few taller men, but on the list of $10 million dollar a year winners there are no 200 pound drivers.
As for the bike balance, eliminating any weight difference, that is an old wives' tale probably initiated by your 320 lb reinsman.
In actuality, the sulkies in use today would disqualify a very heavy driver especially on a trotter because of the lift involved. Too much lift will change a horse's gait.
Note that on the program where the drivers weight used to be listed, his age is now there. What's that all about?
Thank you all again for the wonderful mail. Please keep the questions coming in. Two great weeks of the Breeders Crown are on tap and after this weird year who knows what surprises are in store. Tonight's Breeders Crown offering is nothing short of fabulous. I counted more than 60 $100,000 plus winners in 2020 on the evening's card. Have a wonderful week.
Have a question for The Guru?
Email him at GurfTrot@aol.com.