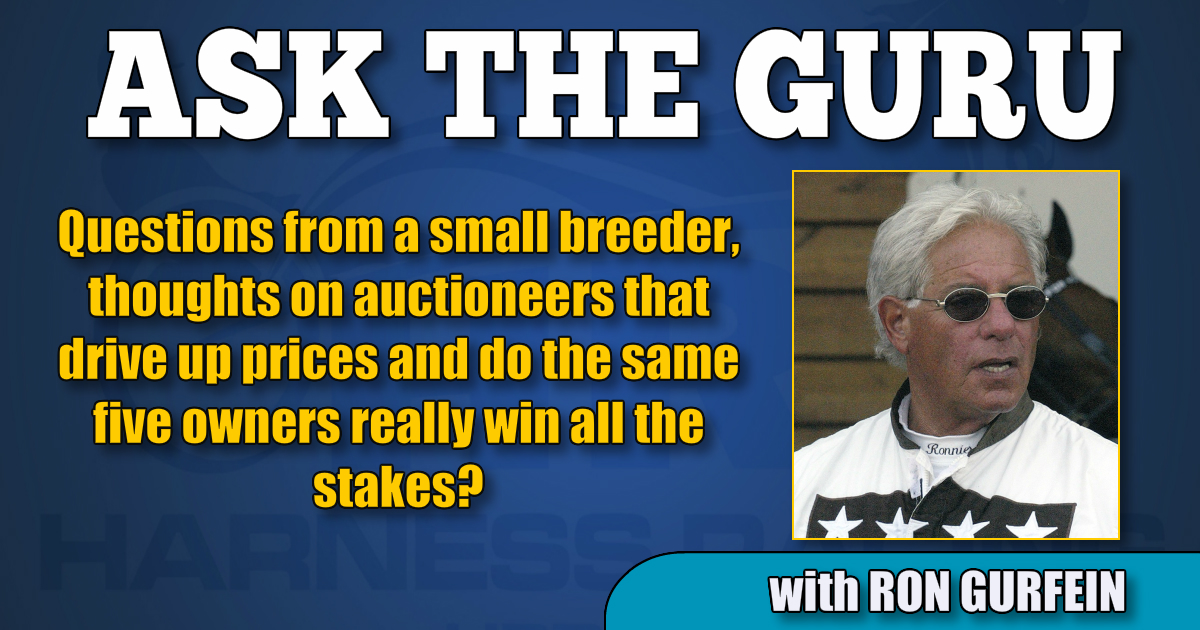 Questions from a small breeder, thoughts on auctioneers that drive up prices and do the same five owners really win all the stakes?
by Ron Gurfein
Tidbits: It's a credit to the resilience of our industry, the amazing success of the Lexington Experience in 2020, the year of the pandemic. The funeral the naysayers predicted turned into a wedding. The sale was terrific and the racing fabulous.
The turnout was so good that if, like me, you came during the first race any one of the days you had to wait for a parking space. We even got lucky with the weather. Although not ideal, it was far better than the expected monsoon.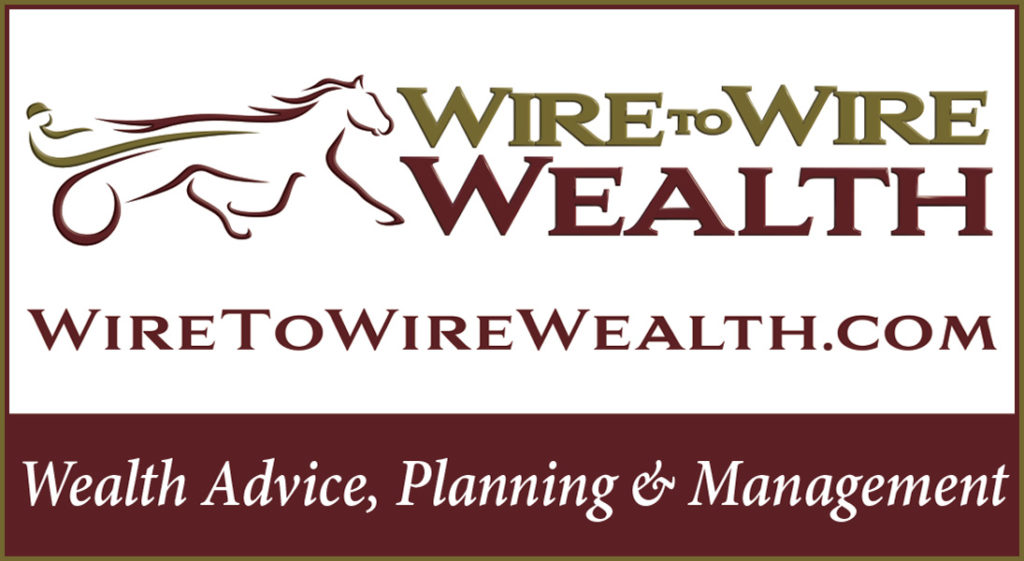 If I could find any fault at all I would say the track itself was way too hard and compromised any trotter with aches and pains. That said it is nobody's fault. With heavy rains in the forecast the track crew had no choice. The razor sharp racing strip resulted in many new track and world records.
* * *
I have often discussed the possibility of returning to heat racing for the Hambletonian and the Kentucky Futurity and John Campbell had me convinced otherwise mainly because of the difference in the body type of the horse we are breeding today. John was right, but not necessarily in regard to heat racing but in regard to the more brittle nature of our sleeker equines.
It was evident to this writer after watching all the Red Mile races this year, a year that because of the virus horses raced way less than they normally would, that many of the new breed we are working with are visibly tired, sore, and over raced.
The strangest fact in all this is that the horses to which I am referring like Reflect With Me, Ramona Hill, and Ready For Moni, all have one thing in common, they have been more than judiciously raced all with fewer than 10 starts to date. That begs the question, how many races is too many? Obviously that is determined by each individual horse, but I have no clue as to where to start to figure out that answer.
Let's just hope that the super hard racetrack is the demon that did them in and they will all bounce back in the weeks to come.
* * *
No horse should start in the second tier in a major stakes race. Some of my learned friends have suggested, and rightly so, that we have 10 horses behind the gate and put up a decent amount of cash for a consolation. BRILLIANT.
There are other reasons for not utilizing a second tier, other than the obvious unfairness for the compromised starting spot. One, as witnessed by the reaction of Ready For Moni who was totally confused following another horse to the gate in the Futurity and another that was not evident in this past Sunday's racing but I have witnessed many times before is that when the horse on the gate has an open bridle and sees a horse following behind the gate some will freak out and run because it is a new and different situation than they are used too.
* * *
Back again to heat racing. I understand that the logistics no longer work and it affords major problems to television coverage — not that there is any for the Kentucky Futurity. I also understand the difficulty on the betting angle with no preprinted program. That said, not just I, but many, miss it.
We need something new and if going back to heat racing doesn't work, varied distances may do the job. Change and fresh is good and will most likely have a positive effect on our attendance and handle.
While on the subject of the Kentucky Futurity, congratulations to the owners of Amigo Volo the Pinske Stable and a special guy David J Miller as well as Nifty Norman and Dexter Dunn the trainer and driver of the winner. Not an easy race to win at this point in the season, job well done.
I haven't seen a winner's circle photo in a long time that made me smile more than the photo of Julie and Andy Miller on the Futurity chair after their win in the Filly Futurity. PRICELESS.
* * *
R.I.P. to my dear friend Barry Abrams. You left us way too young at 66. We became good friends when I had the unfortunate task of chasing his wonderful horse Guts. Barry was a top standardbred trainer and then a top thoroughbred trainer and then breeder in California. He spent the last decade fighting cancer and lost his fight last week. He was a wonderful man.
* * *
Congratulations to my overachieving Miami Heat for a wonderful season ending up in a dogfight with a team sporting two number one draft picks. We will get 'em next year.
* * *
Best of luck to all those that took home my draft selections in the Kentucky Selected Sale especially Nancy Takter and my $27,000 Cantab Hall colt selection. Hopefully I can say next year "I told you so."
Craig Gordon asks: Do you think it's good for the game that the same five owners and trainers win every race at the Red Mile? Last year was supposed to be the greatest yearling sale ever, how come so few show up at the races?
It matters not what trainers or owners win races at any venue. The quality and competitiveness of the racing is what is important. However, before you make a comment you should check your facts.
The major stakes last weekend at the Red Mile were won by Bret Pelling, Ake Svanstedt, Nifty Norman, Marie Ortolan Bar, Mark Harder, Noel Daley, Nancy Takter, Marcus Melander, Joe Holloway, Ron Burke, Jim King Jr., Chris Ryder, and Julie Miller,
That number would be 13 not 5.
As for owners, not five but 47 individual owners were involved in sharing the winning purses this past weekend at the Red Mile.
As for the performance of last year's yearling crop, the price of a colt does not determine success or failure on the racetrack. I am not making excuses for the buyers or trainers, yet 2020 was anything but a normal year and I am certain that there were many changes in scheduling and training as well as a myriad of other problems that had a deleterious effect on many horses this year.
Next time, make an attempt at asking a question with a little less negativity. It would serve you well.
Dr Brett Anderson asks: I am a small breeder and have these questions. 1.What are your thoughts on breeding well-bred mares that were no good on the racetrack? 2. Thoughts on breeding mares that have size, conformation and good race record with no pedigree? 3. Thoughts on breeding mares by off stallions like Glidemaster or Muscle Massive.
Maybe you asked the wrong person the first question because with trotters I am jaded. I have trained seven world champion mares including the likes of Continentalvictory, Beat The Wheel and Imperfection that have never had a top horse. Beat The Wheel has had a good filly but "Connie" and Imperfection from about 16 foals didn't have a horse that could beat me. On the other hand, Continentalvictory herself came from Intercontinental a mare that Jan Johnson trained and he told me she had no ability at all.
There is no definitive answer. However, I will say that I am far more likely to buy a pacer from a fast mare than a trotter.
In my last few years training, I raced the dams of two top horses — Manchego and Six Pack — and neither was a great race mare but both had gait and pedigree. Manchego's dam was on the small size and Six Packs' was huge.
Basically I like well-bred mares with no or milder records especially daughters of great mares.
In answer to mares with little pedigree and good conformation and performance, I would shy away. That said, pedigree is a matter of taste and is not universal by any means. There are times that what one would witness a poorly-bred mare create her own popular family. I bought Vernon Blue Chip for $17,000 and a few foals later the family was commanding six figures and she herself was a top producer. Singular cases as that should not influence your thinking. When you are breeding for the public, the power of the page will attract customers to the stall. Basically at major sales venues there are few pages with what you would call a bad pedigree.
As for question number 3. There is no such thing as an off stallion when it comes to dam sires. Continentalvictory is from a Chiola Hanover mare, not exactly a household name. The family is what the public is looking for not the dam sire.
In my own personal preferences when it comes to trotters there are some dam sires that make me think twice because to me they breed unsoundness into the equation, but they are few and far between and represent way less than one per cent of the yearlings I have looked at.
To quote Myron Bell, there are no crosses in harness racing. You want crosses go to a church.
Joel Kravet asks: Do you think it is right for the consignor to have the auctioneer drive up the price on a yearling? Shouldn't they announce a reserve?
If it's not broken don't try to fix it. Nothing has changed in my 60 years in the business.
Put yourself in the seller's position. This is not a game it's a business to almost all consignors and agents. They want to get the most they possibly can for their product. The psychology of a live auction is that it creates excitement and in the spur of the moment, as the bidding rises, you are way more likely to spend more than you wanted to before the sale commenced. There is no reason you can give me that would diminish my feeling that an owner has every right to protect his horse to a price he thinks is fair.
If there were predetermined reserves that were announced prior to the sale it would deter many bidders from bothering to even be present no less bid when the hip number entered the ring. It would lessen the rhythm of the auction and slow the excitement to a walk.
At any auction the amount of live bids is directly proportionate to the gross of the sale.
Thanks to all for the kind words. There is a bit of a slowdown of the Grand Circuit this week so you have some extra time to ask The Guru some interesting questions. Have a wonderful week.
Have a question for The Guru?
Email him at GurfTrot@aol.com.