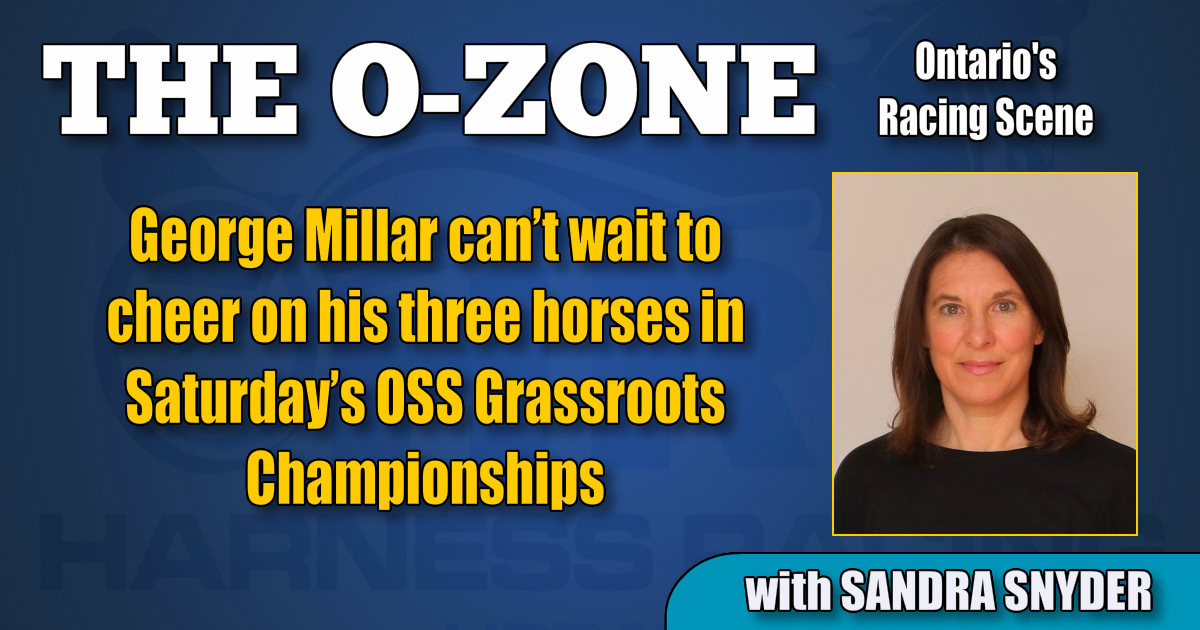 George Millar can't wait to cheer on his three horses in Saturday's OSS Grassroots Championships
by Sandra Snyder
George Millar's plans for this Saturday (Oct. 10) are set in stone. By 8:30 pm he will be settled in front of the television in his Stouffville, ON home ready to cheer on Ontario Sires Stakes (OSS) Grassroots Championship starters Cyclone Sister, Bettorbuckleup and Cantstoplying.
"I'm looking forward to Saturday, I'm looking forward to sitting down to watch all the races," said Millar. "To me it's exciting just to have a bunch of homebreds like that — though, Buckle's not a homebred — but having them competing at that level and making it to the Sires Stakes final is great."
Cyclone Sister will start from Post 1 in the 2-year-old pacing filly division, Race 5 on the Championship program, and Millar is hoping the daughter of Shadow Play and Riveting can match or better the third-place result she posted in her Semi-Final last Thursday.
"I'm definitely keeping my fingers crossed. I never count my chickens before they're hatched, but I think she's going to give a good effort," said the owner/breeder. "And I've got a very good trainer, Nick Gallucci, and he really gets his horses prepared and ready and makes sure that they're well rested going into a race like this, so I'm sure that he'll have them ready to give their best effort."
Cantstoplying finished fifth in his Semi-Final from Post 9 and gets the trailing Post 10 in the talent laden 2-year-old pacing colt final. The son of Sunshine Beach and Musical Voyage was a Grassroots division winner at Hiawatha Horse Park in August, but will have his work cut out for him in a division that saw both Semi-Finals clocked in 1:51.4.
"When you look at our Ontario Sires Stakes program right now, it's absolutely amazing how quick we're going, it's practically like watching a mini Grand Circuit," said Millar. "The 2-year-old pacing colts, both elims went in 1:51 and change. I've been doing this over 40 years and I've never seen that before, just a great quality of horses in pretty well all the divisions."
The senior member of the Millar Farms contingent is Bettorbuckleup, who heads into the 3-year-old pacing colt final off a thrilling Semi-Final victory that saw him make a late surge in the stretch to collar favorite Mayhem Hanover by a nose in 1:50.4. The Bettors Delight son will start from Post 3 in the $75,000 final, slated as Race 7.
"His race in the elim, that was probably one of my most exciting races in the past year. I thought for sure we were just going to be second, and then he gave that little extra kick of speed to get that nice horse Mayhem (Hanover) of Gregg McNair's for the win. Wow. I was screaming so loud at my television. It was pretty exciting," said Millar. "I've never seen, that late in a race, where it looks like you're just going to hang on for second and then all of a sudden, where did that burst of speed come from? I think my adrenaline level got so high after that I couldn't get to sleep."
Bettorbuckleup may not be a homebred, but the colt has a special spot in Millar's heart. The 70-year-old is a regular in the colt's jog cart and race bike.
"He's just a nice little colt. He's one of the few that I kept a colt, usually I geld them all by now, but he's always had such a great attitude. I've sat behind him myself quite a bit and he's just a pleasure to drive," said Millar. "I like him. I can still go a good training mile with the horses. I just always say, like I tell Nick and I used to tell Eric (Adams), I say don't give me any hard ones to drive, give me ones that I'm not going to have any problems with. I feel more comfortable with them."
While the hands-on owner/breeder waits until the young horses are well schooled before he steps into the jog cart, he spends plenty of time watching them learn their early lessons and dreaming about their future prospects.
"I'm so excited just watching the babies getting broke right now. That's when you start dreaming again. Well, I'm always dreaming, because you have to be a complete idiot to have a lot of your business with yearlings, because it's a sure way to go broke," said Millar, who was introduced to standardbreds by his father George Millar, Sr. "But it's just that love of horses, it's the love of seeing something you bred, like most of these babies, I've watched them being born."
The Millar Farms team is working with 13 yearlings this fall and the one their owner is spending the most time dreaming about is a Big Jim filly out of Catch A Wish. The filly is a full-sister to $303,770 winner Fancourt and a half-sister to six others who earned more than $100,000 in their racing careers.
"You know, all they do is throw me good horses, that whole family, Little Black Book, her daughters, Catch A Wish, they all make money," said Millar, whose father purchased Little Black Book in 1993, the spring of her 5-year-old season. "I tell you, I'm just dreaming about this filly (Prohibition Legal) every night when I go to bed. My wife thinks it's a disease."
Millar's affliction has seen him amass the largest herd in the history of the farm this year, a herd he is attempting to trim and has promised his wife, Sondra Millar, he will not add to during yearling or mixed sale season.
"This year is the most horses I've ever had. I think at my main farm where we train the horses we've got about 45 or 47, and we've got I think 16 broodmares in foal, and I have about 10 horses down with Scott Blackler, my other contract trainer, in New York at Mark Ford's training centre," he said. "I've sold some this summer, but I've got about six or seven, eight, maybe nine, ten to sell, hopefully in the next month."
In recent years Millar has concentrated on acquiring well-bred fillies in an effort to refresh the farm's bloodlines and produce future Grassroots and Gold Series competitors.
"My wife gave me heck. She called me a chicken because I raced that Cyclone Sister in the Gold a little bit and thought it was little bit too tough, so I decided we had a better chance racing in the Grassroots and she said, 'You should be a lot braver. You should take a chance and keep racing in the Gold,'" said Millar. "I'd like to race in the Gold again too. Maybe next year. I'm just happy with this year. I'm happy seeing them all in there and you know what, I've been around this long enough, just to see them all race well and do their best and whatever you get, you get. Then they'll get a holiday and I'll get working on the other ones."
The $600,000 Grassroots Championships take place in Races 2 through 9 on Woodbine Mohawk Park's Saturday, Oct. 10 program, which gets underway at 7 pm. Programs and a live stream are available on the track's website.
Ontario stakes action Oct. 9 to 15
Oct. 9:
The Raceway at Western Fair District – OSS Gold Series (3cp)
Oct. 10:
Woodbine Mohawk Park – OSS Grassroots Championships
Ontario handicapping picks
A deep selection of handicapping picks for Ontario racetracks — featuring the talents of Garnet Barnsdale, Michael Carter and Melissa Keith — is available on the Ontario Racing website.