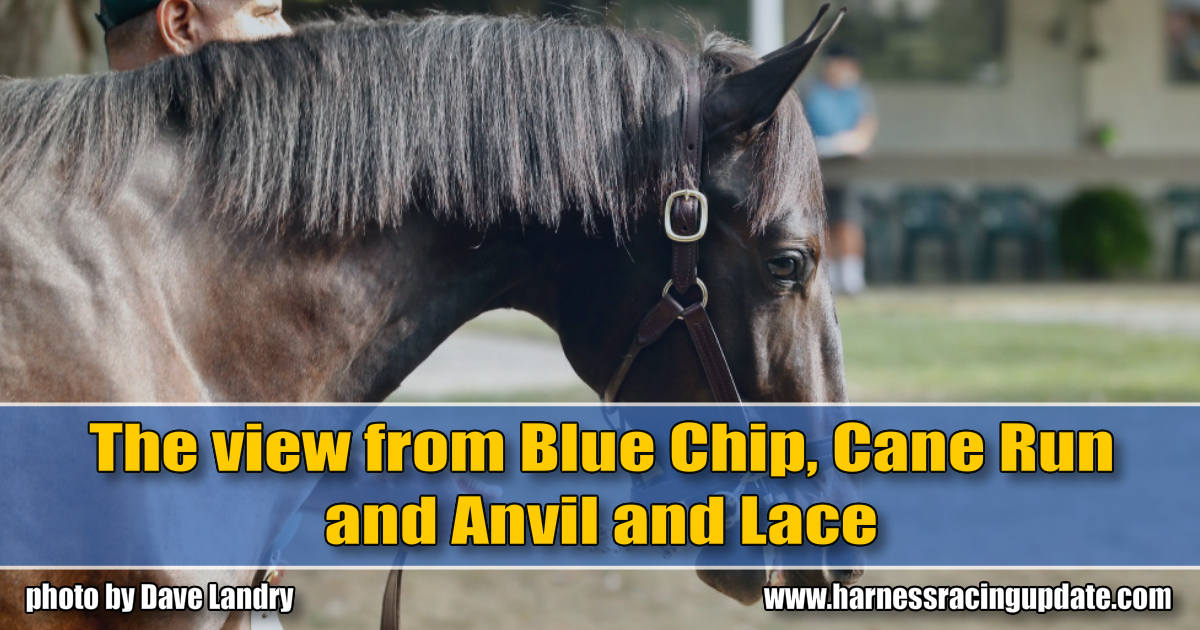 The view from Blue Chip, Cane Run and Anvil and Lace
Beth Yontz, Tom Grossman and Elizabeth Caldwell tout their Lexington consignments and give their thoughts on selling horses during a pandemic.
by Chris Lomon
Although the Lexington Selected Yearling Sale will have a different look and feel to it this year, a stable of strong prospects has three consignors hoping for strong results.
While the effects of COVID-19 have presented a myriad of challenges to this year's annual yearling sale, to be held starting tonight (Oct. 5) through Oct. 9 (with a mixed sale on Oct. 10) at Fasig-Tipton's sales pavilion in Lexington, KY, prospective buyers will have ample opportunity to add young talents to their barn.
Anvil and Lace Farm, located in central Kentucky, is owned and operated by Doug (who is also a farrier) and Beth Yontz (who grew up in racing).
The operation, which preps and consigns at all major sales, is no stranger to success. In 2014, Anvil and Lace sold the highest priced Sportswriter filly, Dancin In the Nude. In 2019, Anvil and Lace graduate Dancin Lou won the Breeders Crown 3-year-old colt pace.
Beth, breeder of multiple award winner Dancin Yankee, once again has some exciting yearlings for this year's sale in her consignment role.
"I have Southwind Tyrion's full-brother, Eden Onthehill (Hip 183), and I think that speaks for itself. He's very attractive, obviously. Great video… but he's good to be around as well. He's the whole package. Some of them have one, but not the other – he's a cool cat. He kind of walks with a bounce, like, 'I know what I am.' He's a very confident colt, but not studdy or mean at all."
There's also another Yontz speaks highly of, a horse that has significant personal meaning.
"I'm partial to Dancin Lou's full-brother, Dancin Sancho (Hip 247), just because he's mine. That family speaks for itself. The mare is a 100 per cent producer of racehorses at two. No, the filly didn't get a mark, but she went to Florida, had something, was sent home and had a month off. So, she was a month behind and we shut her down after a few starts. Being an Always B Miki, she's kind of big and growthy, so hopefully she'll come back and be a good 3-year-old. That's really the only one that didn't have a mark at 2 on the mare's whole page. This yearling, some people might think he's a little small – and he is if you compare him to the Captains and the Somebeaches – but his family, that's what they are. Lou wasn't a tall colt, but I think at this stage, this colt might have a little more height. He's bigger than Dancin In the Nude ever was. He's right where he's supposed to be."
Yontz also mentioned a three-quarter brother (Hip 522) to Dune Hill.
"I don't how he's going to sell, being an EL Titan. If he were a Muscle Hill in the way he looks… I actually had Dune Hill as a yearling before she went to Ron Burke to be trained, and I had the first foal of the mare to Credit Winner, Unleash The Titan, as a yearling. They were put together not as big as this colt – I'm not saying he's too big – but they were just very small. This colt is a good-looking, strapping colt. But I don't think he's going to get as much as he should because he's an E L Titan."
Like everyone else connected with the sale, it's taken long hours and hard work to get the yearlings to this point.
"I went to Ohio and I saw how things were handled there. We should be happy that we're having this sale, as a consignor and seller. As buyers and trainers, be happy that you have a place to purchase new and upcoming horses. There have been challenges along the way, including if the Canadian buyers would come down. Randy [co-sale manager, Manges] told me, 'If they want the horse, they'll find it.' I think that stands true with not just the people here, but also the Canadian buyers. I'm a little nervous, yes. It's sale time and I'm nervous no matter what. But I think we'll be okay. Nothing will compare with last year, but I think the sale will be good. When I was in Ohio, there was enthusiasm, and I think at the end of the day, that's what we all need."
Grossman excited about Walner and Huntsville
Tom Grossman, owner of one of the top standardbred outfits in the sport, the Wallkill, NY-based Blue Chip Farms, has some possible blue-chip youngsters likely to garner a fair share of serious looks at the sale.
Blue Chip showcases 700 acres, home to six barns with 122 stalls and 18 sheds and currently stands, or manages, nine of the highest-ranking standardbred stallions in North America, Australia and New Zealand. Harness racing heavyweights Bettor's Delight, Rock N Roll Heaven, Credit Winner, and Roll With Joe call Blue Chip home.
Grossman, who took over the reins of Blue Chip in 2001, said he is hopeful the Lexington Sale yields more standardbred standouts.
Offspring of Walner has Grossman, and others, talking.
The 2016 Dan Patch 2-year-old trotting colt of the year, and 2016 Breeders Crown Champion compiled earnings of $567,652. The son of Chapter Seven debuted his stallion career at Southwind Farms with a stud fee of $20,000.
"I think like a lot of people, Walner is very exciting," said Grossman. "We have a beautiful Walner (Hip 44) I also have a Walner brother to Plunge Blue Chip selling in Harrisburg. Both Walners, to me, look enough like Chapter Seven to get you excited, but at least the three or four that I've been around – we've raised a couple for clients – are very forward, and have big personalities. Conformationally, he looks like he's going to have that Chapter Seven front end that's so game changing. Very excited for him."
As is Grossman of world champion and 2016 Dan Patch award winner,Huntsville, who was retired in 2017 and eventually made his way to the breeding shed.
"In terms of first-crop sires, the Huntsvilles (Hip 492) all very much look the part to me. It wouldn't be a dark horse necessarily, but all, to me, are very Somebeachsomewhere-looking horses, which is nothing but a compliment. Without getting political, there's a lot of debate going on between Always B Miki, and Betting Line, but I still very much believe in Betting Line. We have a couple (Hip 137 and Hip 467) of really nice ones to sell. If they don't sell well because of a couple bad breaks in his first crop, I wouldn't be afraid to buy one, that's for sure."
Grossman said he is happy with his sale band.
"To be fair, we bring a pretty select group of yearlings to Kentucky that we love pedigree-wise and conformation-wise. I think that physically and conditionally, my group has turned out better than they ever have, across the board. Obviously, there are always a couple of exceptions here and there. In terms of general health and muscle tone, this group has been very mature and strong, physically, when they came in from the yearling fields, more so than any year I can remember. I would say the pedigrees are what they are, but physically, this our best group."
He said he's cautiously optimistic that the sale will be a successful one.
"Clearly, an objective look at the first few yearlings sales is no doom at all. We're comparing things to a world record year last year, but I thought Goshen was a very solid sale. The middle at Goshen was really good. Everything I heard from Ohio and the numbers certainly looked positive. The amount of views – I'm involved with onGait – they're getting for their yearling sales is very high. I'm one of those plan-for-the-worst, hope-for-the-best people. So far, I think it's better than what we've feared. Having all those online bidders and a wider audience that don't necessarily feel at a disadvantage not being there, I think it is an offset for the middle of the market, which is where breeders live and die. Selling a big one helps a lot. But when your average goes from $45,000 to $55,000 for 80 yearlings, that's a lot of money."
Cane Run selling Walner's brother
Elizabeth Caldwell knows the standardbred industry inside and out.
Born in Kentucky, her grandparents, Fredrick and Frances Dodge Van Lennep, owned the legendary Castleton Farms in Kentucky, home to numerous champions. The Van Lenneps also inaugurated Pompano Park Racetrack, the initial Winter Capital of Harness Racing in the early 1960s.
Her mother, Fredericka V. Caldwell is the owner of Cane Run Farm located in Georgetown, KY. Elizabeth and her brother, Danny, run the 210-acre farm. Cane Run was a standardbred nursery in 1982. The first group of race fillies included Guiding Beam, Heather's Feather, as well as Nan Hanover, dam of Nan's Catch, the dam of the international star Moni Maker.
These days, about 70 horses (mares, foals, yearlings, layups and retirees) live on the farm. Some belong to the Caldwells and others are boarded for clients.
"We have a few nice horses. We have the half-brother to Walner selling this year. He's Hip 12, Tetrick Wania. He's pretty nice. We also have a nice Father Patrick colt, Hip 51, Weslynn Crown – both of them are on the first night of the sale. We have a first foal out of Temple Ruins… she's a multiple stakes winner. We have a Muscle Hilly filly (Hip 170) who is on the second night also. We have a nice group. It's not like last year's group, I think, with the exception of the half-brother to Walner and Father Patrick colts."
Caldwell is also impressed with a pair of other yearlings, both of whom might initially fly under the radar of potential purchasers.
"We have two colts selling a little later in the week, both trotters. One is a Kadabra (Hip 637), and the other one is a Cantab Hall (Hip 516). They're both pretty nice. The Cantab, he's pretty popular when people see him. Maybe, at first glance at the page, she's had a few foals and maybe something needs to happen, but he's pretty athletic, big and strong."
Like other consignors, the worldwide pandemic has prompted new ways at tackling the sale.
Although she's not quite certain what to expect in terms of how the sale will play out, Caldwell sees ample opportunities for those looking to buy.
"When everything happened, the shutdown and all of that, with no racing, that was pretty scary. We were thinking if people aren't racing, why are they going to buy horses in the fall. Are we even going to have a sale? Thank goodness everything opened back up. At least we're moving along. We were concerned people weren't going to come to the sale or to the farm to see the yearlings, but we've had quite a bit of foot traffic out here, more so than I would have expected. I don't know how it's going to go, so we're just trying to do our best to get the information on the horses out there. We have a solid group and I'm pleased with all of them. It's just depends on what people want and what they're willing to spend."