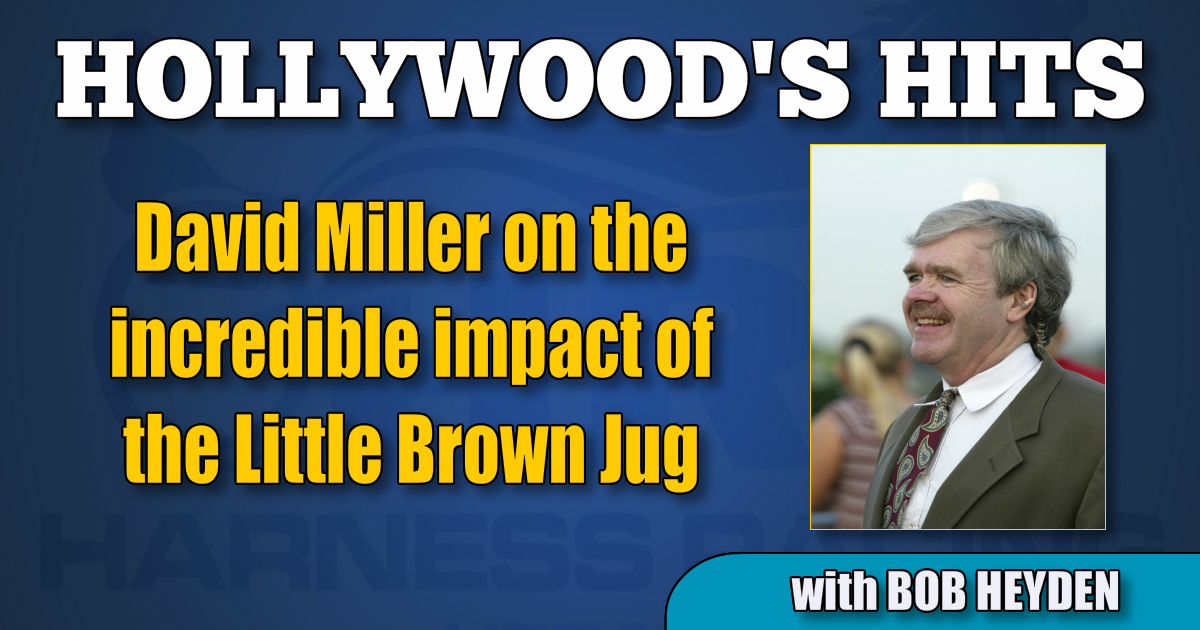 David Miller on the incredible impact of the Little Brown Jug
The Ohio native will drive Later Dudes and Cattlewash on Thursday in the 75th Little Brown Jug in Delaware, OH as he attempts to win a record sixth Jug.
by Bob Heyden
Hall of Fame driver David Miller is 55 now, but he has vivid memories of attending the Little Brown Jug as a child with his father.
"I must have come to the Jug a dozen times with my father before I was ever in it. I remember seeing Governors Skipper up close [in 1977]. Wow! This was the first time I ever got up close. In those days you could hardly see over the crowd. To me, this was like seeing Elvis Presley."
Miller was only 12 then. Three years later, he was blessed to see another rock star.
"In 1980, when Niatross was here, I kind of hung out — hid maybe — in the paddock all day. I wouldn't leave. I wanted to see Niatross. It was unbelievable. What an experience."
Miller drove in his first Jug 12 years later in 1992.
"I remember it well," he said. "Ruff Hewn. I was sitting in the stands. I had driven earlier on the card, and Peg the Paddock Judge came looking for me. Mickey McNichol had been dumped out of the bike earlier and they wanted me to drive Ruff Hewn in the Jug. It was unreal, actually. The entire time I was out there I couldn't feel the bike under me. I was floating all afternoon. He raced well, too — second in his elim and third in the final. I was used to driving Ohio horses, but this was my first experience with a colt like this.
"It was just crazy that I was in the Jug."
Two years later, Miller had his second Jug drive with Duke Duke.
"I had been driving him during the season — in the Confederation Cup and some other stakes. I was in the race with Cams Card Shark. I remember John Campbell scoring him down into the first turn and him making a break. He was lame. They had to scratch him. My colt was competitive in there — second and fourth."
In 1995, Miller drove Powerful Structure.
"Jimmy Cruise, Jr. wanted me to drive his horse. I had come in Monday to train him over the surface. I remember this well because this was my first heat that I won. They were battling pretty good up front and I circled the field. It was quite a feeling. So many years I sat and watched and wondered what it would be like. Magical. That's what it felt like."
Four years later, Miller would drive Magician for Cruise's brother, Earl Cruise.
Before that, he drove Bahama Bunny in the 1996 Jug — "He was okay [fifth]" — Arturo in the 1997 Jug finishing third and third with post 9 in the final.
Then in 2001 Miller partnered with a Cane Pace winner Four Starzzz Shark to be third in the final behind a couple of brand names — Bettors Delight and Real Desire. "I turned Bettors Delight loose and wound up third. Ed Hart trained Four Starzzz Shark back then. He's a great guy to drive for. When I won the Cane I had him on the front."
In 2002, Luc Ouellette won the Jug with Million Dollar Cam, "parking his entrymate Mach Three. The fractions were incredible: :25.4, :53.1, 1:21.3, 1:50.2. I was sitting in the two hole with All American Ingot [who finished fifth]"
Then came 2003. A colt named No Pan Intended won the Triple Crown that year.
"I remember that year and especially that day," Miller said. "I would have to say that was the best day I ever had in racing. I wound up winning 10 races that day, pretty much all the stakes, and my family was all there. My father had passed by then, but everyone else was there. We were all crying that day. I cried like a baby."
Ten wins in his home state of Ohio, his first Jug win — and with everyone watching. No wonder there were tears.
No Pan Intended went on to become the first and only horse to win both a Triple Crown and a Breeders Crown. No pacer has won the Triple Crown since.
"I had to wait until 2008 to win [the Jug] again with Shadow Play. He was a top colt."
Miller has since won the Jug three more times — in 2011 with Big Bad John, in 2016 with Betting Line and in 2018 with Courtly Choice.
When asked if his best work in the Jug was done with Courtly Choice in 2018, there was no hesitation.
"Yes! That was definitely my toughest Jug. That colt had bore IN all year — and in the Jug he was all fired up and bore out. He got to running at the gate in the first heat. He was drifting and all over the track in the final. Luckily, it worked out."
Five Jug. Nobody has won six. Now, 28 years after his debut, David Miller will be trying to set the all-time Jug record.
DAVID MILLER JUG FACTS
• He is the second leading money winning driver of all time and the only one with $200 million already on his bio while winning a Jug [2018].
• Just four days before the 2020 Jug, Miller had eight drives in the Kentucky Sires Stakes finals, each carrying a purse of $250,000 and posted a record of 4-1-2 with earnings of $625,000. He won with Blue Diamond Eyes (second choice) Perfect Sting (1-20 favorite, one of four on the KYSS card), Lady Chaos (third choice) and Baby Your The Best (second choice)
Perfect Sting is an undefeated, royally-bred son of world record holders Always B Miki and Shebestingin. Miller drove both the sire and dam.
"He's more like his dad than his mom. More laid back. Grinding type that can go all day. She was cat-like quick. And something to look at. Incredible. Perfect Sting was not a great training horse. He didn't train down all that great. He was doing it — 2:00 then 1:59 — but he wasn't even working at it. One day we trained him behind [top mare] Zero Tolerance. He came out and got her on the wire in 1:55. Joe (Holloway) and I looked at each other and knew we had something."