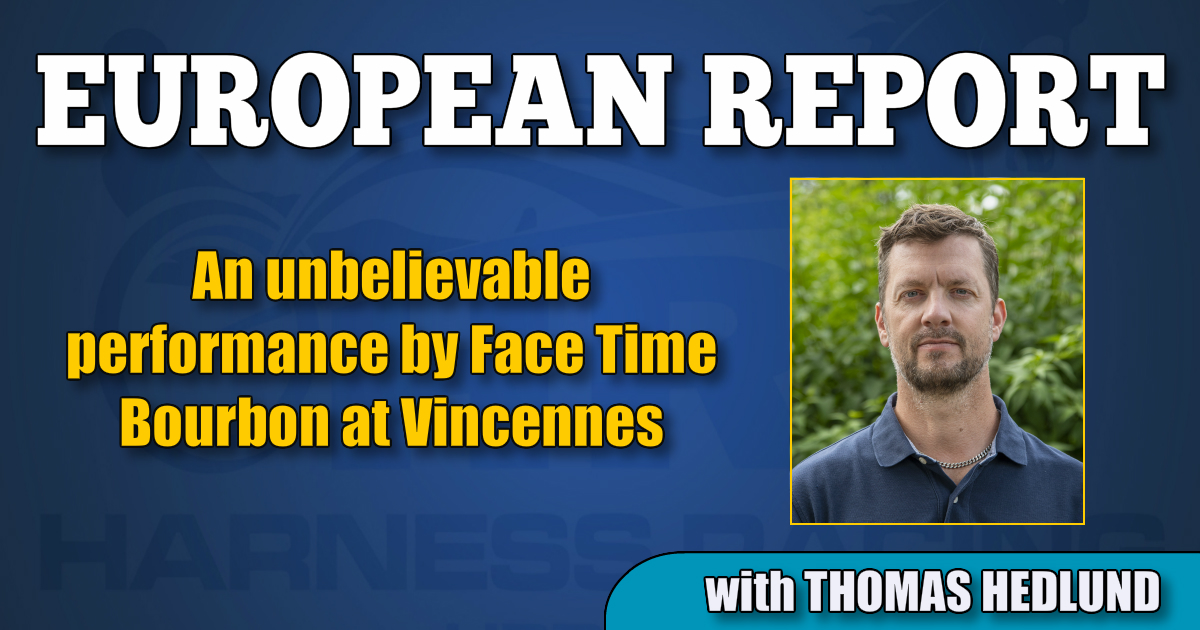 An unbelievable performance by Face Time Bourbon at Vincennes
by Thomas Hedlund
Face Time Bourbon was impressive again in his latest start, this time setting a 1:51.3 (mile rate) world record while winning Saturday's (Sept. 12) $201,000 Prix de l'Etoile over 1.3 miles at Vincennes in Paris in a race featuring four 3-year-olds and four 5-year-olds, where the older gang started 50 meters behind the youngsters.
Face Time Bourbon (Ready Cash) is, undoubtedly, the best trotter in Europe at this moment and he may be the best trotter in the world.
His driver, Björn Goop, knew that he had at least two great 3-year-olds to beat 50 meters in front of him and the Swedish driver acted quickly aiming for a position in front of the field, just as the toughest opponent, Feliciano, found a spot behind the big favorite.
Midway through the race, Face Time Bourbon was pushed to the front and the pace was high. Sébastien Guarato's 5-year-old passed the first mile in 1:51.3 and then another quarter of a mile remained. Goop looked extremely confident over the stretch and Face Time Bourbon kept the same pace all the way towards the wire.
Flamme du Goutier wins Prix de Normandie
Thierry Duvaldestin has produced several top trotters in France during the past 10-15 years and on Saturday's race card at Vincennes, his 5-year-old mare Flamme du Goutier (Ready Cash) won the $201,000 Prix de Normandie monté race.
This was Flamme de Goutier's first attempt under saddle and Antoine Wiels was entrusted on the mare, who accounted for a strong last 600 meters finish and mile rate 1:57 over 3,000 meters (approximately 1.9 miles) is nothing but strong.
Muscle Hill mare best in Norwegian Kriterium
The $187,500 Kriterium for 3-year-old mares was one of the most prestigious races on Bjerke racetrack's card on Saturday afternoon. Frode Hamre trained Jolene B.R. (Muscle Hill—Cantabs Gal) left quickly behind the gate and driver Vidar Hop opted a pocket trip behind leader Devious, a position that became successful, even if Jodie B.R. got really close at the end.
The mile rate over 1.3 miles was 1:58.3 and Carolina Volo finished third.
The 4-year-old Norwegian bred mares fought in $345,000 Stoderby and first choice Lucky Queen Soa (Make It Happen), paired with Lars Anvar Kolle, grabbed a safe wire to wire win in mile rate 1:59.3 over 1.3 miles. Jan Kristian Waaler trains the 4-year-old mare and Lars Anvar Kolle could just sit and relax over Bjerke's home stretch while Lifestile claimed her silver medal ahead of Duchess Frecel.
Saturday's race card featured races for mares. The colts and geldings will join up at Bjerke racetrack today (Sep13).