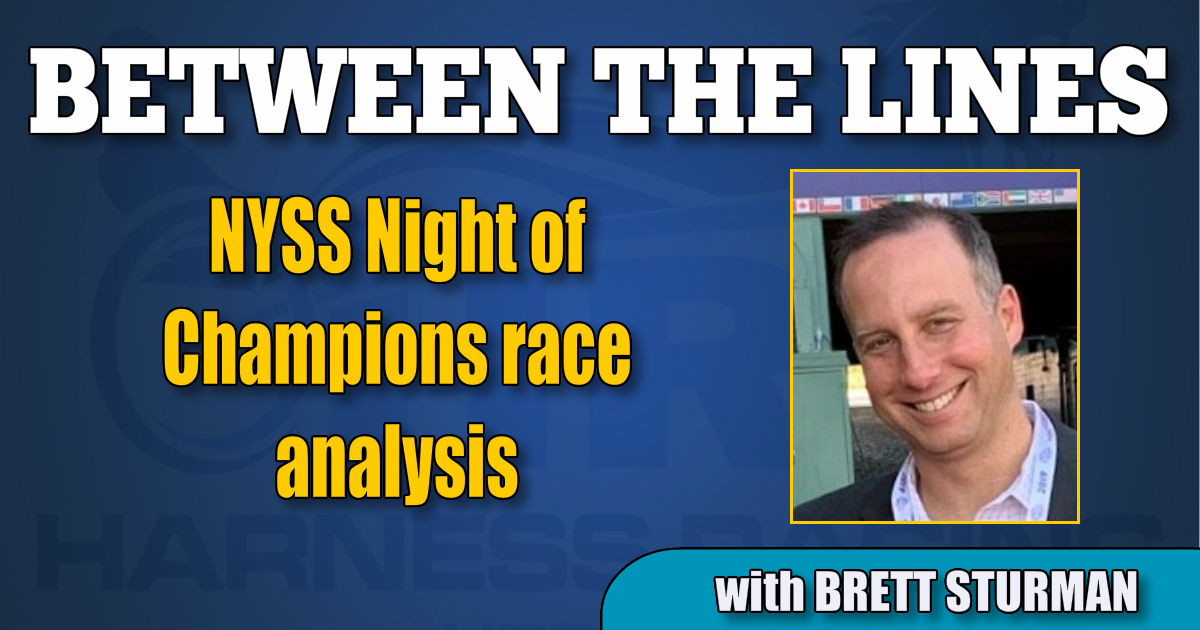 NYSS Night of Champions race analysis
by Brett Sturman
On Saturday (Sept. 12) $1.8 million in purse money is up for grabs across eight New York Sire Stakes (NYSS) finals in the annual Night of Champions at Yonkers Raceway.
TrackMaster PPs are available here.
Here is how I see each of the $225,000 races for 2 and 3-year-olds playing out.
Race 1 NYSS Final 2YO Fillies Pace
That most recent race did set up for her after fast early fractions, but HEART OF MINE capitalized on it to win easily after a well-timed rush. That 1:53.2 win established a new track record and Bartlett picks up the drive for Toscano. ALBERGITA HANOVER is Toscano's other trainee in here and she gets Zeron who interestingly had driven HEART OF MINE up until recently. I'd lean towards the inside filly for no other reason than the post, though Zeron will be blasting from the outside. TEST OF FAITH can't possibly be knocked and has won her last three by over 11 lengths; looms an odds-on favorite. THINK OF GALAXIES went too fast on the front in her most recent; could be lurking at a price.
Picks: 3-6-8-4
Race 2 NYSS Final 3YO Fillies Trot
HYPNOTIC AM is the slight second choice at 2-1 in the morning line, but I don't think that's going to hold. She's generally regarded as one of the top 3-year-old filly trotters in the sport and is likely faster than 9-5 favorite LOVE A GOOD STORY. That filly had every chance through the length of the stretch at Vernon in early July to get to HYPNOTIC AM but couldn't do so. I won't have her if she wins. NO MAS DRAMA has a post edge and will be up close; wouldn't want to discount entirely for trainer Bongiorno. WITHOUT A WARNING can close.
Picks: 3-5-7-2
Race 3 NYSS Final 2YO Fillies Trot
In trying to beat a presumptive heavy favorite again, AELA JAMIESON can pull the slight surprise. Trained by Julie Miller and starting from the inside, she rallied off gapped cover in her most recent at Tioga to catch a 4-5 favorite right at the wire. Has won this year in every race she's stayed flat. DESTINED TO DANCE is another that I may look silly for trying to beat; Butenschoen trainee is an unbeaten 5-for-5 in NYSS action this summer. Brian Sears has been driving both Melander horses of late and he ends up on ITERATION over INSURED AM S. There's no question he'll put ITERATION into play early and will offer a square price. SPLASH BLUE CHIP has talent but would have to overcome post for Ake.
Picks: 1-6-3-8
Race 4 NYSS Final 2YO Colts Trot
AHUNDREDDOLLARBILL is dangerous when flat. Since switching from Daley to Bartlett the Chapter Seven colt was 2 for 2 prior to a break last out. He's since proved that the 8-length romp three back at 12-1 was no fluke; will be heard from. DEE'S RED DELICIOUS made up a ton of ground in that NYSS event at Vernon two back and it came from the same race where AMBASSADOR HANOVER just held in a blanket finish after getting a perfect 2-hole trip. Svanstedt colt seems beatable despite the perfect 4-for-4 record he brings into this final. UNWRITTEN CHAPTHER was improved last out and now picks up Dunn; interesting play.
Picks: 5-7-3-4
Race 5 NYSS Final 2YO Colts Pace
The only realistic way you could play against AMERICAN COURAGE is if the recent vet scratch worries you. But trainer Alexander tweeted that same night from 8/28 that a virus had run through his barn and that the horse coughed with mucus prior to that race, but aside from that had been acting fine afterwards. Unbeaten at 7-for-7 with a mark of 1:51.3, he can be played with confidence. MAJOR MAKOVER didn't fire when last seen here two back but was better last out at Vernon. SAVIGNON BLUECHIP closed to be second two back to the top choice and looks just as good as anyone else for an underneath spot. TOWN GOSSIP should be in the mix from his advantageous starting slot.
Picks: 5-4-3-2
Race 6 NYSS Final 3YO Fillies Pace
HEN PARTY tied the track record in her most recent for 3-year-old fillies at Saratoga and is the most accomplished of these. That first-win at Vernon two back when she went in 1:49.2 was giant; gets a new driver in Tetrick as regular driver McCarthy is at Woodbine Mohawk. SO RUDE yielded early in the mile last out to HEN PARTY and had every chance to get her through the passing lane but didn't have enough. Last lost 4 of her last 5 to that rival, though she did beat her once and does get a slight post edge. DRAGON ROLL made a brief first-over bid last out against HEN PARTY, looked menacing for a brief moment. RACINE BELL aims for 5 in a row and will suddenly offer a much-increased price than what she's been offering of late.
Picks: 3-7-4-2
Race 7 NYSS Final 3YO Colts Trot
BERKERY J was sitting comfortably in the pocket last out behind a 1-5 favorite when it looked like she may have been bothered after that horse broke on the lead. Too bad because it would have been her race to lose at that point. Went a couple impressive miles back in late June/early July and could surprise. CHAPTIAMA is the deserving favorite and benefitted last out from those breakers. Likely would have closed well anyway as that 1:53.3 win from four back stands out. HOBBS looks like a natural choice from the rail; no real reason to knock. BARN HOLDEN would normally be a player, but the post is a killer.
Picks: 5-1-4-8
Race 8 NYSS Final 3YO Colts Pace
The last NYSS race of the night presents possibly the biggest showdown of the night. MAJOR BETTS was stretched out a bit last out through the opening quarter and that took enough out of him where he couldn't make any late impression to SPLASH BROTHER at Saratoga. SPLASH BROTHER continues to have a tactical edge over that rival and the road to the winners circle goes through him. GROOVY JOE could be a sneaky play for Kakaley and Macintosh; would get a lot more play if not for the post. GENIUS MAN tries hard.
Picks: 1-8-6-5