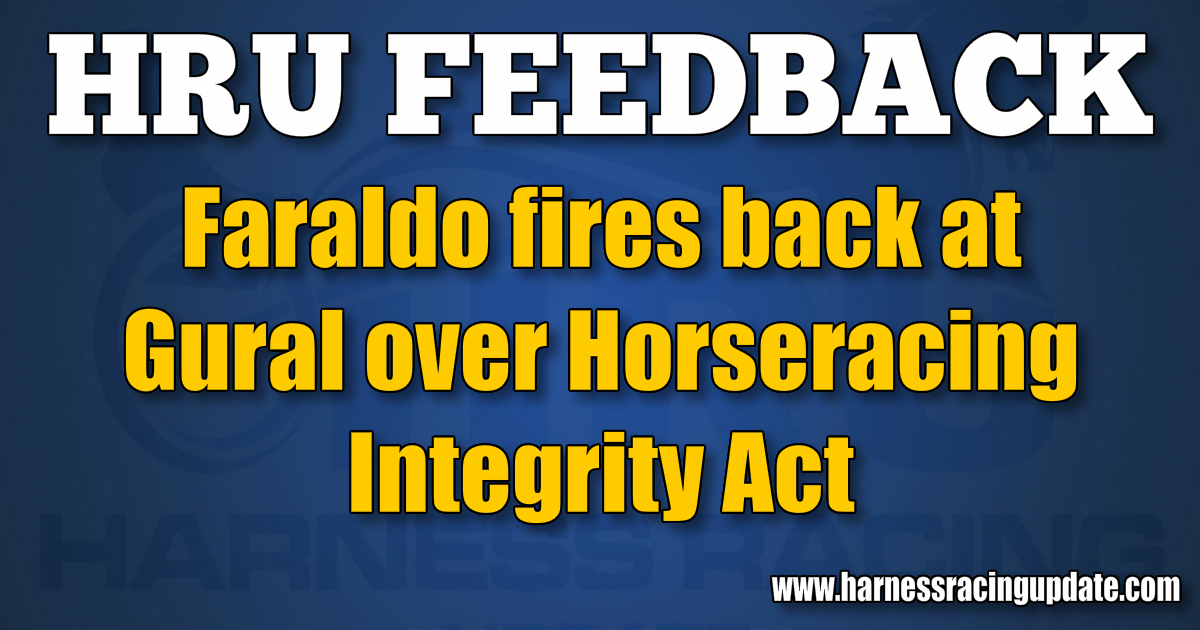 HRU Feedback (2020-09-06)
Faraldo fires back at Gural over Horseracing Integrity Act
Jeff Gural continues to berate anyone who disagrees with him on any issue (full story here). That is usually done by direct or indirect attacks meant to discredit the speaker. I know very well of what I speak, having been at the receiving end of many such comments, since I so often disagree with his points of view. His latest attacks on the USTA, indirectly against its board and directly against its president, Russell Williams, for their very well considered position on the Horseracing Integrity Act, is just the latest noxious volley.
The USTA has expended much effort to ensure that the Horseracing Integrity Act, while well intended, recognizes that harness racing involves a different breed with a different performance model, and cannot be treated simply as a subsidiary of thoroughbred racing. Thankfully, our breakdown rate is infinitesimal compared to the thoroughbreds; nor do we suffer the global economic concerns centered around the domestic use of Lasix that is repeatedly set forth as the justification for the removal of race day Lasix.
Through its board of directors, the USTA and its president have spent much time attempting to carve harness racing out of legislation that fails to address our differences as a breed and yet seek an inordinate amount of the cost payment from our industry owners. After serious analysis of the bill, the USTA made many trips to our nation's capital to provide a substantive, reasoned response to the bill's contents. Contrary to Mr. Gural's assertions, the USTA's position is neither frivolous nor ridiculous. Rather, it is a position reflective of sincere concerns over the negative effect an ill-crafted federal law would have on our sport; a sport already being cannibalized and wishfully destroyed by thoroughbred racing interests and casino companies.
Mr. Gural owns one of those aforementioned casino companies in New York. Warnings that our refusal to capitulate to thoroughbred interests and support the federal Act will result in "decoupling" does not serve our interests one bit, but might, in fact, be that author's ulterior motive. The USTA efforts hopefully will achieve its only goal in opposing the Act, and that is to either be carved out of this thoroughbred-centric bill or obtain the concessions we need as an independent industry.
Importantly, the USTA does not argue against or is in any fashion complacent when it comes to integrity.
President Williams and Hanover Shoe Farm have done much, with money in hand, by creating a vehicle, the Standardbred Racing Integrity Fund, to perform independent policing of our sport in the aid of investigations. This will serve to reinvigorate policing which, because of economics, has been virtually non-existent in recent years. additionally, just three years ago, I published a protocol for uncovering beard trainers.
Being opposed to an ill-conceived Horseracing "Integrity" Act, and all it really stands for, creates an easy target for opponents to take cheap shots at the USTA, its chairman of the board, and its efforts endorsed by those who I know to be thoughtful directors, concerned about integrity, independence and economics.
The last cheap shot is the comment that some people had horses with one of those trainers arrested or indicted in 2020. That shot was directed specifically at me. Need I remind the industry that many innocent owners have entrusted horses to trainers who possessed valid state licenses until something was alleged against them, either in the form of racing violations or alleged criminal conduct. Some well-respected owners more prominent than myself have utilized trainers on the list of those recently charged, including Mr. Gural. In this regard, while differences of opinion can foster honest debate, hypocrisy simply minimizes the value of the opposing viewpoint.
—Joe Faraldo / USTA chairman