by Murray Brown
You, in partnership, probably own as many standardbred racehorses as anybody in the world. Yet, picture this: You are allergic to horses, you are afraid of horses and you have never sat behind a horse although you've owned well over 2,000 of them.
You are Mark Weaver, part of the Mark Weaver-Mike Bruscemi partnership, who together with the Burke family and other assorted individuals have year after year led the money earnings list of horse owners in North America and probably the world (and also won that Canadian Pacing Derby on Saturday with Dorsoduro Hanover).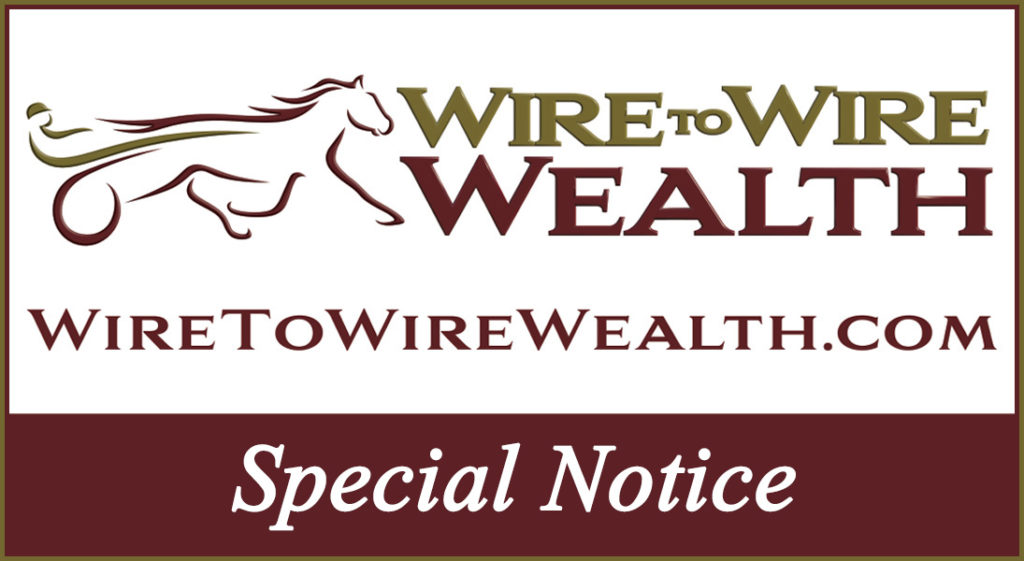 How did this come to pass?
"My family came from Pittsburgh, but I was raised in Southern California, not too far from Los Alamitos, before the track went down in flames insofar as harness racing was concerned. I've loved sports all my life.
"I especially liked betting on horse racing, both thoroughbreds and harness. That became my passion. I was a regular attendee at Los Al and I did pretty well at the windows. Although my knowledge of horses with regard to pedigree and conformation is limited, I'd be willing to match my ability to watch and analyze a horse race and the abilities of the horses in it against just about anybody.
"Like many young men, I've dreamed of owning and running a sports franchise. Realizing that this is likely impossible, my participation in owning harness horses goes a little way towards realizing that dream.
"We moved to the Pittsburgh area and of course The Meadows became the place to go."
You've been a successful gambler. To what do you attribute this?
"One of the most important rules is that you must have no fear. There is a gambler's saying that says, 'Scared money never wins.' That might not be 100 per cent so, but it is very important. If you have a strong opinion, whether it be on a 'normal' sporting event or a horse race you cannot be afraid to go with your gut.
"The more important thing of course is that you know as much as you can about what you are betting on. Almost as important as knowing what you can about an individual game or race is knowing what you don't know.
"There was a time when to a large degree I made my living betting on horses. In recent years that has been cut down considerably. Today I look for value. If the potential gains in multiple race bets are worth the investment, I'm sometimes challenged by them. For the most part I've been fairly successful, but betting on individual races has become somewhat of a rarity."
You and Mike Bruscemi have been associated with the Burke family for many years. How did this come about?
"When I started going to The Meadows I thought it would be fun to own a horse or maybe a few horses. I hooked up with a local trainer who did alright for me. But I wanted action, more action than I was getting in that stable. I met Ronnie Burke and it was almost like we clicked immediately. We were and still are focused on the entire picture. Racing at The Meadows was fun and somewhat gratifying, but we both wanted to widen our horizons.
"I had become friends with Mike Bruscemi through an annual fantasy football draft that we both attended. I suggested to Mike that he might be interested in having some fun and perhaps making some money in owning some racehorses.
"He said yes. I don't know if Mike had ever been to a racetrack before. We went to The Meadows to watch the first horse we owned together. She was going to win by five lengths when all of a sudden she stuck her toes in and made a horrendous break. I thought to myself, 'I guess that's enough harness racing for Mike.' But that wasn't the case. We've been together since, with of course the Burke family, through mostly good times and the rare bad ones.
Speaking of bad times, how has 2020 with all the terrible events affected your horses and your business?
"It's been a @#*&#%$@ disaster! We, meaning the stable, had lost millions of dollars. The months that we lost not racing were some in which we are generally able to help offset the expense of running a stable of our size. The horses racing at that time of year were generally the ones carrying the stable including the more than 70 2-year-olds that we had in training, especially the huge costs involved in staking them.
"All of our racehorses were out of action. But the expenses for the most part were the same. We were paying the bills on more than 300 horses with just about nothing coming in. Our only sources of revenue were the stud fees on the horses that we owned parts of. But those were minimal compared to the overall expenses of operating the stable."
Do you anticipate coming out from all the expenses incurred and the lack of income coming in?
"Actually we are just about reaching the point where we have a chance to have caught up. A great deal will depend on how our horses do this weekend with both the Ohio and Pennsylvania championships coming up. If we do as well in them as I hope we will, we will have likely reached the point where we are no longer net losers. A big part of that is that we have by necessity made significant changes in our way of doing business in the last two months. In a normal year, we would likely buy about 20 racehorses a month. In the last four months, we have bought 10 head and sold 70. That goes a long ways towards righting the books."
Let's talk about some of your better horses.
"There have been so many that its very, very hard to pick one favorite. If I were pressed to the wall I'd be hard pressed to go against:
"Sweet Lou – The number of thrills he has provided us and still continues to do are innumerable. He was a world champion at 2 and raced at the highest level at 3, 4 and 5. He is now one of the best pacing stallions in North America. I will say the very best, mostly to get Myron Bell riled up. If he isn't the best, he is darn close. Speaking on a relative basis, he hasn't had quite the quality of mares to begin with that his number one competitor Captaintreacherous has. But they are coming. His crop of yearlings this year are out of mares comparable to those of any other stallion. Who's the best will likely be ascertained on the racetrack next year and in the years to come. In all my years in the sport perhaps the greatest satisfaction has been derived from the success that he has accomplished from his first few years at stud.
"Foiled Again – Some might say how could you possibly not say that the greatest money-winning horse ever is not your favorite. They might be right. The problem is an exceptionally difficult choice when you've had as many great horses as we have had.
"Warrawee Ubeaut – There's recently been a slightly heated conversation on Facebook regarding who was the greatest filly pacer of all time. I know it is Warrawee Ubeaut. There were others who have thought differently, specifically with regard to Three Diamonds and Countess Adios. I never saw those race, but I've seen every race that Beaut went and I've never seen one close to her. I understand there have also been many others such as Tarport Hap, Eternal Camnation and Silk Stockings. To show you how much we think of her, we've decided to enter her against the boys in the $100,000 Scioto Downs free-for-all this weekend.
"Mission Brief – I don't care what others may think, I think that Mission Brief at her best was the greatest trotting filly that ever lived — maybe even the greatest trotter. There are a lot of them that I've never seen, but of the ones I've seen she's the best. That includes Atlanta, Manchego and Ramona Hill.
"Southwind Frank – He is undoubtedly the best trotting colt we have ever had. He was a truly great 2-year-old. If not for some soundness issues, he would also have become one of the great 3-year-olds. His first foals are 2-year olds and they are performing exceptionally well. Five from that first bunch have made the finals of the Pennsylvania sires stakes this weekend."
How about racing. Which races do you enjoy most?
"The Little Brown Jug, in my opinion, is the best experience in all of harness racing. The crowd, the ambience, the horses and horsemen are there not only determining who are the winners, but they are also out there enjoying themselves. This is still harness racing at its best.
"I suppose if we hadn't been taken down with What The Hill in the Hambletonian, that would probably have been my favorite. There is no doubt that it was my biggest heartbreak. That was definitely a race where the best horse did not win.
"The many Breeders Crowns that we've won have all been exceptional.
"Of course there is nothing quite like winning The Adios in front of a hometown crowd."
What, if anything, do you see as your chief function in the Burke operation?
"I would say three main things. The first would be in scouting out prospective racehorses for the racing stable. I look for horses that I think we can improve upon and that might thrive under Ronnie's system. I bring them to Ronnie's attention and of course he makes the final decision on all horse related matters. The second which has been recently acquired is helping to determine which horses should be sold, by what method and for how much money. I try to be realistic and fair in doing that. The third is to act as kind of a liaison between Ronnie and the other people involved in our ownership groups. Ronnie just does not have the time to do that. To be quite frank, I can't imagine how he gets all the things done that he does."
Where do you see the future of the Burke operation in the near term?
"If we've learned anything from the lack of racing opportunities in this terrible year, it's that we've got to cut down the size of the operation. It's clear that the future of Yonkers, where we've earned bucket-fulls of money in recent years, is in doubt. Even if it continues, the purses will be down because, to a great degree, they are predicated on the amount of handle at the casino. That is down this year, way down. The same applies to all the other New York tracks as well as all the Pennsylvania tracks. Purses are already down significantly and many big money stakes have been cancelled."
How do you see yourselves performing at this year's yearling sales?
"A lot of that will be dependent on how the sale of some of our horses, especially prospective broodmares go. If we are able to sell some of the mares for what we think is a good and fair price, then chances are that we will be quite active. If we aren't able to do that, we will likely have to pull our horns in a little. Previous to this year, we have operated on a five to one ratio on racehorses versus yearlings. I suspect that we will likely come close to that ratio again. However I'm pretty sure our racehorse inventory will be down, then so will our activity at the yearling sales."
Let's close out with your basketball prowess. It's pretty clear that you consider yourself a pretty good hoops player.
"I think that with the exception of Nikola Jovic and Sam Bowie, I could put on a good show with everyone that I know is involved in harness racing. I consider myself to be a very good shooter. In terms of speed and athleticism — not so much. Ronnie Burke thinks that he belongs on the all harness racing basketball team, but I'd describe him as being a Bill Laimbeer without any talent."
Have a question or comment for The Curmudgeon?
Reach him by email at: hofmurray@aol.com.