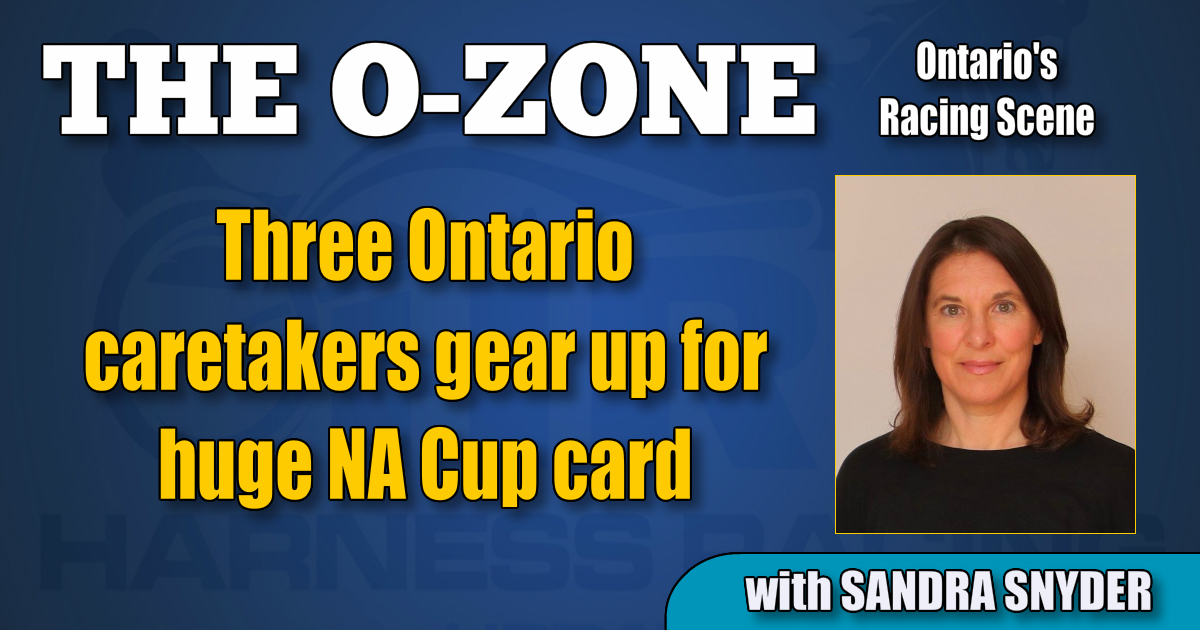 Three Ontario caretakers gear up for huge NA Cup card
Giselle Loder, Tammy Walsh and Mary Henderson are hoping their babies have a safe and lucrative night Saturday at Woodbine Mohawk Park.
by Sandra Snyder
The attention of the harness racing world will be focussed on Woodbine Mohawk Park this weekend as the Milton oval plays host Saturday (Aug. 29) to a $2.4 million card, highlighted by the $1 million Pepsi North America Cup final.
The backbone of Saturday's program, as it is night after night at racetracks across North America, is the army of caretakers who are working tirelessly to ensure their horses step onto the track Saturday in peak condition.
"I'm going to take the two into retention on Friday night," said Giselle Loder, who cares for Tattoo Artist for trainer Dr. Ian Moore and owners Frank Cannon and Let It Ride Stables and will also supervise Denali Seelster through retention. "I said to Ian I'd rather do it myself. He said, 'Well you can do it or get somebody else.' I said, 'No, I'd rather do it myself, that way I know everything is good.'"
Tattoo Artist heads into the North America Cup final off a fifth-place result in the elimination won by Tall Dark Stranger. It was just the Hes Watching son's second loss in a sophomore campaign that has seen him capture three Ontario Sires Stakes (OSS) Gold Series divisions and a pair of overnight starts. The colt has only missed one check in 15 career starts and was the OSS division champion at 2.
"I feel privileged to be looking after this horse. He's fantastic. It's been a great year," said Loder, who has worked with the colt since her earliest days with Moore. "I never dreamed I would be looking after a horse of this calibre. He's a total professional, too. He doesn't like to be bothered with, he doesn't like to be fussed and brushed and all that, but once he's ready to go, total professional. He just walks out to the track and he knows what he has to do, and he does it, and that's that."
In addition to Tattoo Artist, who starts from Post 7 in the main event, Loder also cares for 2-year-old pacing filly Andra Day, who gets Post 5 in the first $71,638 Eternal Camnation elimination.
"Andra Day, we call her Sunny, but I like her because she's like Tattoo, she's very competitive," said Loder, who was first introduced to standardbreds on a teenaged visit to her aunt, trainer/driver Elisabeth Jansen, and later participated in a two-day introduction to the business facilitated by the University of Guelph. "When she knows somebody's coming up beside her she will dig in and try harder to beat them, and I love that."
Let It Ride Stables and Bottom Line Racing LLC share ownership of Shadow Play daughter Andra Day, who has two Gold Series wins and a win in her elimination of the Battle Of The Belles on her resume through five starts.
Loder said when it is time for Andra Day and Tattoo Artist to step onto the racetrack on Saturday night there will be no hiding her hopes and anxieties for her charges.
"Some days, when I send them onto the track to race I feel like I'm sending my kids to school. I get nervous, everybody sees me and I'm all nervous and they laugh at me, but they're like my kids," said the Mt. Pleasant, ON resident. "It's not just a paycheck, it's so much more than that."
Tammy Walsh has two fillies in the Eternal Camnation eliminations. Best Keepsake will compete against Andra Day from Post 7 in the first split and Ring Of Kerry gets Post 3 in the second $71,639 elimination.
"They didn't help me out very much because I'm in the first and the second, so unfortunately I'm going to have to pick," said Walsh, who is a member of trainer Anthony Beaton's team. "I think I'm going to do Keepsake if I have a say. Ultimately it will be Tony's decision, but I think that it's probably best if I did my filly, Keeper, because she's a little bit harder to do. Where if (Tony's wife) Lisa comes to help, you know she could probably do Ring Of Kerry. She just behaves herself, which is nice.
"Ones that are a little bit difficult and have little quirks, you don't really want to saddle that on anybody on a big night, because it's a lot of pressure as it is."
Walsh said Best Keepsake requires ongoing calm, reassuring attention in the paddock.
Neither Best Keepsake nor Ring Of Kerry have found the winner's circle yet this year, but the Betterthancheddar daughters currently sit among the top 10 Gold Series point earners. Best Keepsake has a pair of seconds and one fourth to her credit for owners Beaton, David Mercer, 2156604 Alberta Inc. and Michael Lindley, while Ring Of Kerry has tallied a pair of thirds and a seventh for owner/breeder Robert Bridges.
"I'm hoping for great results," said Walsh, who grew up with riding horses and got her first exposure to standardbreds as a 17-year-old, swimming horses at Argyle Farm. "My goal always going into stake races is I want to be top three. I don't have to win; I always just want to be top three. But I mean obviously in a stake race getting money is better than nothing."
Beaton has eight horses entered on Saturday so it will be all hands on deck; something Walsh says is typical of the Waterdown, ON resident's operation.
"We all work well together, that is another thing I like about our set up. We do have our own horses we put away, but we're very team oriented in a whole. It's nice; it's a nice place to work. And we do lots of barbecues too, he looks after us," said the Cambridge, ON resident, who joined the Beaton team in the spring of 2019. "You have to look after your staff I think, if you want the wheel to turn nice, and he definitely tries to look after us and appreciates us and I think that shows a lot."
Mary Henderson will also be splitting her attention between three horses on Saturday as trotting mare Only Take Cash goes postward in the $220,000 Armbro Flight Final, sophomore pacing filly Perfect Storm lines up in the $400,000 Fan Hanover Final and pacing horse Best In Show competes in a $26,000 overnight.
"With those three horses, the two horses that are in the stakes, they probably will be longshots. They're not going to be even money favourites, that's for sure, but they'll give it," said Henderson. "I know for sure Only Take Cash will give it as much as she's got, she'll give it her all."
Henderson has cared for some talented horses in her 15-odd years with trainer Bob McIntosh and said 4-year-old Cash Hall daughter Only Take Cash ranks among her all-time favourites.
"She's a little gritty and I love her. She's mean," said Henderson, who cares for the winner of $807,826 on behalf of McIntosh, Dave Boyle and Mardon Stables. "She's a cranky little mare. The less you do the more she likes it. She hates being brushed, she loves being turned out, the less you have to do to her the better."
With the last of McIntosh's four entrants going postward in the 12th race, Henderson and her co-workers will not arrive back in Windsor until the wee hours of Sunday morning, one of the few disadvantages the horsewoman identifies about her chosen career.
"We have the greatest job in the world you know. Some of us at work there at Bob's, we start early in the morning and we get done before noon. So we kind of set our own time to go to work, which is kind of nice, and then you have all your afternoon off," said the LaSalle, ON resident, who was introduced to harness racing by her childhood friend Jan, whose father Bruce Fulmer trained a few horses. Before joining the McIntosh stable she and husband Ron Henderson raced a string of horses at Windsor Raceway.
"I still do like going to race a horse, and I used to love when we could cross the border and I used to go to Ohio and Kentucky, and you meet great people. People in this business are fabulous," she said. "Bob's got some great owners, really nice people, love them too, like you know when you go and race and they're so appreciative that their horses are taken care of good."
With the passion and commitment Loder, Walsh and Henderson bring to their profession, the owners of each of their horses can rest easy knowing their equine athletes are getting the best possible care, not just on North America Cup night, but throughout the racing season.
Stakes action Aug. 28 to Sept. 3
Aug. 28
– Woodbine Mohawk Park – Casual Breeze divisions and Goodtimes eliminations
Aug. 29
– Hanover Raceway – OSS Grassroots (2ft)
– Georgian Downs– Prospect Series (3ft)
– Woodbine Mohawk Park – North America Cup, Fan Hanover, Armbro Flight and Roses Are Red Finals, Eternal Camnation Eliminations, Nassagaweya (2cp) divisions
Sept. 1
– Woodbine Mohawk Park – OSS Grassroots (3ft)
Sept. 3
– Flamboro Downs – Prospect Series (3fp)
– Woodbine Mohawk Park – Peaceful Way & William Wellwood Memorial Eliminations
Ontario handicapping picks
A deep selection of handicapping picks for Ontario racetracks — featuring the talents of Garnet Barnsdale, Michael Carter and Melissa Keith — is available on the Ontario Racing website.