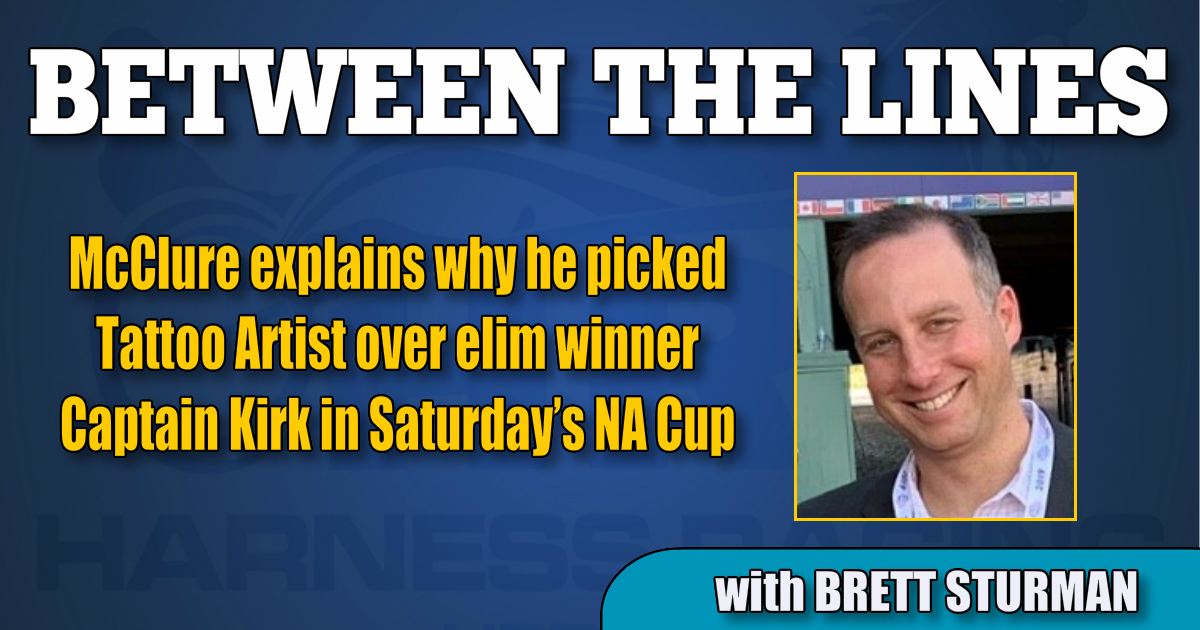 McClure explains why he picked Tattoo Artist over elim winner Captain Kirk in Saturday's NA Cup
by Brett Sturman
By now, you're probably tired of hearing that the sport's big events look "different" this year, or "unusual." While correct, it's normally in response to enhanced protocols or conducting racing in front of few or no fans. Such will be the case for Saturday's 13-race card at Woodbine Mohawk Park, but another aspect that will look much different than in year's past is the driver colony.
Last year's card featured names by the likes of Tetrick, Sears, Zeron, Dunn, Miller and so forth which is typically what this card sees every year, but that won't be the case this time. Due to restrictions and all sorts of logistical issues around travel between the countries during the pandemic, the only U.S.-based driver that will be participating on Saturday's card will be Yannick Gingras. He drives Pepsi North America Cup favorite Tall Dark Stranger.
As a result, the strong driving colony that you'd see on any regular night of the week at Woodbine is represented in full throughout all the major stake races. The only Canadian-based drivers in last year's North America Cup were Sylvain Filion and Bob McClure. They are both represented in this year's edition, and both are on 3-year-olds with chances.
For McClure, last year's Dan Patch Rising Star winner, he drove elimination winner Captain Kirk last week but curiously is on a different colt for the final, Tattoo Artist. That's something you don't see often; opting off an elimination winner for another horse that is bound to be far higher in odds. "I had been offered (Captain Kirk) three weeks before, and I told them that I was going to stick with Tattoo Artist no matter what," McClure said. "They went with other drivers, obviously trying to get a first choice, and Mark (MacDonald) ended up not being able to come last week (MacDonald was listed on the overnight entries to drive Captain Kirk prior to McClure being named driver at time of final driver choices). And so, on Captain Kirk they said just get him in the final and do the best I could, and obviously he raced fantastic. But I was still going with Tattoo Artist. Not just because of the loyalty, but I think he was just as impressive in his elimination as Captain Kirk was."
Tattoo Artist finished fifth in his elimination losing by a length and a quarter but had traffic issues throughout the entire stretch. "With Tattoo, I jerked him sideways about four times and he still had enough to get into the final, so I was pretty impressed with him. He's got as good a shot as anybody, and I wouldn't trade him for anybody right now," McClure said.
Those seems like ambitious words coming from McClure, but he won last year's Hambletonian with a 15-1 shot and that's the neighborhood in which Tattoo Artist is likely to go off at. Tall Dark Stranger will likely go off in the area of 4-5 and in addition to being fast, he's earned a reputation as a horse with guts. Everyone knows about his Meadowlands Pace stretch comeback, but he was just as impressive in his elimination last week. Everyone took their shot at him including Odds On Osiris who had the length of the stretch to get by on his inside, and Tall Dark Stranger lasted for every inch that he had to. He's the most likely winner, but there's a lot of talent in this field.
Capt Midnight just missed against Tall Dark Stranger last week while getting a second over trip. He rallied belatedly to be second to that same rival in the Cane Pace two back and is rounding back into his better form. Jody Jamieson will pick up the live drive on elimination winner Captain Kirk. He beat Tall Dark Stranger three back but then was no match for him in the Cane. He did show resilience to keep coming last week against Allywag Hanover who looked gone at the top of the stretch, but I think either of those would need a touch more to get the top prize. Captain Barbossa lands a bad post and will be a big longshot once again but was splitting horses late with pace in his elimination.
In addition to the North America Cup, McClure has chances throughout the other rich finals. In the $400,000 Fan Hanover, McClure drives Laura's Love, a filly he knows well. In her elimination won by undefeated Party Girl Hill, Laura's Love tipped widest into the stretch and closed with a final quarter of :25.1 in a race where she narrowly missed third. She now moves almost all the way inside and isn't out of the question.
"She's a little filly but is extremely fast," said McClure. She's one of my favorites because she's not really pretty gaited – she kind of paces like how Wiggle It Jiggleit used to – but extremely fast and she tries very hard. Her last start in an OSS Gold race over a bad (sloppy rated) track at Grand River, she had every right to get beat and she just refused to. She's definitely capable of going with those fillies."
Party Girl Hill aims for eight in a row in her unbeaten career, but this will be her stiffest test to date. Holding sway last week, Peaky Sneaky posted a career best mile and did so while slugging it out through a fast third panel and still having enough left to win going away comfortably. Lady Lou took it to Party Girl Hill in her elimination and looked for a moment as if she were going to go by; Jamieson gets the return call and she can be there with a well-timed move.
While McClure has potential, albeit outside chances, in the North America Cup and Fan Hanover, he'll have a couple of the shorter priced contenders in the Armbro Flight and Roses Are Red. Picking up drives on Plunge Blue Chip and Soho Burning Love, those are mares that McClure has never driven previously.
When asked how he prepares for drives on horses he hasn't previously driven, McClure attributed a lot of his preparation towards race replays. "You can get a tip from the trainer and things like that, but for the most part the video replays are your biggest asset." Similarly, as far as strategy for the first-time drives, McClure said "You definitely build an idea of a strategy, but nine times out of 10 you're going for Plan B and C leaving the gate. You have a plan in your mind, and you get an idea for what the other horses and drivers might do, but when the gate folds you're scrambling. Especially with these two, they seem like they have their own styles. We'll see how it goes leaving from the gate."