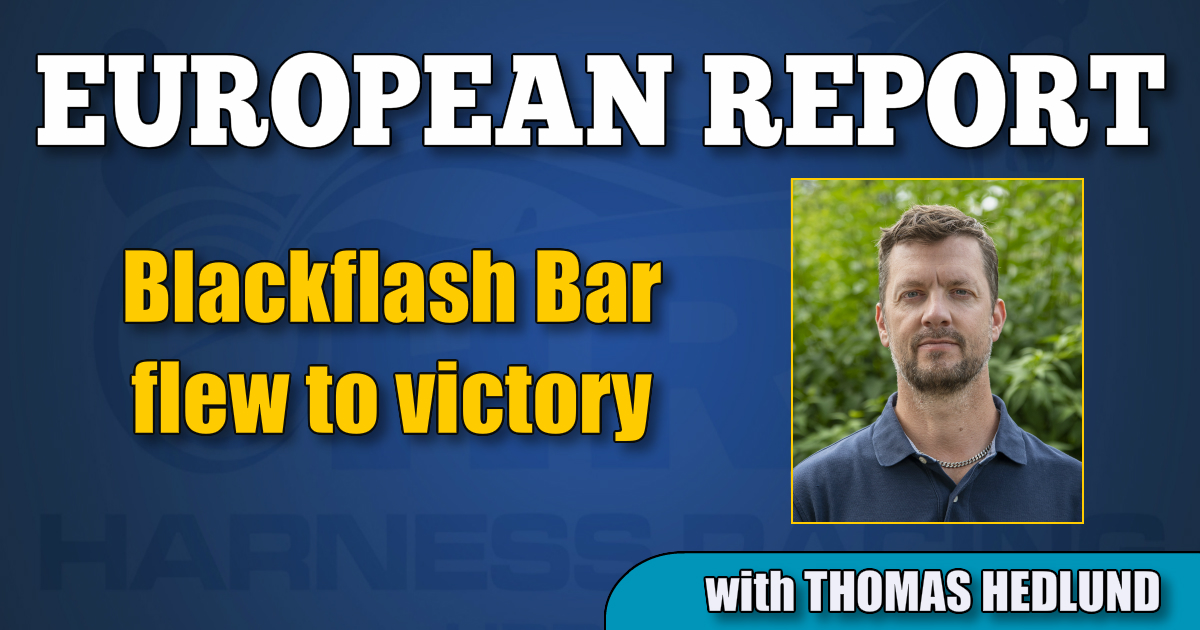 Blackflash Bar flew to victory
by Thomas Hedlund
The $235,000 Gran Premio Tito Giovanardi for 3-year-olds was held in Modena, Italy on Tuesday afternoon (Aug. 25) and winner Blackflash Bar (Oropuro Bar) impressed after a second over trip.
Driver Santo Mollo waited to attack until home stretch and Blackflash Bar cruised to safe win in a mile rate of 1:59.4 over 1.3 miles.
Bristol Cr finished second ahead of Boltigeur Erre.
Blackflash Bar earlier delivered a world record performance on a half-mile track when she won in 1:59 over 1.3 miles in Italy.
Alessandro Gocciadoro trains the winner and runner up in the $59,000 Gran Premio Renzo Orlandi, which was held in Modena. Winner Vaprio (Adrian Chip), driven by Rene Legati, claimed the victory in 1:54 and runner up Zaniah Bi came home in 1:54.1.
Power back in great shape
Six eliminations for the $911,000 Svenskt Travderby for 4-year-olds were held at Jägersro racetrack on Tuesday night (Aug. 25) and trainer Robert Bergh had a great night in southern Sweden. Last year, Bergh won the $911,000 Svenskt Travkriterium for 3-year-olds last year with Googoo Gaagaa son Power and during the late part of the season, Hail Mary, another son of Googoo Gaagaa, showed same capacity in Bergh's barn.
Bergh himself had to see this year's races from the side of the track, since he was suspended three days, but substitute driver Per Lennartsson is one of the best in the business in Sweden and he sent Power to the front from post 1, which ended in a safe win, while Hail Mary did the heavy job outside of brave leader Guzz Mearas in his elimination.
Googoo Gaagaa is hot on the market in Sweden and it's pretty impressive that the American-bred stallion can count on four horses when The Derby is scheduled at Jägersro on Sunday, Sept. 6. Bythebook claimed his spot in the final after a great runner up performance behind Timo Nurmos' Bold Eagle son Champ Lane, while Galantis finished second to Power. Bold Eagle son Aetos Kronos, trained by Jerry Riordan, also impressed in his elimination win for Magnus Djuse.
Bergh's night in Malmö was splendid. His Västerbo Lexington (Muscle Mass) took a safe wire-to-wire win and Bergh can look forward to an exciting weekend in Malmö next week.
Svante Båth's Global Adventure did what Västerbo Lexington did, hit the lead and stayed there the whole way.
Harness racing results can be determined by small margins. Hail Mary won by a nose and drew post 1 in the final, while runner up Guzz Mearas has to start from post 12 in the final.
Redén dominated Derbystoet
In the eliminations for the $455,000 Derbystoet for mares, Daniel Redén dominated in big style. Alaska Kronos (Trixton), Award Kronos (Father Patrick) and Milady Grace (Ready Cash) all won their eliminations from position first over, while Robert Bergh's Mellby Harissa (Maharajah) won from the lead. Classic Photo mare Orlando was the only upset winner among the mares and she won after a nice trip and quick finish for driver Ulf Ohlsson.
Redén's Hard Livin mare Diana Zet, who claimed victories in $500,000 Oaks last year and the $220,000 Drottningpokalen and $600,000 Stochampionatet this year, played with her opponents in the last elimination.
$911,000 Svenskt Travderby final
Horse (Sire) – Trainer
1. Hail Mary (Googoo Gaagaa) – Robert Bergh
2. Västerbo Lexington (Muscle Mass) – Robert Bergh
3. Aetos Kronos (Bold Eagle) – Jerry Riordan
4. Global Adventure (S.J's Caviar) – Svante Båth
5. Power (Googoo Gaagaa) – Robert Bergh
6. Usain Töll (Googoo Gaagaa) – Wim Paal
7. Ultion Face (Joke Face) – Adrian Kolgjini
8. Don Fanucci Zet (Hard Livin) – Daniel Redén
9. Champ Lane (Bold Eagle) – Timo Nurmos
10. Galantis (Zola Boko) – Johan Lejon
11. Bythebook (Googoo Gaagaa) – Svante Båth
12. Guzz Mearas (Muscle Mass) – Johan Untersteiner
$455,000 Derbystoet
Horse (Sire) – Trainer
Mellby Harissa (Maharajah) – Robert Bergh
Orlando (Muscle Mass) – Fredrik Wallin
Diana Zet (Hard Livin) – Daniel Redén
Milady Grace (Ready Cash) – Daniel Redén
5. Alaska Kronos (Trixton) – Daniel Redén
6. Mahma Lane (Maharajah) – Peter Untersteiner
7. American Hill (Muscle Hill) – Conrad Lugauer
8. Darling Godiva (Yarrah Boko) – Lars I Nilsson
9. Award Kronos (Father Patrick) – Daniel Redén
10. Grande Diva Sisu (Djali Boko) – Per Nordström
11. Dontlooseallmoney (Bold Eagle) – Jim Oscarsson
12. Gina Mearas (Cantab Hall) – Johan Untersteiner