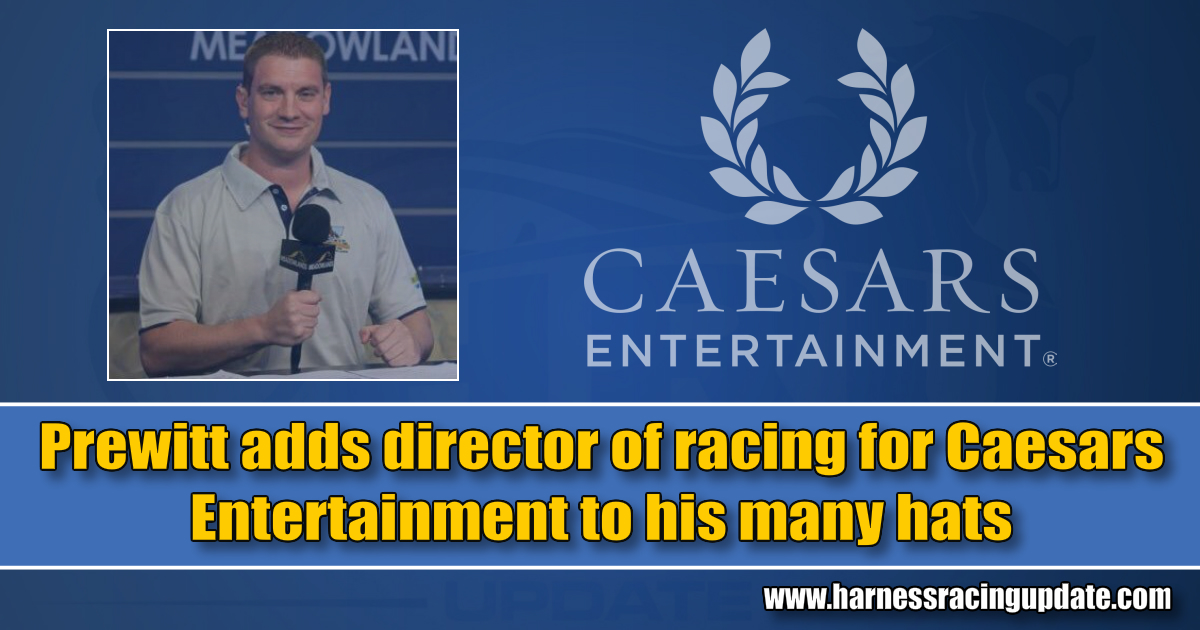 Prewitt adds director of racing for Caesars Entertainment to his many hats
The company believes Gabe Prewitt's proven ability to drive handle and strong connection with bettors will pay off for its racing operations: Pompano Park, Harrah's Hoosier Park, Scioto Downs and Harrah's Philadelphia.
by Chris Lomon
What's another hat when every one you wear is a perfect fit?
Gabe Prewitt laughs at the question. But his answer speaks volumes about the person who just landed the role of director of racing for Caesar's Entertainment-Racing.
"What's that saying? I guess I'm a jack-of-all trades and master of none. It's what I like. It's what I love, in fact. It's always rewarding to go to work and do what you enjoy. I like to be involved in all aspects of racing," Prewitt said.
And Prewitt most certainly is.
Race announcer at Pompano Park and the Red Mile – he'll continue on with both gigs this year – the horse owner, horse breeder and horseplayer will add to his impressive repertoire by managing post times, gambling menus and social media channels at Caesar's Entertainment's harness tracks, and also be in-person at the northern U.S. racetracks when Pompano isn't conducting live racing.
Prewitt, a University of Kentucky graduate, is champing at the bit to get going with Caesar's, who owns and operates standardbred racing at Pompano Park, Hoosier Park, Scioto Downs and Harrah's Philadelphia.
"Basically, I was just excited because in my discussions with Joe Morrison [vice president of racing for Caesar's Entertainment-Racing] and the team at Caesar's, we're looking to create a new brand, essentially.
In July, Eldorado Resorts Inc. completed its $17 billion (U.S.) acquisition of Caesars Entertainment Corp. to create a new powerhouse in the casino industry.
"With that merger that went through with Eldorado, Caesar's is really wanting to grow the racing brand, make an investment in racing, and make it the best they can. That's exciting to hear. They're motivated and they're excited. We've had a lot of discussions. I think it's going to be a great future," Prewitt said.
While there's no such thing as a sure thing in horse racing, it's pretty much odds-on that wherever Prewitt goes, good things follow.
When it comes to raising handle and raising interest in wagering through an array of attractive betting options, he has the Midas touch.
Case in point(s), significant increases in handle this year at Scioto Downs and at Pompano Park.
After live racing got back on track in May,Scioto Downs recorded six straight million-plus nights in handle, including some of the highest single-card wagering numbers in the 62-year history of the track.
"We have introduced many, many new players to Scioto, just given the numbers in the past," Prewitt told HRU's Brett Sturman (full story here). "Regardless of how they got here, they're in our pools and we've tried to create a wagering menu that appeals to everyone. There are no jackpot bets and we've had super high five carryovers, superfecta carryovers, we nearly had pick-4 and pick-5 carryovers and we've had a lot of huge four- and five-figure payouts on those wagers. We've grown probably more than any track by looking at the numbers by doing five, six, or even seven times more than what we'd normally do. So, we're certainly getting our product in front of people who aren't familiar with."
In January, there was a track record set at Pompano Park, one that had nothing to do with a pacer or trotter's final time.
The south Florida racetrack landed a record for its Pick-6 pool when handle for the non-jackpot wager topped $112,000.
"When it comes to betting menu, social media, and other components, I think having a good product, first and foremost, in terms of field size, along with low takeout, is crucial. I don't have a specific philosophy. What I enjoy more than anything is playing with wagering. I was fortunate that a few years ago they turned me loose in that department at Pompano. We tried some things that worked and believe me we tried many things that didn't work. We try to learn from mistakes, stick with what works and go from there.
"Every track is unique in what its strength may be. If you have a large volume of races, that's nice because you can have a lot of creativity with the betting menu, like with what we've done at Scioto, where we had a record season. At Pompano, we scale back. We're going to hopefully have more horses than we've ever had this year. That's going to be mission number one for me. Every track is different, everywhere is unique, and I think you've got to just play to the strengths that you have. But the main thing is you've got to put out a good product for your horseplayers."
This is where perhaps Prewitt's greatest strength lies.
A horseplayer himself, his willingness to engage other bettors in dialogue has been a major contributor to his expertise in the world of wagering.
"You have to listen to them. Most everything that I've ever enacted anywhere is through discussions with horseplayers. They are living this day in and day out, and I'm one of them. I try to listen and do what we can on that front. You always try to improve and we remember how we keep score, through the handle."
Caesar's is thrilled to have Prewitt as part of its team.
"He has a great depth of knowledge about working with the mutuels for setting post times," said Morris. "He knows handicapping. He's been instrumental in managing post times and the wagering menu that's resulted in our record handles at Scioto Downs this year. He's a bright young guy and he's already established a substantial audience for our racing product with his 'Send It In' social media campaign on Twitter."
Prewitt is up for the new challenge.
"I think we have a lot of opportunity across the properties to really climb. I've been fortunate to be able to do a lot of things in the business. I've been the executive director of the Kentucky Harness Horsemen's Association, so I know that side of it, I own a few racehorses, breed a small number of racehorses, play the races – all of those adventures, you see things from a lot of different sides of the business. I hope people know that I'm always going to try to do what's fair, and to see things from a well-rounded perspective and not just one side of the fence."
It's why many in the sport say 'hats off' to the man who wears so many.