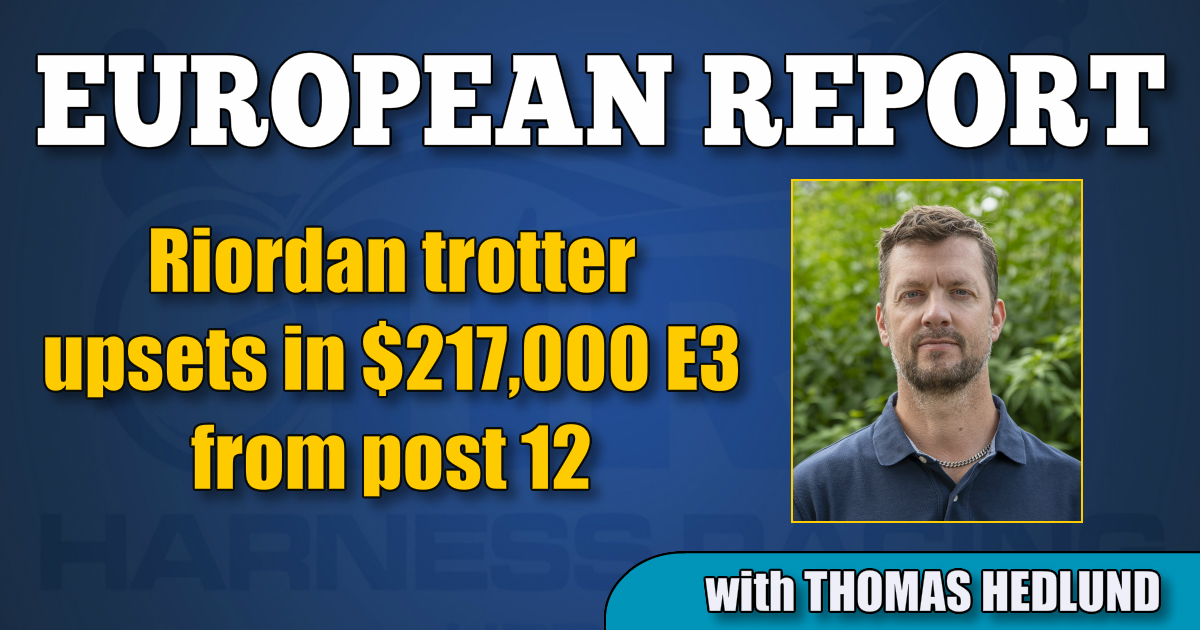 Riordan trotter upsets in $217,000 E3 from post 12
by Thomas Hedlund
American-born, Swedish-based trainer Jerry Riordan admitted that he hadn't any big expectations when his Globalizer (Bold Eagle) entered the $217,000 E3 final for mares at Romme racetrack on Saturday afternoon. Post 12 over the mile on a 5/8ths mile track is a task that few horses solve in Sweden, in any race, so it's not that strange that the final odds stayed at 46-1 for Globalizer.
Hilarious Am came to the lead with first choice M.T.Perette on the outside, while Stefan Persson found position third on the inside with Riordan's Globalizer. Third inside is normally a tough spot to win a race from, but Globalizer had the right luck in the last turn, when the horse outside began to run out of power and over the home stretch, the 3-year-old Bold Eagle mare flew to safe win in mile rate 1:54.
M.T.Perete held strongly as second and leader Hilarious Am finished third.
"Of course it's hard to believe that you can win a race like this from post 12 and I'm surprised that she won. This is a tough mare that sometimes can be quite hard to handle," said Riordan after the big victory.
In the division for colts and geldings, two horses were way more entrusted by the bettor's than the others, but the day ended in early breaks for both of them. Hell Bent For Am started from post 10 and went off stride after 50 meters while No Doubt made a break in the end of the first turn. With the two favorites out of the race, the $217,000 E3 final became an open story where first over trotter Hennessy Am (Muscle Hill) was strongest in the end for driver Erik Adielsson. Hennessy Am disarmed leader Vegan Face shortly ahead of the wire and fresh trainer Kim Pedersen collected his greatest souvenir at the tracks so far in his career.
"It was tough to watch but I'm very happy and together with the owner I celebrate this win them. Hennessy Am develops for every race that he gets now and this was his fifth start since he came from USA," said Kim Pedersen after the race.
Hennessy Am began his career in America, in Staffan Lind's barn where he made nine starts as a 2-year-old with three third places as best results.
Mile rate for Hennessy Am was 1:55.4.
New sales methods necessary in COVID-19 era
Horse sales and their companies have been faced with some obstacles during the year, due to the situation with COVID-19 and the Sweden International Yearling Sale 2020 (full details here), which is scheduled on Tuesday, Aug. 18 will use a new arrangement to selling horses. All bid will be made through https://www.travera.nu/in-english/.
The catalogue contains 143 yearlings (where a few of them already are scratched) plus shares in stallions Trixton and Father Patrick.
Trainers and agents are allowed to visit Solvalla on Tuesday noon and forward during the day, but restrictions requires safe distancing and people who want to examine the horses need to make a notification to the sales company's office ahead of Tuesday.