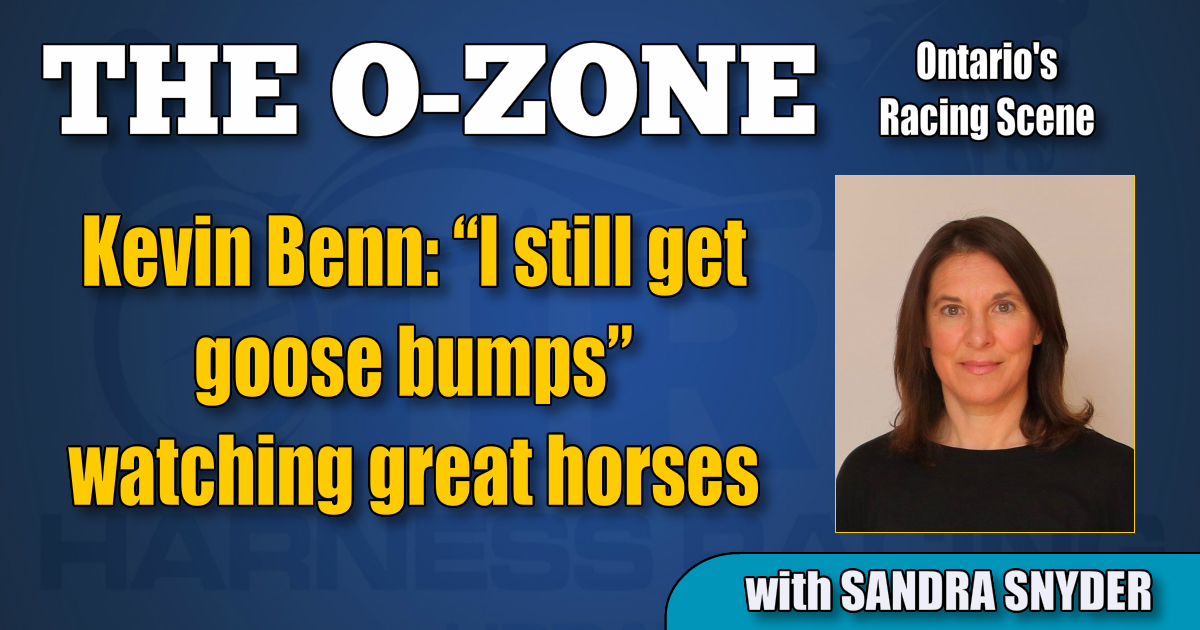 Kevin Benn: "I still get goose bumps" watching great horses
by Sandra Snyder
It has been 40 years since Kevin Benn earned his trainer's license and the things that first drew the Napanee, ON resident to the business as a teenager are still the things he enjoys most about it today — teaching young horses, racing talented horses and watching great horses compete.
"When everybody else is sleeping in on Saturday, you're up at 5 a.m. after getting home at 1 a.m., but I love it, I've always loved it," said Benn. "I love, like the Meadowlands Pace card, watching Tall Dark Stranger and Gimpanzee. I still get goose bumps watching that kind of horse."
Benn was introduced to harness racing by his father Glenn, who trained a few as a hobby, racing at Kingston Park Raceway and Belleville's Quinte Exhibition. He earned his trainer's license at 16 and his driver's license at 18, spent one winter working in Florida for Jim Miller in the Barr M operation and then started training full-time from the family farm.
The seven-stall barn Benn started with has more than tripled in size over the years and it has seen hundreds of young horses come through its doors.
"I started breaking horses, I've probably broken eight horses a year since I was 16 and I'm 56 now, so…," said Benn. "We've had as many as 22 years ago, but lately we get 14, 15 every winter.
"We have a mare of our own, we have a foal off of her every year, a homebred, and then I have some for Glen B Farms (Lynn Prentice) in Glenburnie, she's been sending me two or three a year, and then Synerco Ventures (Costa Athanassoulias), he's been sending me a couple a year. I'd buy one a year or two if I had to, but the last few years I haven't had to buy any because I didn't want to get any more horses around."
Benn's primary owner for many years has been Eric Baker's Stormont Meadows. The men have campaigned a series of successful horses including $875,082 winner Stormont Tuscany (Balanced Image–Principessa Susi), the 1998 O'Brien Award winner in the 3-year-old trotting colt division, and $325,277 winner Stormont Ventnor (Justice Hall–Lady Grenville), the runner-up for the 2018 3-year-old trotting colt O'Brien Award. Those two horses rank high on Benn's list of favourites, with Stormont Ventnor coming out slightly ahead.
"I love that horse. He can accelerate like pacer," said Benn of the 5-year-old horse, who is prepping for a return to the races after missing most of his 4-year-old season.
"He would have been back sooner, but he was booked into Cornell University and then COVID hit and they shut the University down. So by the time they opened it back up, like two months later, Rick Bodie took him down for us. He's a broker, so we got the (throat) surgery done," explained Benn. "He's had a lot of problems with his throat. He's got a lot of ability, like last year when he come back he only raced four or five times and I think his second or third start he trotted in 1:52, so he's got lots of ability if we can get him straightened out."
In addition to Stormont Ventnor, Benn is currently training nine other horses, both trotters and pacers. Most of them start their careers at either Kawartha Downs, 150 kilometres west of his Napanee farm, or Rideau Carleton Raceway, 200 kilometres to the east, before graduating to the Ontario Sires Stakes (OSS) or Woodbine Mohawk Park.
"I give them until they're halfway through their 3-year-old season and if they can't get to Mohawk, then I move them along," said Benn. "Everybody says, 'Oh I don't know how you do it'. (Bob) McIntosh has always trucked as far as me, or farther, and he's made a living. He's got a little more help than me that's all. He doesn't do it himself, where I am generally in the truck and trailer most of the time."
Among the horses that have recently made the leap to the OSS or Woodbine Mohawk Park are Stormont Muffin, an Angus Hall half-sister to Stormont Ventnor who finished third in her July 26 3-year-old trotting filly Grassroots division at Rideau Carleton Raceway, Stormont Barbeque, another Angus Hall daughter who finished fifth in her 2-year-old trotting filly Gold Series division at Woodbine Mohawk Park, and 2-year-old pacing colt Jim Blue, who is headed to Woodbine Mohawk Park on Aug. 6 off a 1:58.3 victory at Rideau Carleton on July 23.
While Benn has developed a few American-breds over the years, he prefers to concentrate on Ontario Sired horses.
"You've got to realise what you can do and what you can't do. You can't do everything," said the horseman. "I have colts where you get them ready for the stake program, so you might race 10 or 15 races a year with a horse, but these guys that put 30 or 40 starts on a horse, I couldn't do that where I am. I'm a colt, a stakes horse stable, I'm not a stable that can race hundreds of starts a year.
"Last winter I raced a couple, but I pick and choose if I thought it was going to be a nice night. If it's calling for a snowstorm I wouldn't enter. I might race one or two this winter because we got backed up so bad because of everything going on with COVID."
For many years, the Benn Stable consisted of Kevin and his brother Barry, but with Barry's retirement from the business five years ago Kevin's wife Tammy has stepped into a full-time role.
"She worked at a bank for 31 years and then they downsized and she wanted out of the bank," said Benn. "As you get older, it'd be no good if I'm away racing every night and she's sitting at home. It's good that she loves the horses as much as me, as we get older we can do it together."
The couple have been assisted over the last year by 24-year-old reinsman Ryan Guy, who lends a hand with jogging and training.
"Ryan moved home to Spencerville and he comes up a couple times week and helps me train, and he comes help me qualify and stuff. He's been a big help to me," said Benn. "He's been driving all my horses and doing a great job."
The trio are off to a solid start in 2020 and Benn is hopeful that the young horses currently racing, and those waiting in the wings, continue to progress.
"This Jim Blue, he has some ability, and Stormont Ventnor's full sister (two-year-old Stormont Shannon), she's going to be a good one," said Benn. "Right now they have the most promise, so we'll see. They can make liars out of you."
Stakes action Aug. 7 to 13
Aug. 8 – Kawartha Downs – Prospect Series (3ft)
Aug.9 – Leamington Raceway – Prospect Series (2fp)
Aug.10 – Woodbine Mohawk Park – Dream Maker final
Aug.11 – Woodbine M. Park – Whenuwishuponastar final
Aug.13 – Woodbine Mohawk Park – OSS Gold Series (3ft); Millard Farms and Pure Ivory Series finals
Ontario handicapping picks
A deep selection of handicapping picks for Ontario racetracks — featuring the talents of Garnet Barnsdale, Michael Carter and Melissa Keith — is available on the Ontario Racing website.