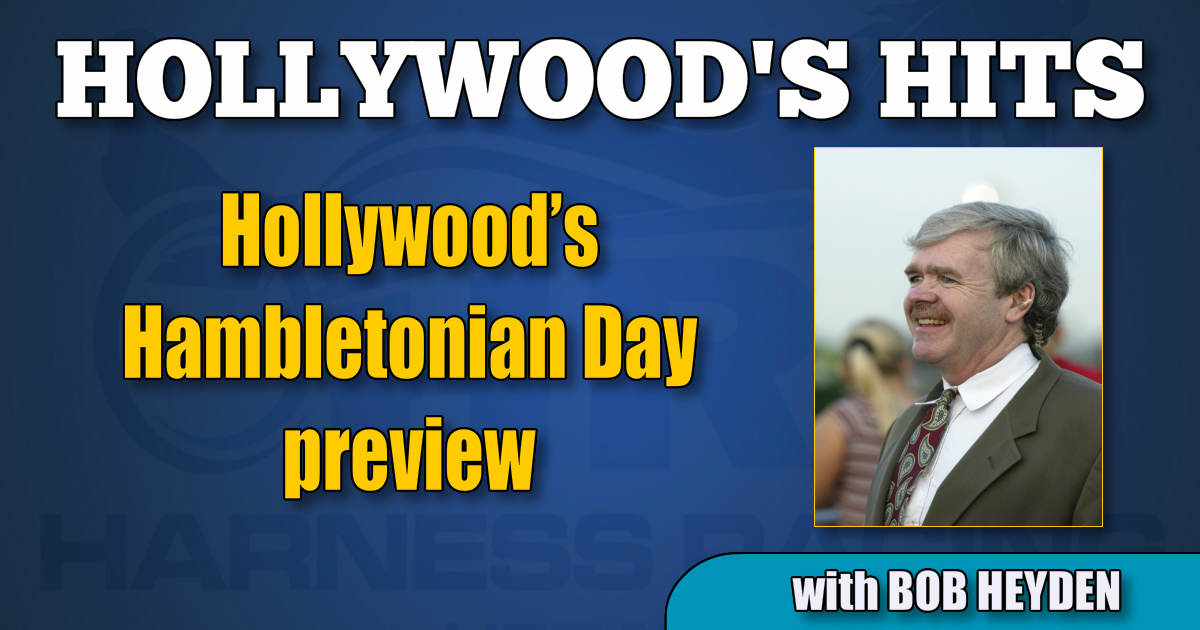 Hollywood's Hambletonian Day preview
by Bob Heyden
Nancy Takter had seven Hambletonian Day starters in 2019 and has 14 this year. Her powerful barn figures prominently on this year's Hambletonian Day card — especially with Manchego. The brilliant daughter of Muscle Hill is looking for her fourth straight Hambletonian Day stakes win — having taken the 2017 Doherty, the 2018 Oaks in record time of 1:50 and then the Steele Memorial last year. Maybe the toughest thing to believe is that Manchego was just 6 1-0-0 ($68,093) entering the action last year on Hambletonian Day. She had five off the board finishes in six tries. That day turned her around and she hasn't looked back since.
Jim Campbell's unique daily double
Only Jim Campbell will appear as a trainer on both the 1981 Meadowlands Hambletonian card and the 2020 one.
This year, Campbell will send out:
#2 Fashion Charmer in the 4th race
#4 Beyond Kronos in the 5th
#2 Next Lane Stuff in the 9th
#11 Crystal Fashion in the 10th
In 1981, Campbell sent out:
6th #9 Jefs Eclipse who finished 9th in the 6th
10th #1 Mostest Yankee who finished 3rd in the 10th
Keep in mind, in 1981, Jim was only 19.
20-somethings
Twenty-somethings on the 2020 Hambletonian Day card include: Austin Siegelman, 28, Mattias Melander, 23 and Joey Bongiorno, 26
Back in 1981 on the very first Hambletonian Day at The Meadowlands, you also had three drivers under 30: Branch Buxton 28, Jack Parker, Jr. 26 and Phil Carbone at 29.
Gath got the ball rolling
Down Under wonders Andrew McCarthy and Dexter Dunn figure prominently in this year's Hambletonian, but in 1981, Brian Gath came all the way from the southern hemisphere to drive Voloriki (6th) for Barry Abrams and Genghis Khan for Eddie Cobb. Genghis Khan finished off the board, but in 1982 would become the Meadowlands' HOY en route to 16 victories locally. Gath had driven the Meadow Skipper colt before — to a fifth-place finish in the 1978 Woodrow Wilson final won by Scarlet Skipper.
Numbers
39 — $100,000 yearlings on this year's Hambletonian Day card
10 — $200,000+ yearlings
2 — $400,000 + yearlings
1 — $600,000 yearling
36/100 — Hambletonian starters in the last decade that were trained by a conditioner born in the USA — last year being the only year that U.S. trainers were shut out of any check.
151 — horses carded.
1:47 — the fastest speed mark for 2020 so far (Mark MacDonald and Hurrikane Emperor). This is the 15th anniversary of Mark's Hambletonian Day debut in 2005 when he set the track record for sophomore colts that day with a 1:48.1 scorcher with American Ideal — at the expense of HOY to be Rocknroll Hanover.
23 — the age of driver Mattias Melander, the youngest to compete on this year's card.
61 — the age of driver Ake Svanstedt, the oldest to compete on this year's card.
39 of 151 — horses are trained by a conditioner born in Sweden.
23 of 151 — horses are trained by a female trainer.
28 — number of sons and daughters by Muscle Hill on the card.
13 — number of sons and daughters by Somebeachsomewhere on the card, the most by a pacing sire.
9 of 11 — number of horses in the Cashman that have raced in the Hambletonian final. Only Lindy The Great and Run Director did not.
0 — number of trainers that have won the Meadowlands Pace and the Hambletonian in the same season. Nancy Takter could be the first.
Twelve unusual moments since the Hambletonian has been in New Jersey
1. Rainbow Blue making a break — her only loss of the year — in the 2004 Mistletoe Shalee. She overcame it, though, going 20-for-21 on the season and winning HOY honors over Triple Crown winner Windsongs Legacy. Legacy had a great day winning the Hambletonian en route to recording the first trotting Triple Crown in 32 years (Super Bowl 1972).
2. 1982 Hambletonian. Both faves make late breaks in their Hambletonian elims and don't advance — Mystic Park and Arndon. But it is pretty safe to say they later atoned for that day. Mystic Park's first crop yielded Mack Lobell, and Pine Chip became the most outstanding son or daughter of Arndon, second in the 1993 Hambletonian and later a time trial world record setter at 1:51 flat. Pine Chip was also a two-time Hambletonian winning sire with Scarlet Knight and Chip Chip Hooray in 2001 and 2002, respectively.
3. Three Georges stole the day in 2006 — CEO of the Meadowlands George Zoffinger was front and center, boxing champ George Foreman made the first of his two appearances on the sport's biggest day and George Brennan drove Holborn Hanover to a world record 1:46.4. Let's not forget the new Hambletonian mark was set: #6 for John Campbell in record time 1:51.1 with Glidemaster.
4. In 1992, Alf Palema started the day 2-for-17 lifetime. Mickey McNichol drove for Per Eriksson. But his life-and career-changed that day. He not only got up to win the Hambletonian, he later became one of the elite sires in Sweden.
5. Falcon Seelster was second best on Hambletonian Day to consecutive Horses of the Year in 1985 and 1986. First, the Tom Harmer trained and driven speedster was second by a couple lengths in the first ever sub-1:50 race mile by Nihilator in 1985 (1:49.3). Then, in 1986 in the U S Pacing Championship that turned out to be a match race, Falcon Seelster was again second to a HOY, this time Forrest Skipper.
6. Historic Freight won the 1984 Hambletonian in the second race-off in Meadowlands history. Ben Webster is the oldest winning driver in Hambletonian history and is still with us at age 80. Fifty days before the Hambletonian, Historic Freight won a claiming race at the Big M — in for a $52,500 tag. Luckily for trainer Skip Lewis, there were no takers. He won it in 1:57.3 from post 10 wire to wire.
7. What were the odds of this? In 1984, Delvin G Hanover became the highest priced winner in Meadowlands history upsetting at $367. It still stands. Then, on Hambletonian Day that same year, he again upset the apple cart, taking his elim and returning $126. Two times, same meet ,same track. If that wasn't enough of a parlay, how about this: What would you say the odds would be of a colt paying $367 and $126 and then being the Hambletonian favorite in the raceoff? He was 90 cents on the dollar and finished third to Historic Freight and Gentle Stroke.
8. Jimmy Takter's Hambletonian debut, as a driver was with 132-1 Classic Air in 1989 that finished seventh. Things changed a touch in the ensuing three decades.
9. In 1995, the top two in the HOY had their own summer adventures — certainly HOY C R Kay Suzie did as she made a break and did not qualify for the Hambletonian final. HOY runner-up Jennas Beach Boy missed the entire summer due to injury, but he came back at the end of September to set the new world 3YO mark of 1:48.4 at the Red Mile.
10. That same year, 1995, Eric Adielsson tried his luck in the Hambletonian at age 20 with Easy Lover. He had no luck though as he finished seventh in his elimination at 13-1.
11. In 1987, all eyes were on Mack Lobell. He dominated the Meadowlands Hambletonian, the first for Chuck Sylvester (of four victories) and for John Campbell (who won six). Not a lot of attention was being paid to Mack's stablemate — last-place finisher Waikiki Beach, who was to make some noise, but a bit later on (being the sire of Varenne has a way of doing that. Varenne had career earnings of $5,636,225). The horse who passed Varenne on that list of trotting earnings was Ready Cash who has two finalists in the 2020 Hambletonian — Ready For Moni and Back Of The Neck.
12. The last ever horse driven by Billy Haughton in the Hambletonian was Gallant Pro in 1984. He eighth at 59-1. Billy was around for only one more Hambletonian. He died three weeks before the 1986 edition.
40th anniversary
Thursday (Aug. 6) marked the 40th anniversary of the 1980 Woodrow Wilson for 2-year-old pacers that carried a purse of $2,011,00.
It occurred three weeks after Niatross won the first ever million-dollar race.
Sire Meadowlands Skipper, then 18 and with 17 more months to live, was responsible for the entire field and both AEs, counting sons and grandsons.
Land Grant, a son of Meadow Skipper, won it at 69-1 ($141.80) for Del Insko. Stephen Lang and Yizhar Glaser owned the instant millionaire. He keyed an exacta worth $1,549.60-no trifecta or superfecta wagering on the race.
The fractions were: :28, :57,1:26 and 1:56.4.
The attendance, for a Wednesday night, was 27,441. They bet $3,599,817.
Four years later there would be one more $2 million race ($2,161,000) and that was won by a great-grandson of Meadow Skipper — Nihilator. A grandson was the runner-up — Praised Dignity — meaning both runners-up in the only two $2 million races in standardbred history are sons of Albatross.