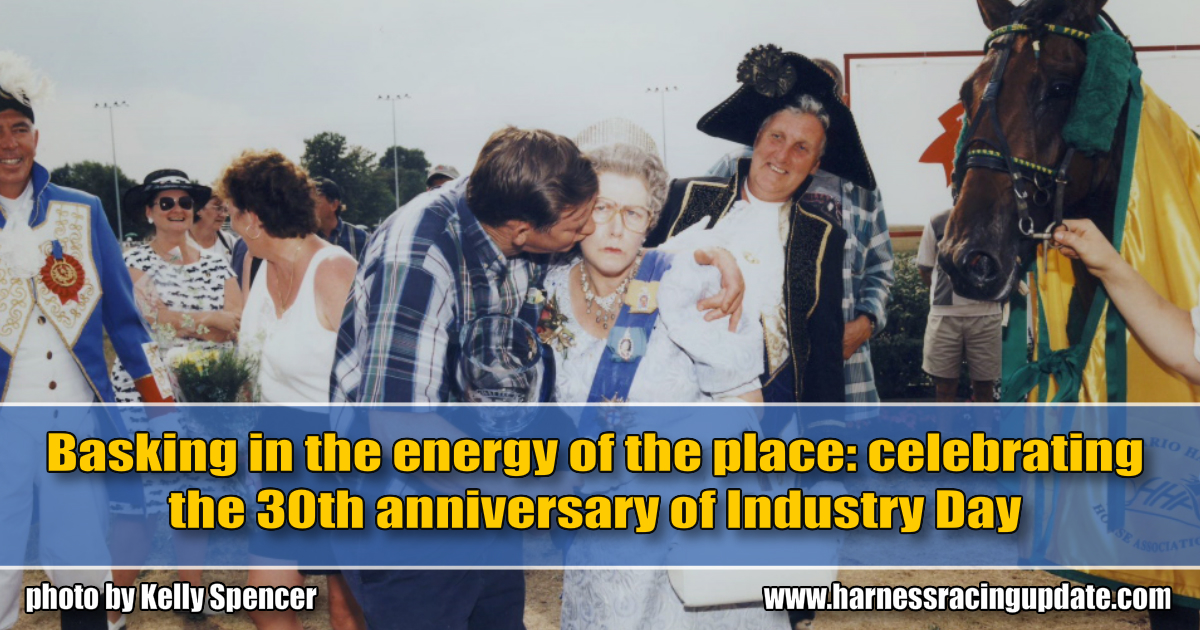 Basking in the energy of the place: celebrating the 30th anniversary of Industry Day
Despite an imperfect way to celebrate an event best experienced in person, Monday's socially-isolated card at Grand River Raceway will mark three decades of the track's premier event, which started at its predecessor, Elmira Raceway
by Kelly Spencer
1990. The world was 30 years removed from its next global pandemic. Brian Mulroney was Prime Minister of Canada and George Bush Sr. was the U.S. President. The Simpsons aired for the first time on FOX. (Sorry in advance for the forthcoming earworm…) Ice Ice Baby was all over the airwaves.
The first web page was published on the World Wide Web.
In harness racing, John Campbell, then 35, won his third Hambletonian and became the youngest driver ever elected into the Harness Racing Hall of Fame. Beach Towel took the Meadowlands Pace, Little Brown Jug and Horse Of The Year.
And on the afternoon of Aug. 6 in Elmira, ON, a grassroots track which had recently overcome near financial ruin, carved out the first edition of an annual event called Industry Day.
The event's name was a nod to its objective: to celebrate the harness racing industry – its hardworking people and horses, and the bonds between the two.
Since its inception 30 years ago, the event has evolved to include the creation of the Battle Of Waterloo in 1998 (with an introductory purse of $200,000) the addition of the Battle Of the Belles in 2009, and of course the change of venue from Elmira Raceway to its successor, Grand River Raceway, in 2004.
The name Industry Day was also an homage to Elmira Raceway's fair circuit roots and the kind of homespun magic that ensues when large crowds of people with a shared passion spend several hours together under the blistering sun (or warm rain) with sugar-fueled kids in tow, a race program jammed into the back pocket and a desire to bask in the energy of the place.
As I Google "weather on August 6, 1990 in Waterloo Region, Ontario, Canada" to retrieve instantaneous scene-setting for this story (that first Industry Day felt like 22°C and was mostly cloudy) it's difficult to appreciate what has been lost in the all-or-nothing world we've left behind.
In 1990, if you sought to experience Industry Day, you packed up and went, period. If you didn't, you missed it. You didn't watch it elsewhere and you didn't read about it until the next trade magazine arrived in your mailbox later that month.
Had you been there, you would have seen five-year-old Silver Reign capture her 41st career win in a 1:57.2 — a Canadian season record over a half-mile track, overall track record for Elmira Raceway and just one-fifth of a second shy of the all-time Canadian record for aged pacing mares. Four starts later, she'd retire to the breeding shed where she would produce champs such as Northern Dynasty ($697,593) and Northern Knight, which would sell for $250,000 as a yearling in 1999 for her then owner John McKnight. Silver Reign was inducted into the Canadian Horse Racing Hall Of Fame in 2011 joining her driver/trainer Bud Fritz (who was inducted a decade earlier). She won 42 of 95 starts, banked $766,871, took her career mark of 1:55.4 in the Fan Hanover and was Canada's top pacing filly at both two and three.
The fans on-track for that inaugural Industry Day wagered a record $151,294.
The first opportunity to watch Industry Day away from the racetrack was in 1998 — a year of huge innovation as Elmira Raceway simultaneously introduced the Battle Of Waterloo and became the first Ontario B-track to simulcast its races to a network of tracks and teletheatres throughout Canada and the U.S.
Many of the architects of the event have left us, and it's unnerving to think the 30th iteration of their efforts will have such a muted and awkward COVID-19 execution (a fact which I'm sure is doubly distressing for the current staff of Grand River Raceway and every racetrack dealing with the same set of circumstances for their marquee events).
Those departed include Ken Middleton Sr., the race secretary, GM and publicist of Elmira Raceway in 1990 and the brainchild of the event. Race secretary Diane Twasnick wrote most of the cards for the event prior to her passing in 2017 and took great pride in the celebration each year.
Dr. Ted Clarke was inducted into the Canadian Horse Racing Hall Of Fame in 2014 and retired from Grand River Raceway in 2017 after nearly two decades of managing both tracks — a labor of love of which the development of Industry Day was a point of personal pride. Not one to beam visibly, he beamed visibly when people referred to Industry Day as a miniature version of the Little Brown Jug in the sense of community and camaraderie it inspired.
Clarke passed away in 2019.
Gone too is Somebeachsomewhere, the most notable Battle Of Waterloo champ. A mural at Grand River Raceway commemorates his 2007 victory in what was, by then, a $300,000 race.
The family spirit of Industry Day has for several years played out on the racetrack, too.
A recurring father-son-duo theme dominates many of the Battle Of Waterloo results, starting in 2002 with Village Blitz. That's when trainer Carl Jamieson recorded his third Battle Of Waterloo win, but this time with son Jody in the bike. (Carl had driven his two previous winners, C T Rocket in 2000 and Distinctiv Skeeter in the inaugural running.) The pair were winners again in 2004 (Banner Yankee), 2006 (Warrawee Ideal) and last year with Sports Obsession.
Same storyline with Doug and Gregg McNair. They shared the Battle Of Waterloo winner's circle with Magnum J in 2017 and Trail Boss in 2008. They also won the race with Three Of Clubs in 2013 — having won the Battle Of The Belles one race earlier with Lady Shadow. They have a shot to do it again this year with last week's Battle Of Waterloo elimination winner Bettor Sun.
Aside from its racing content, Industry Day has offered plenty of additional programming throughout the years.
Several guest champions have attended to meet and greet (and occasionally nibble on) fans, including Cam Fella, Apaches Fame, Gallo Blue Chip, Sportswriter, Goodtimes and Run The Table who celebrated his 25 thbirthday at Industry Day 2007.
For more than a decade starting in the late-'90s, the Ontario Harness Horse Association (OHHA) played host to the OHHA Backstretch Olympics featuring epic, timed showdowns in water pail racing, bandage rolling and horseshoe tossing, to name a few. Later, OHHA would continue its outreach with cash prizes for caretakers of the horses competing on Industry Day based on a number of show categories.
The event has involved most provincial harness racing groups and associations. The Ontario Standardbred Adoption Society has hosted fundraising efforts at the event over several years which included garage sales for racing equipment and memorabilia and an art sale which featured framed paintings created by the hooves and noses of some of the biggest equine champs of the day.
When the Battle Of Waterloo launched in 1998, Queen Elizabeth (sensational impersonator Carolyn Sadowska), Napoleon, the Duke Of Wellington and an army of tin soldiers was recruited to kick it off in style.
Another impersonation that sealed itself into the lore of Industry Day is the Herve Filion nod made by Randy Waples after winning the second edition of the Battle Of Waterloo in 1999 with Your Nemesis.
After returning to the winner's circle in a standing position on the bike, Waples announced he would donate his $5,000 earnings to the local chapter of the Boy Scouts. The kids gathered in uniform at the track a few months later to deliver their thanks and to present Waples with a framed caricature painting of his antics. Waples has since won three more editions of the race.
Reflecting on the colorful 30-year history of Industry Day highlights a few key points. One, these events are, for most of us, more potent when experienced in person. Two, many of these memorable moments came at a time when you could only experience them in person. Three, this weird event-purgatory created by COVID-19 is a bizarre time to be celebrating the longevity of anything at all, let alone one of Canadian harness racing's favorite outings.
All but 100 people donning masks will follow the Industry Day 30 th anniversary card from their TV sets, laptops, tablets and mobile devices. Many will pine in scarcity for parking lot jams, shade-hunting, mild heat stroke, kiddie tantrums on the tarmac, and lineups for beer, hotdogs and toilets.
Perhaps this pandemic will reinvigorate our willingness to endure these inevitable inconveniences to experience a celebration like Industry Day and once again prioritize the act of basking in the energy of the place.