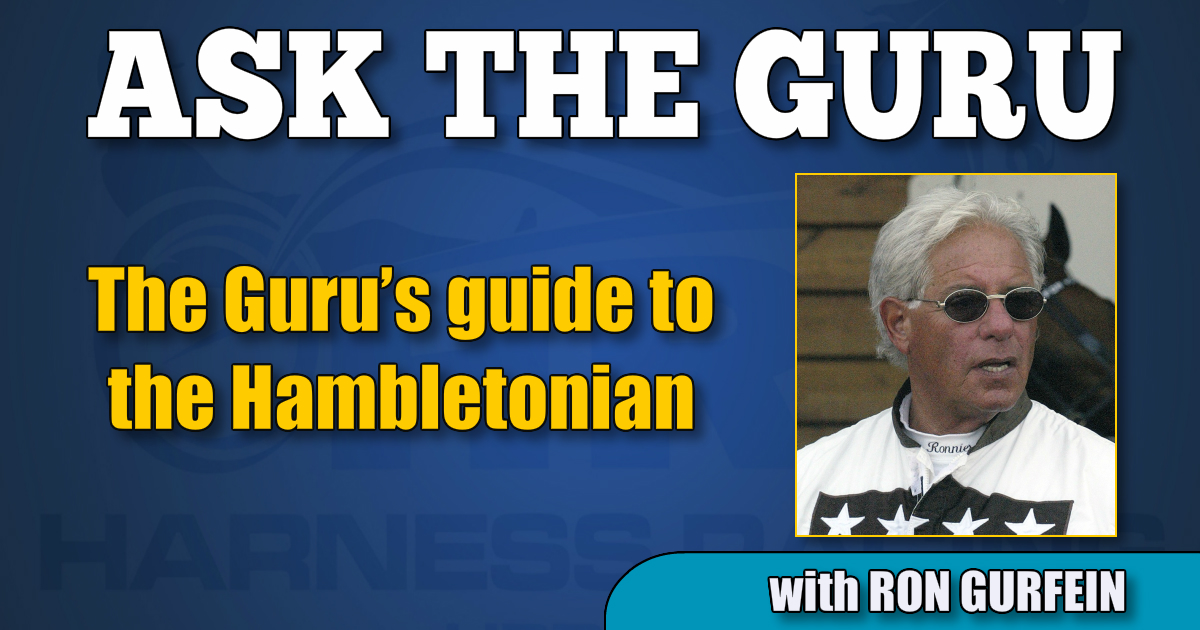 The Guru's guide to the Hambletonian
Plus, McDuffee will do what's right for Papi Rob Hanover and thoughts on vets that are experts on hind end problems.
by Ron Gurfein
Tidbits: I personally have witnessed the demise of great horses i.e.: Barbaro and Ruffian, but never was disturbed as after hearing the news — as first reported by HRU here and further elaborated on here — that Papi Rob Hanover had suffered a broken coffin bone.
I am very close to David and Maryanne McDuffee. They are as wonderful as any couple I have known. They truly didn't deserve this. David was plagued by his ownership of the brilliant jumping jack filly Pizza Dolce, and was savoring a smoother ride with Papi Rob Hanover. Then after suffering a questionable call at the end of last year with the DQ in the Breeders Crown, he starts out in 2020 with no place to race and horrid postpositions when he did get in. And now this.
I haven't called him since HRU broke the news because I am sure he would prefer some respect for his privacy at this moment in time.
I will however speculate and say that there is no question as to what to do going forward — he will do what's right for the horse. There are no guarantees in recovery from any injury. If the information available is that of a great prognosis then we would all like to see the colt back on the track as he could prove to be the fastest horse of all time. If the prognosis is questionable then Mr. McDuffee will have ownership of one great stallion prospect. One way or another I wish him well.
Richard Parsons asks: My 3-year-old trotting colt is sore behind. I know it's up high because when I push on his rump he tries to lay down. I have had him injected with iodine twice and he doesn't respond. What should I do next.
All veterinarians are not alike. It is my experience that some are good with backs and others not quite as effective solving hind end problems.
Let me start by saying that most hind end muscle soreness come from front end problems. So once you eliminate the original problem make sure your colt's knees are not sore.
That said, there are three veterinarians that stand out in the hind end category. Hopefully you are in close proximity to one of them. If one of them cannot fix your colt, my guess is that he can't be helped. That is doubtful.
John Cummins specializes in equine acupuncture and to me this is a great means to an end. He is in Lexington, KY, but can be found from Chicago to New Jersey at various times.
Jim Mitchell specializes in equine chiropractic and does adjustments to the spinal column that have been very successful. He has been fixing broken backs for more years than he would like me to say. He is located in New Jersey.
Rick Balmer located at The Meadows in Washington, PA is just the Back Guru. I cannot even begin to tell you the success I personally have had with what I refer to as Balmer miracles. Not only has he never failed to correct a hind end issue for me, but he has kept some horses with congenital bad backs going for ages. Best of all, he will tell you in two minutes if he can help your horse or not. I have never in 30 years with Rick ever heard him say, "I can fix this one," that he didn't fix immediately.
As promised, I will devote most of this week's column to:
THE GURU'S GUIDE TO THE 95TH HAMBLETONIAN ELIMINATIONS
The big dance attracted 17 entries and as usual many have me scratching my head. I was certain that the amount of speculative entries would be slowed by the COVID-19 problem, and as usual I was wrong.
Trainers of 12 of the 17 horses will enjoy their first Hambletonian win if victorious.
On the other hand, many of the owners have found themselves in the winner's circle on numerous occasions starting with Lindy Farms in 1969 with Lindys Pride through Determination's win with Forbidden Trade in last year's event.
A race that three week ago seemed relatively boring has exploded into a major event overnight. The success of the two Ready Cash colts and the entry of the two fillies have really brought the excitement to a peak. The eliminations are part of the Saturday (Aug. 1) card at The Meadowlands.
RACE 6 — HAMBLETONIAN ELIMINATION #1
7 RAMONA HILL — 5-1
Driver: Andy McCarthy
Trainer: Tony Alagna
Owners: Brad Grant, Crawford Farms, Robert LeBlanc and In The Gym Partners
Breeder: Crawford Farms.
Looks like a stud colt on the track. Has won 7 of 9 races lifetime and over $500,000. Was crazy good in a 1:50.3 win in the Miller last week from post 10. In that amazing display of speed she defeated two of the best fillies in the country, both of whom their connections at times had aspirations of entering the big race. Thirty four years young Andy McCarthy has been no stranger to the winners circle on the big stage and this could well be a major moment of glory for both he and trainer Tony Alagna. For those of you with the opportunity to bet the morning line go for it as she will be closer to 2-1 come post time.
1 BACK OF THE NECK — 2-1
Driver: Scott Zeron
Trainer: Ake Svanstedt
Owners: Judy and Howard Taylor and Order By Stable
Breeder: Order By Stable
Has been quite impressive winning his last two starts, a division of the Dancer and the Reynolds. There is little I can say bad about him. I just think the filly may be a bit faster and I say just a bit and he may well turn the table and it certainly would not be a shock. He comes to post with a trainer and driver both of whom have found the Hambletonian winner's circle in the last three years and Scotty has won the race twice in the last four with Atlanta and Marion Marauder.
8 BEADS — 9-2
Driver: Jimmy Takter
Trainer: Per Engblom
Owners: Rene Spahr and Christina Takter
Breeders: Atlantic Trot and Steve Stewart
He trotted an awesome mile two back parked the entire mile finishing second in 1:51.2. However, they walked home in that event. He rode the rail in the Dancer and could not be better than third. He seems the type that can trot all day without much of a brush. He can surely be a part of this considering his connections, but hard to recommend on the top of the ticket.
5 MAESTERAMON — 12-1
Driver: Brian Sears
Trainer: Marcus Melander
Owner: SRF Stable
Breeder: Hanover Shoe Farms
Shows no early foot and that has hurt him thus far. He did make up almost eight lengths in his division of the Dancer from post 10 to get the last check. If they mix it up at all on the front, which is doubtful in an elimination, he could hit the board with the talented White Knight in the bike.
2 THIRD SHIFT — 8-1
Driver: Ake Svanstedt
Trainer: Ake Svanstedt
Owners: Melby Gard and Ake Svanstedt
Breeder: Winbak Farm
Colt is 9 for 11 lifetime with over $300,000 in earnings. Most of his wins have been in indigenous races where Ake is a master of making money. He would have to step his game up considerably to win here but he is truly on the upswing and it's not impossible.
3 AMIGO VOLO — 7-2
Driver: Dexter Dunn
Trainer: Nifty Norman
Owners: Penske Stable and David J. Miller
Breeders: Kentuckiana Farms and Jorgen Jahre Jr.
Gelding has just not returned to his freshman form that would have made him a prohibitive choice in here. He has done his best work on the smaller tracks and seems unable to be a factor on the big oval at the Meadowlands. Great trainer-driver combo and Dunn is hot as can be, but will need a miracle in form reversal to win this one.
6 HOLLYWOOD STORY — 10-1
Driver: Tim Tetrick
Trainer: Marcus Melander
Owner: Courant Inc
Breeder: Southwind Farm
He was second in his division of the Dancer at 17-1 and never came off the wood. His only wins this year came in non-winners events. This very well bred colt needs to step up big time to make the final.
4 BIG OIL — 10-1
Driver: Andy Miller
Trainer: Julie Miller
Owners: Jason, Douglas, and Ronald Allen
Breeders: Jason and Douglas Allen
Colt has won two of his three starts in 2020 at odds on against far lesser competition. He was weak at the end of his lone start at the Meadowlands in a division of the Dancer. He hasn't shown one quick last quarter all year. Will I say he can't make the final? Absolutely not. Julie and Andy seem to get there every year why should this year be different. Needs a ton of luck.
RACE 8 — HAMBLETONIAN ELIMINATION #2
8 READY FOR MONI — 5-2
Driver: Yannick Gingras
Trainer: Nancy Takter
Owners: John Fielding, Lindy Farms of Conn., Herb Liverman and Bud Hatfield
Breeder: Moni Maker Stable
Colt enters the Hambletonian with all systems go. All his qualifiers and one race have been fabulous. Nancy and Yannick enter as the hottest trainer-driver combo on the planet. To top that off, my opinion is that he is in the softer of the two divisions. You won't get 5-2, but I wouldn't look elsewhere for a prospect. Just the fact that Yannick picked off a Burke horse he won a ton of money with goes a long way telling me how good the colt is.
2 SISTER SLEDGE — 3-1
Driver: Brian Sears
Trainer: Ron Burke
Owners: Burke Racing Stable, J. Melillo, J&T Silva, Purcell & Libby and Weaver Bruscemi
Breeders: Sergeant Stables and Andray Farms
Filly has a beautiful card. The change in drivers is of absolutely no consequence. She has $600,000 in earnings and has won 11 of 16 races and never back of third lifetime. She has been managed perfectly this year and has had many easy races avoiding the Meadowlands till her impressive 1:51.2 win in the Geers last week. However, I do not like the loss in the PASS, the race before where she was five cents on the dollar. The Burke Brigade obviously did not have a colt with better credentials than her and on paper the Oaks is pretty tough in its own right so they decided to go for the bigger money. I must say I have attempted that myself.
3 JULA TRIX TREASURE — 6-1
Driver: Ake Svanstedt
Trainer: Ake Svanstedt
Owner: Jula Racing
Breeders: J.Beaver, J.Wolkomir and M.Carter
Lightly-raced colt has talent but I question what happened in his disappointing fifth-place finish in the Geers last week at 2-1. He was surely hurt by the pedestrian half but should have had more trot. That said, his win in 1:51.2 in the Reynolds's was a beaut. It is off that performance I rate him third.
5 THREEFIFTYTWO — 8-1
Driver: Scott Zeron
Trainer: Luc Blais
Owner: Determination
Breeder: G Ducharme and S & P Diamond
This might seem an odd call placing this colt so high as he has only beaten some non-descript horses north of the border. That said, Luc Blais is one of the smartest trotting horse trainers in the business and just the fact that he thinks enough of the colt to send him this far tells me he will be in the hunt.
9 MOON BRIDGE — 20-1
Driver: Andy Miller
Trainer: Ake Svanstedt
Owners: E. Lahtinen, J. Korpi and J. Hietalahti
Breeders: Overseas Farms and J. Korpi
To choose the last spot for a ticket to the big dance I may as well use a dart board or pull names from a hat because any one of the five remaining can get a ticket. The question here would be can they get money next week if they make it?
I picked this colt because he had a great race against no one but the clock with Andy at the controls. He also is the lone speed horse in here with the exception of the filly and could well end up with a two hole journey behind the second choice.
6 CHESTNUT HILL — 6-1
Driver: David Miller
Trainer: Nifty Norman
Owners: Melvin Hartman ,David McDuffee and Little E LLC
Breeders: Hartman, Liverman, McDuffee
This impeccably-bred $410,000 yearling has shown signs of greatness but has yet to put it all together. There would be no better time than tomorrow to see him do it. His owners have put tons of cash into this business and for them to land in the winner's circle would be wonderful. On paper it looks like he just isn't fast enough right now.
4 ROME PAYS OFF — 9-2
Driver: Mattias Melander
Trainer: Marcus Melander
Owner: SRF Stable
Breeder: Order By Stable
Colt comes off two nice wins. The connections SRF and the Melanders have taken the trotting world by storm in the sales ring and on the racetrack. I fear they will have to wait another year to hoist their banner at the Hambletonian. He is just a nice colt and I feel he hasn't got the speed to overhaul this group.
1 CAPRICORNUS — 15-1
Driver: Tim Tetrick
Trainer: Marcus Melander
Owner: Jj Racing Stable
Breeder: Windsong Stable
This was a major reach for Team Melander. The colt is 0 of 4 with earnings of $10,000 in 2020. He did win $200,000 in his freshman year and with post 1 maybe they know something I don't. I cannot recommend.
7 SKY CASTLES — 20-1
Driver: Corey Callahan
Trainer: Andrew Harris
Owner: Robert J Key
Breeder: Robert J Key
Winner of the 1993 Hambletonian with American Winner, Bob Key is without doubt the gamest owner in the sport. He has put millions into the sport and always has a plethora of horses in training. The Key school says if you make the payment you race. This Conway Hall colt has not hit the board in Sires Stake races. I am very close to Andrew and Corey and would love to see them in the Hambletonian winner's circle, but I seriously doubt this horse will get them there.
Thanks to all of you for all the kind words. I know your busy but please remember to ask some questions. Enjoy this wonderful weekend of racing and have a wonderful week.
Have a question for The Guru?
Email him at GurfTrot@aol.com.