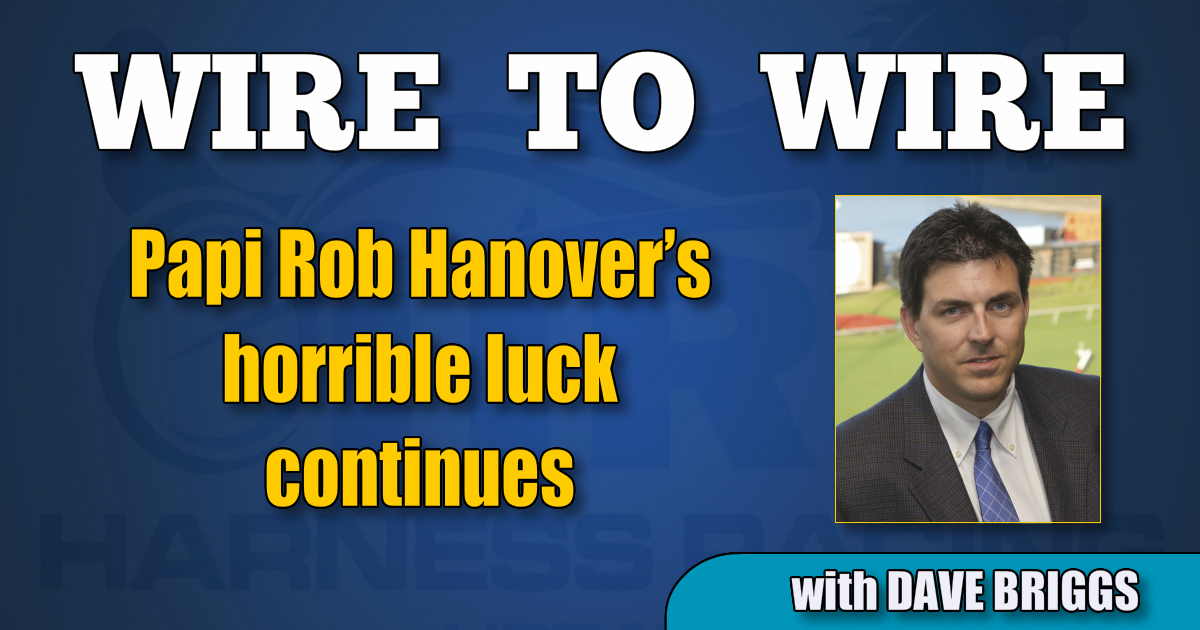 Papi Rob Hanover's season-ending injury another kick to the solar plexus in 2020
Owner David McDuffee talks about the pacer's unfathomable bad luck, where and when he thinks the coffin bone break first happened and why he believes the colt will be a breed-changing stallion.
by Dave Briggs
To paraphrase Kevin Bacon's character in Animal House: Thank you, 2020, may I have another?
In the endless frat paddle to the ass that is this God-awful year, now comes word that superstar pacer Papi Rob Hanover will be sidelined for all of 2020 due to a broken coffin bone. Likely, said his lone owner David McDuffee, Papi Rob Hanover will head off to stallion duty once he heals — of which McDuffee has extremely high hopes.
But more on that in a second.
The immediate loss of Papi Rob Hanover from the racing wars is palpable. Not only is he an exquisite and talented beast of a standardbred, he was the perfect foil to the equally-talented and equally-exquisite beast called Tall Dark Stranger.
Most of us just went to grab the popcorn after the two battled like gladiators in the stretch of the Meadowlands Pace on July 18 — won by Tall Dark Stranger by a neck in a 1:47.2 mile. A week-and-a-half later, just a couple of days after Papi Rob Hanover set a stunning 1:47.1 world record for a five-eighths mile track in his Adios elimination at The Meadows, the son of Somebeachsomewhere out of Panera Hanover is on the shelf for 2020 and we are all the poorer for it in a year when we needed the distraction the most.
None, of course, are more impacted than super good guy McDuffee, Hall of Fame driver David Miller and talented trainer Brett Pelling for whom Papi Rob Hanover — along with pacing mare Caviart Ally — was a comeback horse of the highest order for Pelling's return to training in the United States.
Monday night, McDuffee said he was deeply saddened by the lost opportunity for Papi Rob Hanover to truly prove what he could do. As it stands, the colt earned just shy of $1 million in only 16 starts — of which he hit the board every single time with a record of 7-6-3.
"His best days were, obviously, ahead of him. It's sad in that sense, for sure," the owner said.
Has there been a standardbred in recent memory with as much bad luck as talent? McDuffee doesn't think so. Consider in post draws alone this year that Papi Rob Hanover has landed, in order, 10, 10, 9 and 4.
"It's been a tough day because when I think about the horse, I think, 'How unlucky can an animal be?' He wins the Breeders Crown and on a wishy-washy decision [the judges at Woodbine Mohawk Park] take him down. Then this year we have the virus situation. He more than likely would have won the Hempt and I'm pretty comfortable saying we would have won the North America Cup… Then we come along and we get these 10 holes every week just trying to get a race for him. Now this. Man, oh man, how unlucky can you be?"
McDuffee pauses to stress and clarify something.
"By the way, anything I say, I'm not taking anything away from Tall Dark Stranger. I think he's a special horse himself," McDuffee said.
For a man that rarely resorts to hyperbole despite a lifetime of owning many outstanding horses, what McDuffee said next is worthy of attention: "I actually believe [Papi Rob Hanover] is a better horse [than Tall Dark Stranger] and I will go to my grave believing it."
McDuffee said he will also go to his grave believing Papi Rob Hanover suffered his injury in the waning moments of the Meadowlands Pace, not the Adios elimination.
"I'm going to credit this to Brett (Pelling) whom I've talked to a lot in the last few days, but I'm pretty sure the fracture first occurred about 100 feet from the finish line in the Meadowlands Pace. If you watch that race really, really closely — and I've watched it over and over — 100 feet from the wire he was going to get the other colt and then you could see he took a little mis-step. It took David (Miller) another 20 yards to get him going and he was coming back again. I never saw him make that kind of mis-step. I'm pretty sure that's where (the injury) happened," McDuffee said, adding the team saw no signs of a problem heading into the Adios elims.
"If [he injured himself in the Meadowlands Pace] to think he went on to do what he did in the Adios [elimination] is even more spectacular, but, obviously, he's got incredible heart."
That incredible pumper is one of many characteristics that McDuffee said he hopes Papi Rob Hanover will gift to his offspring.
While it is possible Papi Rob Hanover could race next year and beyond, once he heals, McDuffee's preference is to find a good stallion home for the colt that was bred by Hanover Shoe Farms and sold to him for $130,000 at the 2018 Standardbred Horse Sales Company's 2018 yearling auction in Harrisburg, PA.
"I think he will probably go on to be one of the best stallions this sport has ever seen," said McDuffee, again playing against his nature by resorting to high praise. "He's just an incredible animal and I would actually prefer to go that route than bring him back next year. I think he's destined to become a great stallion and I say it because physically he's the most impressive thing you ever looked at — he's got conformation, he's a smart horse – some horses are gifted, but they're not too bright – he's got everything going, including pedigree. My preference is to find a good home for him and more than likely I will."
Naturally, the breeding farms had been calling before an MRI on Monday revealed the broken coffin bone. There's every belief Papi Rob Hanover will land a great spot for his second career once the final decision is made to go that route.
McDuffee, for one, is counting on it while remaining philosophical.
"One thing I've learned in this business is that every single race is maybe your last one," McDuffee said. "You just don't know. These are animals carrying 1,500 pounds plus on those little legs that they have to pound on the ground. You're only one race away with any horse. This one is a tough one to digest, but we'll live for another day."