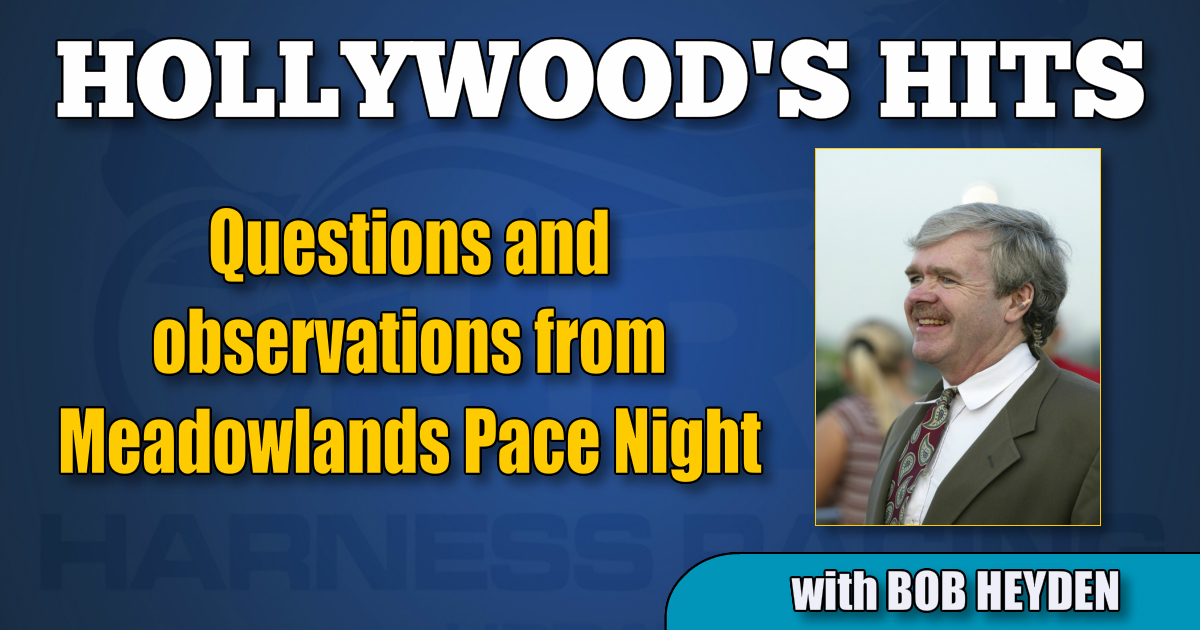 Questions and observations coming out of Meadowlands Pace Night
by Bob Heyden
Twelve questions and observations about a terrific Meadowlands Pace card:
1. Real Cool Sam made a break in his Stanley Dancer division. The 2-year-old champion was debuting at 3 after a trio of qualifiers. Now we can see why there was a 25-year absence of the Peter Haughton winner in the Hambletonian winner's circle. In 2006-07 Donato Hanover the first to do so and the stake began in 1981. Oddly, Real Cool Sam won his first nine in a row at 2, the same number Broadway Hall won in 2002 — also for Jim Campbell and Jules Siegel. The 2-year-old Trotting Colt of the Year never raced again after his rookie year.
2. Post 11-12 and 13 all hit the board on Pace Night. Geez Joe (11) was third in the Haughton consolation. Soul Strong was third from post 12 in the Hambletonian Maturity watching Gimpanzee win it from post 13.
3. Ramona Hill and Sorella are both real candidates to try the boys in the Hambletonian. Both are daughters of Muscle Hill. If either or both go in the Oaks and one wins, it'll be the fifth straight year that Muscle Hill has sired the Oaks winner — 2019 When Dovescry, 2018 Manchego, 2017 Ariana G and 2016 All The Time. No other sire has done it more than two times in a row.
4. Ready Cash, a winner of well over $5 million lifetime, won both Stanley Dancer divisions as a sire. His racing career started in 2007.
5. Gimpanzee and his sire Chapter Seven have very similar career numbers.
Gimpanzee — 27 21-1-2, $2.1 million 1:50.1 lifetime mark at the Meadowlands.
Chapter Seven — 28 20-4-1, $1.95 million 1:50.1 lifetime mark at the Meadowlands.
Can Gimpanzee,3-for-3 after Pace night with his romp in the Hambletonian Maturity, go on and be Horse of the Year and end the streak of never having a HOY trotter sire a HOY?
6. Bettors Delight winning the Meadowlands Pace in back-to-back years — his first two at age 21 and 22. Plus, he was 1-2 last year with Best In Show edging Bettors Wish. Can Papi Rob Hanover and Tall Dark Stranger continue this budding rivalry, maybe the best one since Real Desire and Bettors Delight in 2000-2001?
7. Nancy Takter had the Meadowlands Pace favorite two straight years. Captain Crunch last year (4th). The last trainer to do this was Brett Pelling in 2004 with Timesareachanging (2nd) and in 2005 with Rocknroll Hanover (1st). Takter and Pelling finished 1-2-3 this year.
8. Shartin N now 2 for 3 on the year in a game effort in the Dorothy Haughton getting edged by a 50-1 shot. The former is the defending HOY. The first horse to successfully defend his or her HOY title was Scott Frost in 1956 and he lost his first two starts before winning 17 in a row. The last pacer to win the HOY title back to back was Cam Fella in 1982-1983-and he started his final season 2-8-before reeling off 28 straight.
9. The startling stat of five-year Meadowlands Pace favorites that became the HOY may have struck yet again.
2020 — Tall Dark Stranger was the Pace favorite. Will he be the HOY????
2015 — Wiggle It Jiggleit was Pace fave, winner and HOY
2010 — Rock N Roll Heaven was the Pace fave and runner-up by a head and went on to be the HOY
2005 — Rocknroll Hanover was the Pace fave, winner and HOY
2000 — Gallo Blue Chip Pace was the Pace fave, winner and HOY
1990 — Beach Towel Pace was the Pace fave, winner and HOY
1985 — Nihilator was the Pace fave, winner and HOY
1980 — Niatross was the Pace fave, winner and HOY
10. Is 2020 the charm for David Miller in the Hambletonian? In 1999, the driver made his Hambletonian debut. He's still looking for that breakthrough win. The second leading money-winner of all time won his initial Meadowlands Pace in 2018 with Courtly Choice.
11. Can Nancy Takter become the first trainer to win both the Meadowlands Pace and the Hambletonian in the same season?
12.It was nice to see the husband-and-wife team of Billy and Dottie Haughton each with their own Memorial races on the July 18 card.
64 years ago harness racing debuted on cover of Sports Illustrated
Thursday (July 23) marked the 64th anniversary of harness racing's debut on the cover of Sports Illustrated. Adios Harry, the 1:55 world race record holder, was on the cover.
Inside was a story on Belle Acton and Harry with a picture of Dottie Haughton (two months pregnant with Tommy) on the inset. Billy Haughton trained and drove Belle Acton.
Luther Lyons was pictured on the cover with his world record holder Adios Harry.
The two main horses oddly retired a couple of years later $6 apart in lifetime earnings — $353,069 for Belle Acton and $353,063 for Adios Harry.
What else was going on that year?
Mickey Mantle won the Triple Crown in baseball.
Scott Frost, the year after he won the first standardbred Triple Crown, won 17 straight and nailed down his second successive HOY title to become the first standardbred to go back to back.
Billy Haughton would lead in driver earnings for the fifth straight time at $572,945, some $127,000 to the good of John Simpson, Sr.
Adios Harry was the first of four times the sport made the SI cover — the last was in August of 1969 when Nevele Pride graced it.