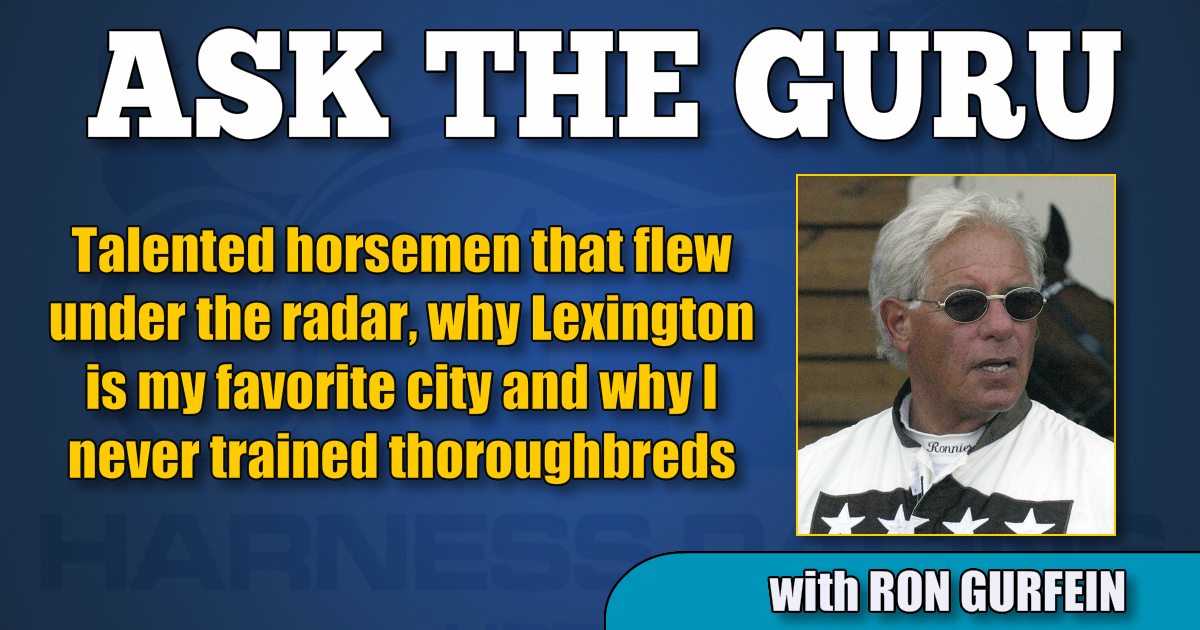 Talented horsemen that flew under the radar, why Lexington is my favorite city and why I never trained thoroughbreds
All this and much more in this edition of harness racing's favorite advice column.
by Ron Gurfein
Tidbits: Even under a dark cloud, our sport is very much alive and well. Fabulous presentation of last Saturday's Meadowlands Pace card by the Meadowlands team and a wondrous night of racing with a $5 million-plus handle. It doesn't get any better.
Even TVG proved they can get it right. Well almost. With most of the big races they were on the money with the coverage, no forced lag. They even gave Mike Bozich a little more airtime to generate some business.
* * *
Tall Dark Stranger's race could be my favorite of all time. When in your lifetime in a major event have you seen a horse beaten at the top of the stretch and come back and win? Personally I cannot remember one. It does happen in cheap races once in a while, more often in the thoroughbreds when a horse is over-ridden to gain the lead and falters late.
Yannick Gingras' drive and the colt's effort is truly one for the ages. Let's not take anything away from Papi Rob Hanover. Overcoming the outside post and finishing that close took a supreme effort. I was not happy with social media where all were crowning TDS the Triple Crown winner and Horse of the Year. I am not saying it's impossible, because I love the horse, but I would like to see post positions reversed before I would be dismissing Papi Rob. In fact Allywag Hanover looms a clear and present danger in his own right. In my heart, I am a Yannick believer and if he says TDS is the best I will agree till something changes. It will be a very exciting year.
* * *
The closer we get to Hambletonian Day the more exciting the racing becomes. With COVID-19, and no fans in the stands earlier, the division looked very weak at best when racing resumed at the Meadowlands. Last Saturday dawned a new day.
Ready For Moni and Back Of The Neck we're both fabulous in their individual divisions and Maesteramon was sneaky good and with the "White Knight" anything is possible.
I would guess that the top showing of Ready For Moni and the horrid trip Sorella had to go, Ms. Takter will race her in the Oaks. That said, it would not shock me to see Tony Alagna enter the ever-ready Ramona Hill in the big dance. To say she was amazing from the 10 post for the "Down Under Wonder" Andy McCarthy would be an understatement.
* * *
What a difference an era makes. The New Jersey Sires program has come full circle once again. When I was a mere lad, you could buy a full field of NJSS colts or filly's for the price of a fancy car. I remember training Eric B's and Regal Picks. I sold a very nice Regal Pick 2-year-old filly to Stanley Dancer, qualified and ready to race for $40,000.
Then came Valley Victory and the ball game changed forever. But nothing like it is today with Muscle Hill returning to the state. There were five divisions of 2-year-old trotters Friday night. Using my own valuation of the homebreds, there was almost $8 million worth of 2-year-olds going to post. Thirty-seven of the 47 starters were by Muscle Hill. Only one of the 15 on the board horses was not a MH.
* * *
Green horses often do strange things. Authentic, the Bob Baffert trainee well on the way to the Kentucky Derby, got real lonesome on the front end in the Haskell at Monmouth Park as the 1-9 choice and nearly was beaten.
The reaction of the broadcasters was a poignant dismissal of his chances stretching out to 1 1/4 miles in the Derby.
I you have ever been to the Springfield, IL fair grounds and warmed up a horse it's frightful how much of the fair the horse sees. Continentalvictory won the Review there and was totally preoccupied with the rides during the entire mile. It was a less than stunning performance. John Cashman came to me after the race and said, "I thought she was a better filly than that."
I am not saying that Authentic will be a great champion, but for God's sake, give him a pass till he proves otherwise.
* * *
Wouldn't it be nice if there was some uniformity to harness racing programs? Yearling prices and trainers in previous races are conspicuously missing in many venues. Asking for a friend…..
* * *
Correction: Last week in my column on Austrian Racing I said Florestan was a brother to Florican. My learned friend Mr. Murray Brown pointed out that he was not. He was in fact a son of Stars Pride out of the great French mare Roquepine.
Rob Roberts asks: Tell me who you think were great horseman that sort of flew under the radar.
The answer could have been a novel so I narrowed it down to four that I felt that they were not only gifted horseman but had some effect on my life.
Doug Ackerman was always a big favorite of mine. He had it all. He trained, drove, bred and raised horses. On top of that, he had a great family and a wonderful personality. I was lucky to spend much time with him as he was one of the last of his generation to still be on the Grand Circuit in the '90s. He taught me about looking at yearlings, and introduced me to Mary's a great restaurant in Herrin, IL not far from the DuQuoin State Fairgrounds. I truly miss him. For much of my life I was more of a horse trader than horse trainer. The three remaining men all were a part of my trading years.
Bob Boni, Bob MacIntosh and Gene Riegle are all part horse, as far as I am concerned. Boni helped me from the time he was at Pine Hollow in the early '70s when I was bottom fishing for yearlings up to maybe three years ago when he advised a big owner with a problem high ticket horse to send it to me. I thank him for the assistance for a 50-year span. He is good at it all — knows what a horse should look like, and is a pedigree snob. He has been associated with the crem de la crem of the sport; names such as Finder, Guida and Nihilator are all in his resume.
MacIntosh and Riegle started out as a part of my life that I call "page turners."
When you buy horses for a living, who you buy from is of dire importance. That's why I call them page turners. When you go through the catalogue and you see their name, you turn the page. It was almost like climbing Mt Everest trying to improve a horse coming from their barns.
Both men were so successful because not only were they knowledgeable but both were workaholics.
I learned the importance of a horse carrying his head very low from Macintosh and how to look at a pacing yearling from Riegle.
They were so good that Gene had one of the greatest 2- and 3-year-olds to ever look through a bridle in Artsplace and when Bob got him from Brittany Farm as a 4-year-old the horse just kept on rolling.
Phil Whitcroft asks: What do you think of Maverick now?
The question is phrased as if I was high on him and less so now. To be honest I was never high or low on the colt. I would love to see him do well.
That said, I liked him more this week making a break than before. To me it's the first time he showed some life. I don't know what Tony Alagna did, but the colt's attitude was entirely different than his earlier appearances. Maybe a bit too anxious, but he had plenty of trot the entire mile, and actually finished better than he had before.
I have seen a few young trainers make their colts go from too laid back to too hot this week. Now would be the time to adjust to a happy medium.
Bill Bigler asks: Why have you not tried training thoroughbreds? It's obvious you love the sport and you certainly have the knowledge and social skills to adapt.
Show Me The Money… that's what it comes down to. When I had my best years I had maybe $1 million to spend on yearlings. The big thoroughbred barns spend $30 million and lord knows what the value of some of the homebreds are.
Barry Abrams, Jerry Procino, Tony Quarterolo and Don Swick are the only crossovers I can think of in six decades of training. None of the above has won the Kentucky Derby. The transition is very difficult and it is all about money.
Pedigree is another major stepping stone. Sixty years training standardbreds and I am far from even a good pedigree expert. There is so much to learn about thoroughbred pedigrees, ours are simple in comparison. We have few stallions and all races are on dirt for a distance of one mile. They have horses bred to sprint, race distance race on turf or on dirt it takes a lifetime to be good at the mass of information you need to absorb.
Thanks for your testament to my abilities but at 50 it could have been a question, at 80 not so likely.
Beth Cone asks: Of all the places you have traveled you seem to find Lexington to be a special place, why not Paris, New York, Venice?
I love all three of those places. Actually they are my three favorite big cities in the world, but to me, for the long haul, there is something magical about Lexington. I was bitten by the bug in the '60s and feel the same way today. Whether driving or flying that first sight of the tiny skyline with the Hyatt, the Hilton and a few bank buildings I just smile.
With the exception of the wonderful years I spent on Paris Pike where I could watch the Thoroughbreds train while having coffee in the morning, I spent most of my years downtown. Most of my time was spent living in a condo I rented on the top of what was then the Raddison now the Hilton. The bar scene in Lexington is like cheers everywhere. There is very little industry so 90 per cent of the customers are lawyers, doctors or horsemen. It makes for interesting and oft-times volatile conversation.
A major factor in my love of the town is that my best friend Art Zubrod and his wonderful wife Leah live in Versailles — one town over.
I would stay in town from the day after Junior League left the Red Mile, around the middle of July till after the last day of the race meet, maybe the middle of October, because I rarely
went back East, but shipped from the Red Mile to the Breeders Crown. That's three months a year in paradise.
Art and I loved A La Lucie, a popular eatery on Limestone. Many nights we would sit and drink with Lucy till closing. Lucy closed the place down so we could have an Art's 50th birthday party there. It was an unforgettable night.
It is not necessary to talk about the fabulous racing at the Red Mile I am sure that most horsemen have some of their fondest memories racing on the red clay.
There is no place on earth with a more beautiful countryside. There are gorgeous farms everywhere. You can literally drive for hours around the area an remain awestruck at the barns, the land and the fencing.
To those of you who have never seen the town, some sound advice: Be sure to have a good GPS or you could actually get lost quite easily for a very long time.
Unfortunately with the exception of the Holly Hill Inn about 20 minutes from Downtown there hasn't been what I would call a great restaurant in 50 years. The last one I recall was the Peppercorn Duck Club that was in the Hyatt Hotel, but closed in the early '70s.
Nowhere have I ever lived where there were parties like they serve up in Lexington.
Parties that were over the top start in our sport with Kentuckiana Farms' pre-sale parties that featured performers Such as Ronnie Milsap and The Oakridge Boys. I saw The Three Irish Tenors at Darley Stud and had the finest Bourbon you can find at the annual party at Botherum House, a home built around 1850 and beautifully refinished by Jon Carloftis and Dale Fisher. Carloftis has created some of the finest corporate and private gardens around the world, including the Google Garden.
If you haven't been to Lexington, it's time you planned a trip. For you horseman that have yet to race at the Red Mile I will tell you every year I landed in Lexington the first time I took a horse on the track and felt the fresh air and couldn't hear my horses feet hitting the ground, and looked at the grandstand and the round barn I thought I was in heaven.
Thanks to all my readers for the wonderful emails. Please keep the questions coming in. I will cover the Hambletonian more thoroughly in next week's column. Have a wonderful week.
Have a question for The Guru?
Email him at GurfTrot@aol.com.