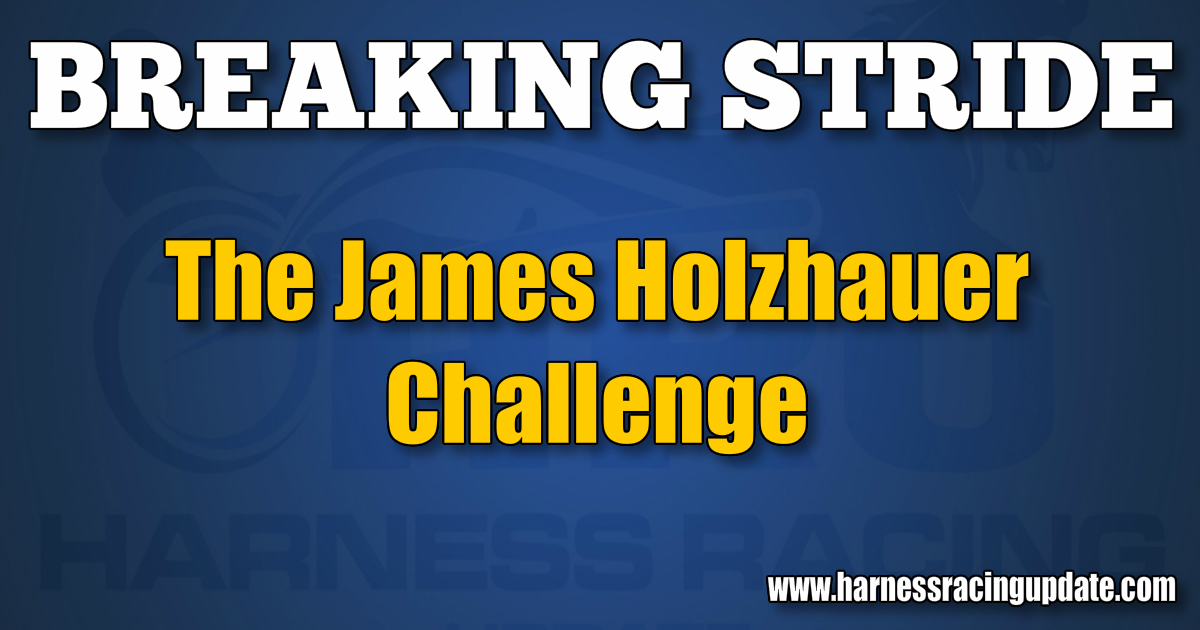 The James Holzhauer Challenge
by Trey Nosrac
David slid into the leather passenger seat, and I pounced, "Last night, just after midnight, a brilliant plan to save harness racing exploded in my brain!"
"Most of your plans explode in your face," he replied.
"Not only do I have the plan, but I also have the man for the plan."
"I suppose I need to ask what man, what plan."
"James Holzhauer."
"Who's he?"
"A professional gambler and game show player. I never heard of him until last night, when my team, the Stable Geniuses, were playing Trivia Tuesday at the Tap City Tavern."
"Stable geniuses?"
"Nothing political, three of us are involved with horses. Anyway, one of our questions was – Who is the third-highest-earning American game show contestant of all time and is best known for a 32-game winning streak as champion on the quiz show Jeopardy?"
"You knew the answer?"
"No, didn't have a clue, I never watch Jeopardy. Fortunately, this is a team competition with five players. The geniuses wear matching t-shirts with a horseshoe logo. Sally Polonski, the most stable on our team, is a Jeopardy fanatic. She was all over the answer,James Holzhauer. We won a large pizza delivered from Mozzarella Fellas."
He smiled, "Another exciting evening in Trey World."
I continued, "So I go home and goggle this James Holzhauer. I'm curious what sort of guy wins $2,464,216 on a game show. Here, read this:"
He took my phone and read.
Despite high marks on individual tests, James Holzhauer was a C student overall, as he often skipped class and homework because he could use the time more productively, such as playing online poker. Holzhauer memorized obscure baseball and professional wrestling statistics, prompting his parents to reprimand him for "wasting his life" learning about sports.
While a student at the University of Illinois at Urbana–Champaign, Holzhauer played hearts and spades at a card club. The twice-a-week club quickly turned into a five-day-a-week home poker game with a 10-cent ante and $2 maximum bets.
The poker game is where Holzhauer began gambling, but he grew his sports betting bankroll in the 2006 World Baseball Classic. Believing the round-robin format of the tournament and variance in baseball had skewed the odds, he bet heavily on each team except the U.S. and the Dominican Republic to win the championship.
After graduating from college, Holzhauer moved to Las Vegas in 2008 to bet professionally on sports. Holzhauer says he has built predictive models for baseball, NFL, and college basketball, but now focuses on in-game betting. He took a year off from his occupation as a sports gambler to study for Jeopardy! Holzhauer debuted at the World Series of Poker in 2019. Holzhauer is a lifelong fan of the Chicago Cubs. He has said his dream job is a front-office position with the team and has actively sought employment in Major League Baseball.
He handed my phone back, and said, "Trey, if you were smarter, better looking, younger, followed the Chicago Cubs, and had money, you could be his twin brother."
Ignoring the jab, I kept firing, "Here's my plan: Hire Holzhauer, a sports guy with a brand, a math maven, a gambler, a sportsman, and put him on a game show for harness racing."
"Is Holzhauera harness horse handicapper?"
"The answer is probably no; at least I doubt it, but he's a smart sports guy, he could probably pick up handicapping horses in like 20 minutes."
"Your plan is a game show?" he asked.
I nodded, "Here's my outline. A racetrack, or any outfit who wants to make a buck, streams a show on what appears as a Jeopardy-ish set. It will be a first-class presentation with a host, music, plenty of graphics, and an audience if humans ever again intermingle."
"What's the format?"
"Holzhauer gets a thousand-dollar bankroll to wager over six races. Each night, two contestants challenge him to a gambling gameshow battle. They each have a bankroll of a thousand dollars, and Holzhauer takes on two challengers for drama. They could be regular folks, or they could be celebrities playing for charity. The winner is the person who has the largest bankroll after the sixth race."
He did not scoff, a good sign his wheels were turning. After a moment, he said, "That could be a moderately entertaining show if produced correctly. And the sporting landscape is looking bleak. I read today the College football season is looking questionable, without football, there will be a void to fill."
I ranted, "Have you watched some of the garbage they are wheeling out as entertainment? Harness racing would look like MENSA on hooves, and it would be cheap to produce a show like I'm pitching."
He said, What you are blabbering about would piggyback off the sport."
I pointed at him and said, "The exposure would be awesome. My quirky little plan could be a way to address the entertainment part you keep saying the sport lacks."
"And gambling?" he asked.
"Nothing changes at the racetrack; the races roll as usual. However, for newbies, an online wagering option where viewers could wager on one of three players will be available. If their player wins, they double their wager, a crummy wager but very easy to play. I'm telling you, this is beautiful. It would educate people about the sport. They need to watch six races; there is conflict, horses are racing, people are talking, calculators are whirring, there are graphics, tension is building, and there are new faces. What a festival of fun."
He said, "It's an idea where I can see possibilities to help your sport in these challenging times."
"Damn right," I said, "And that's no trivial matter."