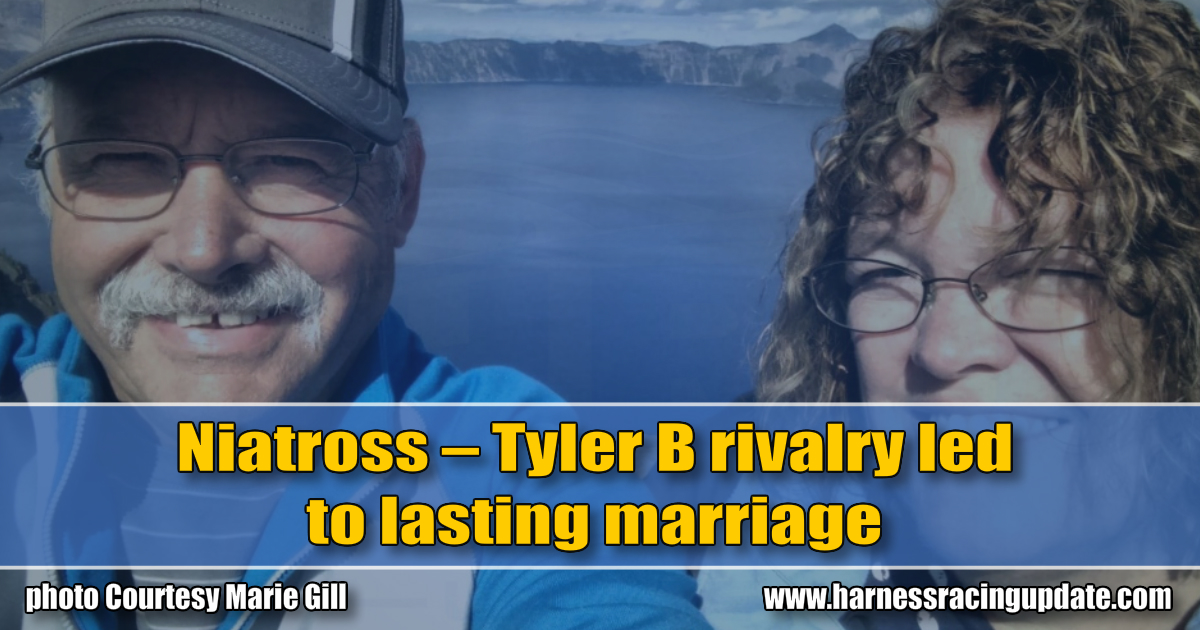 Niatross – Tyler B rivalry led to lasting marriage
Niatross' caretaker Marie Gill and Tyler B's groom Billy Gill have been married for almost 39 years.
by Dean A. Hoffman
Forty years ago this month, Marie Gill was a worried girl.
She was worried because she was the caretaker for the ne plus ultra pacer named Niatross, Horse of the Year as a 2-year-old the previous season. He came into July, 1980 unbeaten and untested. He was an absolute superstar.
Then the wheels came off when he fell over the rail at Saratoga in early July and suffered his first career defeat. A few weeks later, he was the overwhelming favorite in his Meadowlands Pace elimination, but broke stride and recovered to finish fourth, barely, to salvage a spot in the final.
Marie — who then went by her maiden name Carson — wondered what could possibly go wrong in the Meadowlands Pace final.
She didn't need to worry. Niatross was back in form for the final, and that meant that his foes were relegated to futile pursuit.
One of the colts pursuing Niatross was the handsome Tyler B, whose caretaker was Billy Gill from Louisville, KY. Although it was hardly love at first sight, Marie and Bill have now been married for almost 39 years. Marie practices veterinary medicine in western Pennsylvania and Billy trains a stable based at The Meadows.
Marie grew up in Coolville in southeast Ohio and her father fiddled around with a few county fair horses. She earned a degree in chemical engineering and then started to work at Kodak in Rochester, NY. When she was later laid off, she spotted a help wanted ad for nearby Rodney Farms, operated by Barbara and Clint Galbraith. It was an easy move for a young woman raised with harness horses.
Marie moved from the breeding farm to the racing stable and picked up a promising pacing colt named Niatross on the eve of the Woodrow Wilson in 1979. (She had earlier taken care of Best Bizarre and Minute Ms, two earlier foals from the dam of Niatross).
Niatross shot to an easy victory in his elim for the Wilson. Afterwards, as she was cooling out her colt, she encountered another groom and he quipped, "This is Tyler B. He won one of the Wilson elims."
To quote Shania Twain, that didn't impress Marie very much. Nor did the attitude of his caretaker. Neither could have possibly envisioned wedding vows in the future.
"I've always been kind of a smart ass," Billy said.
Billy Gill had been raised in the horse business at the old Louisville Downs as his parents traveled and raced almost everywhere, and he easily ticks off a list of tracks — past and present — spanning North America where he worked.
In 1977, Gill ran into Delvin Miller's assistant Aime Choquette at Pompano and signed on as a groom in the Miller Stable. In the fall of 1978, he was assigned a $220,000 Most Happy Fella yearling colt named Tyler B.
Both colts evidenced some quirks.
"Niatross was always a nippy kind of colt," Marie says. "I always had bruises on my arms."
Billy adds, "Tyler B could be a little mean. He sure wasn't a kid's horse, and he knew he was big. He was scared of tractors and went over the hubrail several times.
"I trained him myself often and I always waited until the tractors came off the track."
Niatross took right up winning when the 1980 season started and some may have wondered if anyone could beat him.
It turned out that only Niatross could beat himself.
He was predictably a heavy favorite before the Battle of Saratoga in early July and was leading into the stretch when the hub of his left sulky wheel caught the inside rail and pulled horse and sulky over the rail.
The harness racing world turned upside down — just like Niatross. Fortunately, he was unhurt in his fall from grace.
"When I got to him, he just had a little mud on his Kant-See-Bak blind," Marie said.
In the Meadowlands Pace elim a few weeks later, onlookers were astonished as Niatross began galloping after a quarter-mile.
"His hock hit the bike and he took off running," Marie says. "That spooked him. He wasn't a runner."
A forlorn Galbraith said that they'd simply have to tie him out further from the sulky. And they did so for the remainder of the year.
Niatross got post eight in the final.
Marie admits she was nervous before the Meadowlands Pace, but adds, "I was nervous every time he raced. After the elimination, I wondered if Niatross would ever win again."
Billy still knew Niatross was the king.
"I never really thought Tyler B had a real shot of beating Niatross," he admits. "Niatross was just so much better. That's why I enjoyed racing Tyler B in the New York Sires Stakes. He was the best there. He won everywhere we went in New York."
In the Meadowlands Pace final, Tyler B had the rail and driver Billy Herman left alertly with him to seize control. Storm Damage was caught outside around the first turn with Niatross behind him.
Storm Damage worked his way to the front down the backstretch and that's when Galbraith stepped on the gas.
Niatross rocketed to the fore and played "catch me if you can" with his pursuers.
They simply couldn't catch him. Storm Damage fought valiantly but lost ground behind the champion and Tyler B held for third.
Niatross paced in splendid solitude and hit the wire in a stake record 1:53.1.
The rest of the 1980 season played out predictably, Niatross paced in 1:52.4 at Syracuse and then won the Jug in effortless straight heats, pacing the first sub-1:55 mile in Jug history.
Then came the assault on the 1:52 world record for standardbreds at Lexington. It was set for the first week, but bad weather postponed the time trial until the following week.
Marie watched the time trial from the paddock out the outside the far turn,
"There was so much noise that I couldn't hear the time," she said. Then someone told her.
1:49.1.
It dropped the record by almost three seconds.
She hitched a ride on a golf cart to meet her horse as he returned to the thunderous accolades of the spectators. Horsemen had flooded the track.
"Get out of the way! Get out of the way!" she shouted. Marie just wanted to congratulate her colt.
Looking back, she says modesty, "I was pretty proud of him that day."
She was also proud the rest of the year as he won the American Pacing Classic over older horses at Hollywood Park and ended the year on Dec. 31 winning at Pompano.
Forty years later, she is still proud of Niatross — and Marie doesn't need to remind her husband that her horse was better than his.