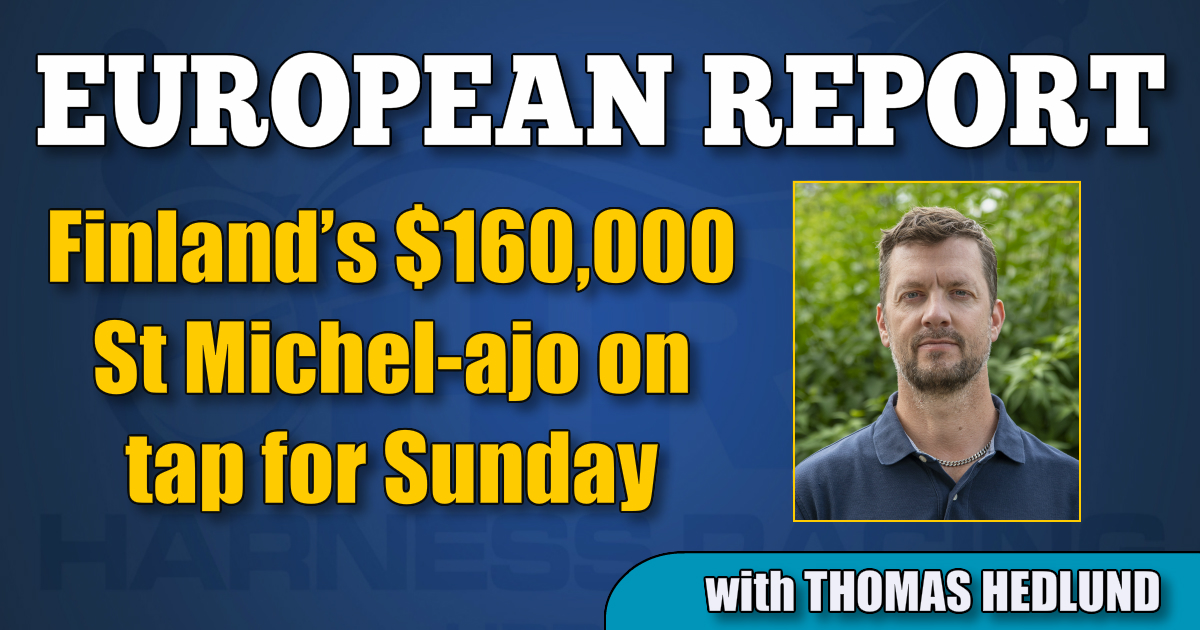 Finland's $160,000 St Michel-ajo on tap for Sunday
by Thomas Hedlund
The $160,000 St Michel-ajo in Finnish Mikkeli is known as one of the most spectacular mile races there is in Europe during the summer. Thanks to the surrounding environment and the surface of the 5/8 mile track, many great trotters have performed miles in times that they never were close to in previous races — at least this has been true in past years.
Lately, Mikkeli presents a track where more moderate and common miles are performed and how it will end up this year remains to be seen on Sunday afternoon, when eight trotters gather around the track in Finland.
Title defender Makethemark draw a perfect two-hole and Ulf Ohlsson is the driver trying to repeat last year's 1:53 win.
Varenne's 1:51.2 performance from 2002 is still the fastest mile in the race.
A spot in $350,000 Hugo Åbergs Memorial at Jägersro on July 28 is at stake in Mikkeli.
St Michel-ajo 2020
Horse – Driver
1. Sobel Conway – Olli Koivunen
2. Makethemark – Ulf Ohlsson
3. Vernissage Grif – Alessandro Gocciadoro
4. Hotshot Luca – Pekka Korpi
5. Next Direction – Iikka Nurmonen
6. Missle Hill – Johan Untersteiner
7. Moni Viking – Hannu Torvinen
8. Antonio Tabac – Mika Forss
Melander dominates $530,000 Stochampionatet
The Stochampionatet for 4-year-old mares is scheduled at Axevalla racetrack on Sunday afternoon and after the eliminations (at Axevalla on July 10) it's a fact that Stefan Melander dominates the final with five mares qualified for the race.
Scarlet Knight daughter Resudial Thrust and Muscle Hill mare Ganga Bae won their eliminations, respectively, while Digital Literacy (Super Photo Kosmos), Fuel Burn (Scarlet Knight) and Sideslip (Scarlet Knight) qualified by being runner ups in their eliminations.
Ganga Bae, owned by Courant Stable, was first choice in $220,000 Drottningpokalen in May, but couldn't reach Hard Livin mare Diana Zet that day. Ganga Bay will most probably be the bettor's choice once again, even though Diana Zet (who won her elimination from the lead) starts from post inside of Ganga Bae.
Stochampionatet is one of the most prestigious races for 4-year-olds in Sweden and what makes the race hard to win is the distance, 2.640 meters or 1.6 miles with eliminations only nine days ahead of the final.
Ganga Bae was the fastest elimination winner with a mile rate of 1:59.3.
$530,000 Stochampionatet 2020
2.640 meters
Horse (Sire)– Driver (trainer)
1. American Hill (Muscle Hill) – Marc Elias (Conrad Lugauer)
2. Waiting Hill Hall (Muscle Hill) – Steen Juul
3. Diana Zet (Hard Livin) – Örjan Kihlström (Daniel Redén)
4. Resudial Thrust (Scarlet Knight) – Erik Adialsson (Stefan Melander)
5. Ganga Bae (Muscle Hill) – Jorma Kontio (Stefan Melander)
6. Digital Literacy (Super Photo Kosmos) – Rikard N Skoglund (Stefan Melander)
7. Award Kronos (Father Patrick) – Adrian Kolgjini (Daniel Redén)
8. Fuel Burn (Scarlet Knight) – Emilia Leo (Stefan Melander)
9. Mahma Lane (Maharajah) – Peter Untersteiner
10. No Limit Queen (Trixton) – Carl Johan Jepson (Björn Goop)
11. Sideslip (Scarlet Knight) – Per Lennartsson (Stefan Melander)
12. Mellby Hawaii (Going Kronos) – Peter Ingves (Björn Goop)
Gocciadoro wins it all in Italy
Alessandro Gocciadoro is hard to beat when he's racing in Italy. In Cesena, on Saturday night (July 11), his horses were outstanding in world record performances in $57,000 Gran Premio Citta' di Cesena for 3-year-olds.
In the division for mares, Bairussa Jet (Pine Chip) claimed her third victory in 12 starts and won in world record mile rate 1:58 over 2.060 meters (1.3 miles).
Bigbusiness Arc (Varenne) won in 1:58.3 and that mile rate was also a world record performance for a 3-year-old trotter over 1.3. miles on a half mile track.
Gocciadoro left Cesena and went on to Trieste on Sunday night. There, he continued his triumphal journey in Italy and claimed $57,000 Gran Premio Citta' di Trieste Filly paired with Apple Wise As (Royalty For Life) and followed up by winning the colts division with Al Capone Stecca (Napoleon Bar).
Ecurie D. continues to impress
Danish bred Ecurie D. (Infinitif), trained in Norway by Frode Hamre, and most often driven by Björn Goop, is definitely one of the most exciting trotters in the world right now. The 4-year-old star is unbeaten after 11 starts and in $44,000 Fyraåringstestet in Eskilstuna, Sweden, the 4-year-old champion played with his opponents and came home in mile rate 1:57 over 1.6 miles.
Björn Goop aimed for the lead after less than a half-mile into the race and Goop solved the trouble he had when the car accelerated from the field without big concerns. Ecurie D. Started from nine-hole, behind horses and that was a fact that could have made the race more spectacular, but Ecurie D. Is something special as an individual and the question is: how good can he be? The star trotter has a spot in $350,000 Hugo Åbergs Memorial on July 28, but it's not definitely nailed that Ecurie D.will take up the fight against older elite trotters, yet.
Green Manalishi was one of the hottest challengers ahead of the race, but his performance was really mysterious and his gait was nothing more than miserable, especially in the turns. The horse finished last in mile rate of 1:59.
Brother Bill (Breeders Crown winner in November last year) made his comeback and finished second to Ecurie D. after a pocket trip.
Aramis Bar wins $55,000 Norrlands Grand Prix
On Thursday (July 16), Björn Goop went north, to Bergsåker, Sweden, where he had his Italian-bred Aramis Bar (Napoleon Bar), partly owned by former hockey professional Peter Forsberg, in the $55,000 Norrlands Grand Prix for 4-year-olds over 1.3 miles.
Goop served his horse a second-over trip while driver Mika Forss let Timo Nurmos-trained Acciaio keep too high a pace in front. That meant that Goop could wait to attack when merited trotters such as Global Adventure and Hail Mary started their attacks up the backstretch.
Aramis Bar took over the lead at the home stretch and held strong finisher Hail Mary in a safe distance at the wire. The mile rate of 1:54.1 is a new Swedish record over 1.3 miles for 4-year-olds bred outside of Sweden.
Global Adventure was third behind Aramis Bar and Hail Mary.