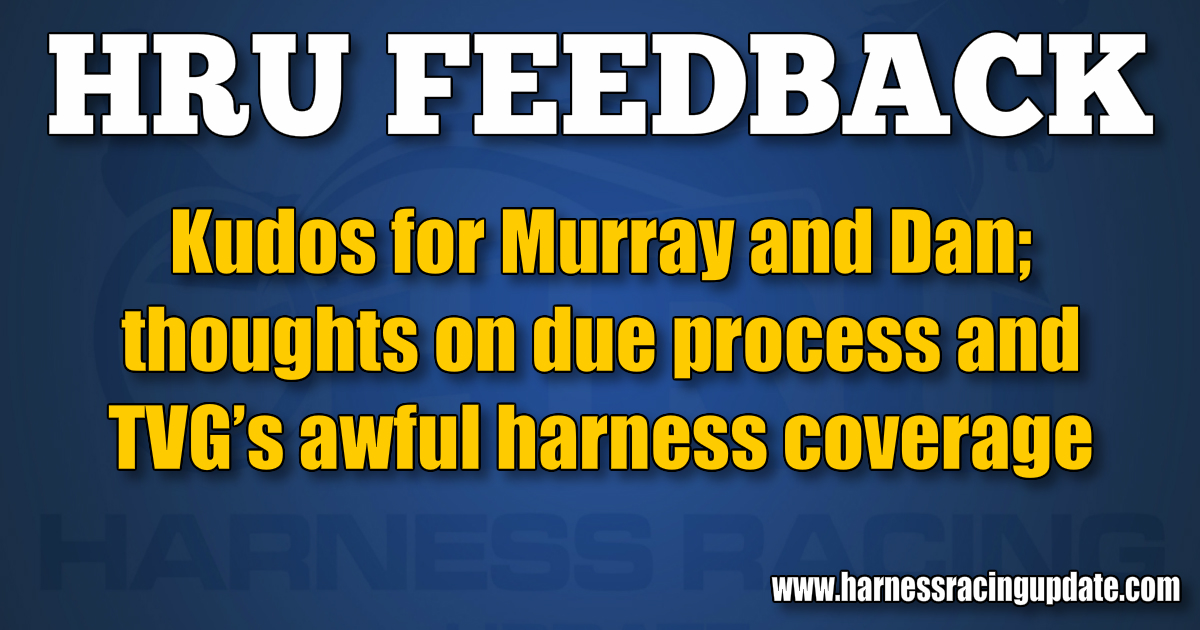 HRU Feedback (2020-07-12)
Recent interviews by Murray Brown
Murray Brown has that rare gift of asking the subject of an interview just what many thinking readers would have liked to have asked had they been granted that special opportunity. Also, he never lets himself become the star of the interview, but instead always focuses the spotlight on his guest subject. His interview of George Teague (full story here) was superb, especially in his sensitive, yet starkly, probing questions regarding racial prejudice. Let's get George what he has clearly earned through talent and hard work and brains — a spot in the Hall of Fame. As for the most recent interview which focused on the inimitable Jimmy Takter, wow! (full story here) It was quite possibly the most honest, revealing, and intriguing trainer interview I have ever read. Murray certainly had won Jimmy's trust, and the result was flat-out magnificent. Is there an end-of-year writer's award for the best in-depth interviews?
My closing reaction: There are not too many celebrities who are known by just one name. Think Elvis, Madonna, or Ali. In the harness game, it's Herve. As his son Brandon said so eloquently in the winner's circle at the Freehold portion of his dad's funeral, "There was only one Herve." I can only imagine how amazing it would be to read Herve — with all the high and low points of his storied career — getting the Murray Brown treatment.
—William Waters / Gloucester City, NJ
Could not agree more with Parham
I just want to express my opinion about Dana Parham's guest column (full story here).I could not agree more with his dissertation regarding larger fields.
Here at The Meadows, the Meadows Standardbred Owners Association (MSOA) addressed this issue a few years back (to the consternation of some horsemen) by allowing eight races per week to be carded with an extra entrant (10 horse fields, 10 being a trailer). We supported this position by giving a $200 stipend (now $250) for horses not receiving a purse check and adding 10 per cent to the purse for 10 horse fields. These added funds were appropriated from the horsemen's purse account with no contribution from track management. We are considering allowing more 10 horse fields because, without question, it helps the handle. Dana's statistics should help others to understand the importance of larger fields. I appreciate him taking time to explain this vitally important matter.
—Kim Hankins / executive director – Meadows Standardbred Owners Association
Due process
After seeing both articles on the Allard situation, I felt that having been wronged myself, as an owner in the past, I needed to express my opinion. Rene Allard has been (arrested and accused), but not convicted of any crime! Although it appears that he is guilty, there is something called due process that allows our country to be different from many other countries in the world. We are innocent until proven guilty! So, I don't agree with the 60 day rule or not allowing Rene's mother, Danielle, to have her horses trained and raced by another trainer. This can be revisited, if and when her son is found guilty. Also, after seeing that she has been an owner even before her sons were born, I feel that regardless of the outcome of said trial, she should be allowed to continue owning and racing her horses. Unlike some other countries, parents are not held responsible for the crimes of their children.
If due process did not exist and public opinion were enough, our industry probably would not exist.
—Paul Vernon, MD / Hallandale Beach, FL
TVG's harness coverage is just awful
I have been wanting to write in about the coverage of harness racing on TVG. After reading The Guru's take on the coverage (full story here) I decided to pipe up with my own opinion.
The coverage of harness was at one time not bad at all. They had the great Gary Seibel and Dave Weaver on the weekends when they had the drive time segment. Then I can remember the time that they were all excited about getting the WEG feed and how they couldn't wait to cover Woodbine/Mohawk. I also recall a night in 2013, when I was online and watching the races from Woodbine, and it was about the 8th or 9th race, and all of a sudden they started showing Los Alamitos replay show. I was so pissed that when I did have a Facebook page I went on their page and just let them have it for taking the races off before they were finished and showing a replay show.
The world now has a terrible situation to deal with, coronavirus, I can understand that it was almost impossible at first to find racing when very few tracks were open, they were showing tracks no one's ever heard of unless they live near said track. Now that things have come back around they have brought back the Meadowlands and Mohawk. Unfortunately, one of my favorite tracks is back and they have not shown any races from there. Yonkers!
I don't know what harness racing has done to TVG for them to cover harness racing with such disrespect. Perfect example of this was (Friday) night. The Meadowlands was at post time and Del Mar was 7 mins out, they never left the coverage of Del Mar, and then after the race they went to Penn National then finally decided to show the Meadowlands race. Why is it when TVG does show a harness race they can't wait to get it off the screen and move on to some other race? Usually, there is no post-race analysis, they just take the race off the screen in a flash and tell you the prices with be shown at the bottom of the screen. The disparity in coverage is very sad and should be embarrassing to TVG, as it is all horse racing in the end and we the harness players are human too and deserve the same respect afforded the other racing.
A simple solution to this problem could be this, TVG has 2 channels, make TVG2 just for harness, and add more tracks, like The Meadows, and Chester. That way we have our own channel to watch the different tracks that we watch and the tracks we bet on. Of course the hiring of at least one harness only handicapper would be a good start.
—Paul Williamson / Milford, DE