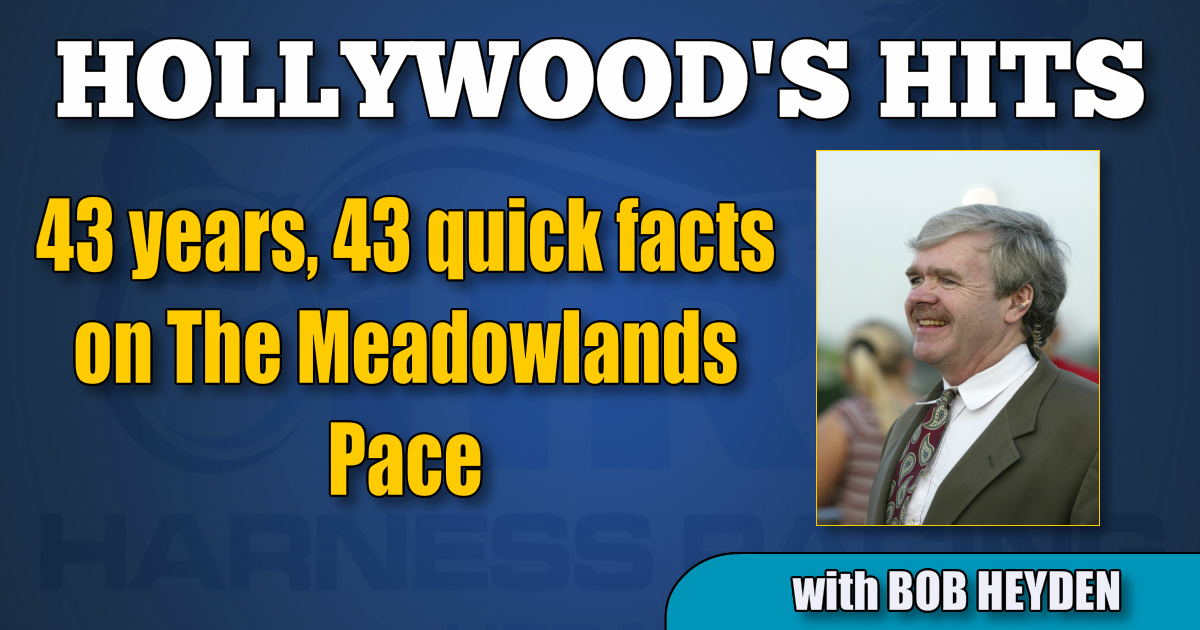 43 years, 43 quick facts on The Meadowlands Pace
by Bob Heyden
1. The first two years the eliminations and the final were the same night. Escort and Falcon Almahurst won in 1977 and 1978, respectively.
2. Each of the first four editions of the Meadowlands Pace were the richest race ever held to that point:
$425,000 in 1977 won by Escort
$560,000 in 1978 won by Falcon Almahurst
$750,000 in 1979 wonby Sonsam
$1,011,000 in 1980 won by Niatross (it was the first million-dollar harness or thoroughbred race).
3. Thirty times the Meadowlands Pace has gone for $1 million or more, only the Hambletonian (37) has done it more often.
4. Cam Fella finished seventh in his 1982 Meadowlands Pace elimination. He would never again miss the board in 57 more tries, His sons won an incredible four straight Meadowlands Pace finals from 1991-1994-and all four set their lifetime mark in the process:
1991 —Precious Bunny in 1:49.4
1992 — Carlsbad Cam in 1:51
1993 — Presidential Ball in 1:50
1994 — Cams Card Shark in 1:50
5. C R Kay Suzie at 28 is now the oldest living Horse of the Year (1995), The 1994 Meadowlands Pace winner Cams Card Shark held that honor until his passing last week.
6. Tim Tetrick is the only driver to win the Meadowlands Pace five times prior to his 40th birthday:
2007 — Southwind Lynx – Tetrick was 25
2010 — One More Laugh — 28
2013 — Captaintreacherous — 31
2014 — Hes Watching — 32
2017 — Huntsville — 35
7. Brett Pelling might have to change his name to Brett Hanover if he goes 1-2 in the 2020 Meadowlands Pace. He sends out Papi Rob Hanover and Allywag Hanover. Remember, Pelling went 1-2 in the Meadowlands Pace in 2005 with Rocknroll Hanover (HOY) and Village Jolt.
8. Ninety-five per cent of the $1 million Meadowlands Pace purse in 2004 went to trainers from Down Under:
1. Mark Harder — Holborn Hanover
2. Brett Pelling — Timesareachanging
3. Chris Ryder — Metropolitan
4. Mark Harder — Camelot Hall
9. Both He's Watching (2014) and Gallo Blue Chip (2000) won the Meadowlands Pace after going 8-for-8 at 2. Niatross in 1979 was 13-for-13 as a freshman and HOY. Conversely, Escort and Art Official won the Pace in 1977 and 2008, respectively, yet both were 0-for-15 at 2.
10. Brothers George and Buddy Gilmour each won the Meadowlands Pace in the 1980s — Buddy twice as a driver (1984 with On The Road Again and 1986 with Laughs) and George was trainer of the favorite and winner in 1989 Dexter Nukes.
11. "7 & 7 & 7 & 7" That is four 7s. Four divisional winners (3 YOCP) Jate Lobell 1987, Goalie Jeff 1989, Western Hanover 1992 and Blissful Hall in 1999 all finished seventh in the Meadowlands Pace.
12. Courageous Lady and Hazel Hanover were both sixth in the Pace final in 1978 and 1979, respectively, the last time a filly has tried her luck in the Pace final. Miss Easy won the consolation in 1991 over Cambest after making a break in her elim and failing to advance.
13. What a week. In 2019, Linda Toscano went into the Hall Of Fame on a Sunday Night and then six nights later won her first Meadowlands Pace with 27-1 Best In Show. The first female trainer in the Hall, she became the first female trainer to win the Pace.
14. Bettors Delight took a while, but got it done in 2019 with son Best In Show — 18 years after he was second best to Real Desire in a thrilling 2001 Pace final. He joins an incredible list of Meadowlands Pace runner-ups who have had a more than distinguished siring and/or racing career: No Nukes 1982, Abercrombie 1978, Artsplace 1991, Somebeachsomewhere 2008, Always B Miki in 2014 and last year with Bettors Delight, the world's leading horse racing sire.
15. The first sub-1:50 Meadowlands Pace elimination was in 1993 (Riyadh, 1:49.4). It came two years after the first sub-1:50 final (Precious Bunny, 1:49.4).
16. Pelling is trying to do two things in the 2020 Pace never done before — go 15 years between wins and 25 years between his first and most recent Pace victory:
1995 — Davids Pass
1997 — Dream Away
1999 — The Panderosa
2005 — Rockn Roll Hanover
2020 — Allywag Hanover or Papi Rob Hanover
17. 2020 marks the first time ever that the Meadowlands Pace comes before the North America Cup.
18. The 2020 Pace lands the very same weekend of the first ever million-dollar Meadowlands Pace (1980 Niatross, $1,011,000).
19. Chris Ryder sent out the Meadowlands Pace runner-up last year with division winner Bettors Wish 21 years after he sent out the 1998 Meadowlands Paced favorite Sealed N Delivered (10th).
20. The 1990s Meadowlands Pace winning sires had their own travails in their own Meadowlands Pace attempts:
1990 — Beach Towel was the winner and his sire French Chef could not advance from the 1981 Pace elims.
1991 thru 1994 the four winners were all sired by Cam Fella, who was an uncharacteristic seventh in his 1982 Pace elim (Precious Bunny 1991, Carlsbad Cam 1992 Presidential Ball 1993 and Cams Card Shark 1994).
1995 — Davids Pass won it. He was sired by Jate Lobell, who was seventh in the 1987 Pace, the only time he ever missed the board.
1996 — Hot Lead as sired by Jaguar Spur who failed to make any noise come Pace time.
1997 — Dream Away was sired by Artsplace who was the big favorite in 1991 but could not stay with Precious Bunny in the first ever sub-1:50 Pace.
1998 — Day In A Life was from the first crop of Life Sign, who looked like he might be going by for the 1993 Pace win but veered in late and was second best to Presidential Ball.
1999 — The Panderosa won it from post 10 and his sire Western Hanover wasn't as lucky. He was impeded in the 1992 final on the first turn and wound up seventh.
21. Two of every five favorites win the Meadowlands Pace final and two of every three Meadowlands Pace eliminations favorites win their prep.
22. Odd fact: Pelling has yet to win the Pace in an "EVEN" Year. He has won it in 1995, 1997, 1999 and 2005.
23. Dexter Dunn and Andy McCarthy were both named on a pair in the elims. Dexter was second a year ago with Bettors Wish. Never has a Down Under driver won the Pace final.
24. Tall Dark Stranger looks to give the Takter family their Pace breakthrough. Nancy was favored last year but finished fourth with Captain Crunch.
25. Four Captaintreacherous sons participated in this year's elims. He was the 2013 winner from the first crop of Somebeachsomewhere whose only loss came in the 2008 Meadowlands Pace.
26. Majors Betts is a son of Art Major, who in 2002 became the richest ever single season sophomore pacer not to race in either the North America Cup or the Meadowlands Pace. $1,562,779.
27. Manticore has some making up to do — at least from the perspective of 2010 Trainer of the4 Year Bruce Saunders. His colt that year — HOY Rock N Roll Heaven — was torched through a :25.4 opener in the 2010 Meadowlands Pace and missed a head on the wire in 1:47.4 to One More Laugh.
28. None of this year's elimination horses had double digit wins going into the prep.
29. 2020 marks the 25th anniversary of Dave Miller's first ever Meadowlands Pace drive in 1995. He was fifth from post 10 with Cinder Lane Sam closing in :26. Miller won his first Pacer in 2018 with Courtly Choice.
30. The record purse for the Meadowlands Pace is $1,293,000 in 1984 when On The Road Again won it from post 12. On The Road Again was the second choice behind Guts, the runner-up, and to prove he was drinking from the fountain of youth, winning driver —52-year-old Buddy Gilmour — came back two years later at age 54 to win both the Meadowlands Pace with Laughs ($1,025,500) and the Woodrow Wilson with Cullin Hanover ($1,561,500).
31. The first win for a catch-drive in a million-dollar race came in the 1982 Meadowlands Pace when John Campbell and Hilarion won it from post 10. He did not drive that colt in the elim — Bill O'Donnell did and won with him, but opted for Rompin Home in the final (fifth).
32. The first million-dollar trot came three years after the first million-dollar pace:
1980 — Niatross won the $1,011,000 Meadowlands Pace
1983 — Duenna won the $1,080,000 Hambletonian
33. Bill O'Donnell became the first driver to ever win both a million-dollar pace and trot. And he did it in the same year three weeks apart — Meadowlands Pace with Nihilator and the Hambletonian with Prakas.
34. Tim Tetrick at 25 years 8 months became the youngest driver to win a million-dollar Meadowlands Pace when he won with Southwind Lynx in 2007.
35. Trevor Ritchie is the only driver to win the Meadowlands Pace and the Hambletonian in his debut in each — 1987 Pace with Frugal Gourmet and 2000 Hambletonian with Yankee Paco.
36. Pelling's debut in the Meadowlands Pace came in 1993. He missed a check with Dave Palone-driven Mystical Prince.
37. Triple Crown winners have not gotten it done in the Meadowlands Pace since 1983 when Ralph Hanover won both:
1997 — Western Dreamer was third
1999 — Blissful Hall was seventh
2003 — No Pan Intended was fourth
38. Rocknroll Hanover was the sport's first sub-1:50 2-year-old (2004 Metro in 1:49.4). He then won the 2005 Meadowlands Pace en route to HOY honors.
39. Thirty years went by from Meadowlands Pace runner-ups being voted Horse Of The Year — 1978 Abercrombie and 2008 Somebeachsomewhere.
40. In 2003, Mike Lachance pulled off an unprecedented daily double-taking both the Meadowlands Pace and the Hambletonian without ever having driven either horse before in race. He won with All American Theory in the Pace for Des Tackoor and Amigo Hall in the Hambletonian for Blair Burgess.
41. Yannick Gingras' debut in the Meadowlands Pace came as the favorite for Brett Pelling. In 2004, he was second with Timesareachanging at 9-5.
42. Always A Virgin was the favorite in 2007 in the Meadowlands Pace but made an untimely late break. His son Always B Miki was the runner-up in 2014 to He's Watching at 10-1.
43. Shelly Goudreau passed away from a racing accident in California the first week of September in 1982. At that point in harness history there had been six million-dollar races, and Shelly was the only driver who appeared in all six: three Woodrow Wilsons, three Pace finals.