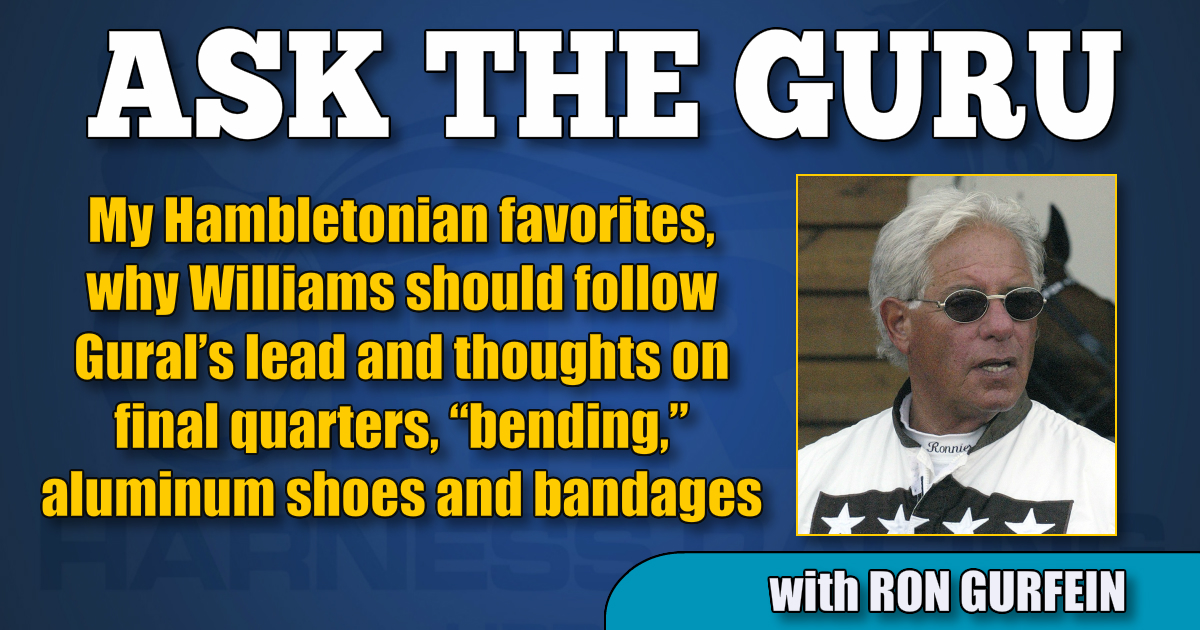 My Hambletonian favorites, why Williams should follow Gural's lead and thoughts on final quarters, "bending," aluminum shoes and bandages
That and much more in harness racing's favorite advice column.
by Ron Gurfein
Tidbits: I have recently read various pieces on The Road To The Hambletonian for 2020. To this writer, last year's heroes have not returned to the races with the same vengeance that they ended the freshman year with. Whether it's soundness, pedigree, or they just haven't reached their top sophomore potential yet I am not sure. However, my two favorites as of this writing are both fillies.
Both Sorella, from the Takter Barn and Hypnotic AM from the Melander powerhouse, to me have proven to be the front runners in the race for the big dance. Obviously with an open road to the Oaks it is unlikely to see both jump the fence and tackle the boys, but it has happened before. I remember well, the formidable team of Dancer and Suslow confidently entered Act of Grace against Lindy Lane and Continentalvictory.
I have yet to see a colt race locally that I would include in the mix as of this writing. However there was a colt who showed me flashes of greatness last season that qualified sneaky well last week. That would be another Takter trainee Ready For Moni. By Ready Cash, a sire noted for fast but quirky offspring, this one didn't disappoint in either category. With his head on straight he will be a threat.
I will not be writing a weekly story about the Road to the Hambletonian as it becomes too repetitive, but I will offer updates as to who's in and who's out while we're on the trail.
* * *
I like Russell Williams. I think he is a bright, progressive, dedicated man doing an impossible job. I spoke to him briefly at the Harrisburg sale last year where his farm, Hanover, is by far the major consignor and was happy to inform him that the emails I have received regarding his rise to head of the USTA have been 100 per cent positive, which in and of itself is highly unusual.
That said, I am not certain that the road of integrity that he is marching down today isn't a huge waste of money and a trip to nowhere.
I have known many crusaders of this cause in my lifetime and all have basically failed.
Jeff Gural is the only exception. He was smart enough to realize we needed more than manpower to unearth the vermin. We needed a sophisticated plan with up to date devices at their disposal 24/7.
To achieve this Jeff went outside the box and joined others to pay a firm that specializes in covert operations to achieve a result that with the help of the FBI sent shockwaves throughout the entire horse racing industry.
My suggestion to Mr. Williams is, if he wants to see his dollars go to good use to consult with both Jeff Gural and the FBI on how to spend it.
You do not have to be a Guru to figure out who the cheaters are, all you need is the legal ability to employ sophisticated plans to prove it in court.
I watch harness racing as part of my life for decades. I can give you more than a dozen names of trainers that I suspect are cheating. Do I think I would be 100 per cent correct? Yes, for sure . Could I be wrong in a few? Yes. But without the means to insure my assessment I cannot guarantee anything.
However to Jeff, Russell, the FBI and anyone interested in an old man's opinion, I am more than available.
* * *
DEXTER has left the confines of the United States and has been recently seen job hunting at Woodbine Mohawk Park. Some of the letters I received were so saddening that if it wasn't for his verbal attack on my friend Ray Schnittker I could come close to feeling a bit of empathy.
That said, the vivid description of his state of mind from a very intelligent source tells me that the guy is dealing with some serious mental issues. Neither my source nor I have any medical background so this is purely speculation.
I understand that he is being helped. Hopefully, it will all work out.
* * *
The New York Times reports that the split samples from Bob Baffert's tests have come back positive. Although Lidocaine was found, the amounts were very low if not minuscule and in no way could have helped his horses Charlatan and Gamine garner first-place finishes. The Baffert team offered a simple explanation that the caretaker of both horses had been using a Salon Pas Patch to eliminate pain and somehow after applying the patch to himself contaminated the horses he was taking care of. Stay tuned.
* * *
TVG is wonderful.
Play Trix On Me won the $128,000 New Jersey Sires Stakes and the announcer says simply, "That was Play Trix On Me zooming to win the second at the Meadowlands and now a very exciting $5,000 claimer from Penn National."
I was so annoyed at the lack of coverage of a $100,000 stake I stayed tuned to see the exciting Penn National Race. The winner of the seven-horse event won by 10, from first to last was 180 lengths and the last horse was literally walking slowly across the finish line.
Why do they throw us under the bus? There must be a way to rectify this horrid situation. I am in no position to solve this problem. Please, some power figure call TVG and get them to hire a knowledgeable harness sportscaster. I am sure the tracks involved would help pay the salaries. Having a top broadcaster on TVG covering our sport would unquestionably increase handle big time.
Saturday was a big improvement. TVG included the powerful voice of a very knowledgeable Mike Bozich. However, his presence on the air was far too short lived to attempt analysis of his comments and make a bet.
* * *
While on the subject, someone on social media asked what instructions would you give to a new caretaker and I said, "If you don't know ask…"
I will say the same thing to any announcer reading this column. Owners pay the bills and are the most important ingredient in our sport. If you are not sure how to PROPERLY pronounce their name, ask someone who does. Maybe, just maybe, I am more fussy than most having lived 80 years with a name no one can pronounce and 99 per cent of the folks in need of trying to, have never even heard it before. No exaggeration the majority of the phone calls I make that are filtered by an operator I receive the same result " Ronnie who?"
* * *
Thanks to Dennis Polimeni for his note pointing out what he calls " a self-fulfilling prophecy" in regard to my column on premier foaling numbers. Dennis points out that the mare that is less than wonderful with her first few foals is likely to be sold to a smaller farm with connections to lesser stallions and there in is the slippery slope to diminishing returns.
His assumption is correct to some degree, but take into consideration that if the third foal is on the track, there is still a well-bred 2-year-old, a similar weanling and possibly one in the belly. That would be six well-bred foals all together.
Lee Kelley asks: What is the purpose behind "bending"? I worked in Sweden and never have seen it done?
The purpose is simply to find and determine the degree of lameness in the animal. I specifically said animal because I am certain that it has been adapted to other domesticated types (i.e. dogs and cats).
As I described last week, a joint is bent and held in the air for a period of time from 30 seconds to a minute depending on the practitioner and maybe the joint. The limb is then released and the animal trotted off to determine soreness. I will reiterate, this trainer has never had any use whatsoever for the procedure.
Lee Kelley asks a second question: Why do you always suggest aluminum shoes and brace bandages on trotters behind?
Have you ever seen a metronome? It's a timing device used by a piano player. You wind it up and it has a hand or bar that swings back and forth to determine cadence. On the end of the bar or pendulum is a lead weight that can be moved higher or lower it determines the stroke and thus the speed.
I equate horses' limbs to the arc of a pendulum . It would be easier for you to understand if you pictured the metronome upside down as it would resemble the movement of the horses leg. The more weight added to the end of the metronome, the wider the arc. Similarly, with the horse, the more weight added to the foot the longer the stride and more chance of interference.
When I first came up with this theory, most horses needed weight in front so I was forced to seek relief in the hind end. Today's horse doesn't need the heavy steel front shoes we were forced to employ in the past, but that doesn't mean you should give up on my theory.
Aluminum shoes are expensive and don't remain race worthy for more than one start, so here are some tips: On hard rough tracks like Philadelphia, Pocono, The Meadows, Yonkers and Dover stick with the aluminum shoes. Don't use a harsh level grip, use a queens plate or a plain wide web flat aluminum if you can still find one.
If you are at The Meadowlands, the Red Mile or any soft clay track out west, keep light steel swedges on to jog and train, pull them after you warm up, race barefoot and poultice the feet after the race and replace the shoes prior to jogging.
The reason for brace bandages instead of boots is similar. Less weight on the leg plus the bandage seems to make a colt go wider behind than the boots do and thus less interference. When PROPERLY put on, bandages provide as much or more protection than a boot. Early on in my career, John Patterson, Sr., one of the greatest trainers of all time, put a boot on one of my forearms and a bandage on the other and proceeded to hit both with a rubber mallet I was shocked to feel more pain under the boot than the bandage.
Johnny Dollars asks: In the olden days, I remember drivers used to rate horses and come home fast. Today I see third quarters in :27 and last quarters in :29. Why don't they save the best for last?
Racing today is far more speed driven and the drivers are far more cognizant of the competition. Speed rules. When you see a driver buzz that third quarter he usually knows he has a horse that has limited finishing power and in trying to separate himself from the competition early he is attempting at creating a distance that the other horses can't make up before it's too late. This is called bottoming a field and it works much better today than it did when the half-mile track was the venue of choice, although I did witness Walter Case and Marvin Maker successfully employ these tactics quite often.
On the half-miler, horses were never strung out and they usually raced well within themselves. On the big track, they are always going close to full tilt. Every horse has a governor (limit to how fast he can go). When the horse in front is going to complete the mile faster than your horse is able to he will win.
Remember, all horses cannot come home in 25 seconds and even those that can will be severely compromised when the lead horse hits the three quarter pole in 1:20.
This too may change.
Jocz Stanley asks: On Friday at the Meadowlands, eight of the last 10 races were won by horses that led at the half. Saturday, only three of the last 10 races did the horse in front at the half win. Is there such a thing as track bias? Do trainers and drivers change their racing strategy to adjust?
This phenomenon is relevant at all tracks standardbred and thoroughbred. However, it may be more obvious at the Meadowlands than most tracks.
The basis for the difference is the deepness and water content of the surfaces, the wind, the temperature and the humidity.
Wind and bias are like love and marriage.
The Meadowlands was built in a very strange area regarding wind direction. There have been many conspiracy theories that Newark Airport just a little way down the road was improperly built because of the strange wind currents. The Meadowlands falls right into this pattern as with the building of the New Meadowlands and the regularity of 25 second last quarters.
You picked a weekend of what was the perfect storm. The difference in the wind effect was amazing. Friday they were walking home most final quarters in 29 or 30 seconds. Saturday 75 per cent were finishing the mile in the 25's. Ridiculous.
Do drivers change strategy? Of course, but what do you do if you are in an early race and there are no precedents? You take an educated guess.
Thanks to all for your kind words. The scope of your reaction astounds me. Maybe it's because of the virus people have time on their hands but I have been receiving letters from all over the world. Our sport has followers from the UK to Russia and from Scandinavia to South Africa. There hasn't been one major European nation that I haven't received correspondence from. What does surprise me is the many emails I get from Vienna where half my own family originated. I never knew of harness racing in Austria. I had friends that came to America from Hungary during the revolution that were horseman in that country but somehow never Austria. George Foldi, and George Sziklai (Cliff) both arrived here because of the Hungarian Revolution in the early 1950s.
Please enjoy our sport to the fullest now that we're back to almost full force. Have a wonderful week.
Have a question for The Guru?
Email him at GurfTrot@aol.com.