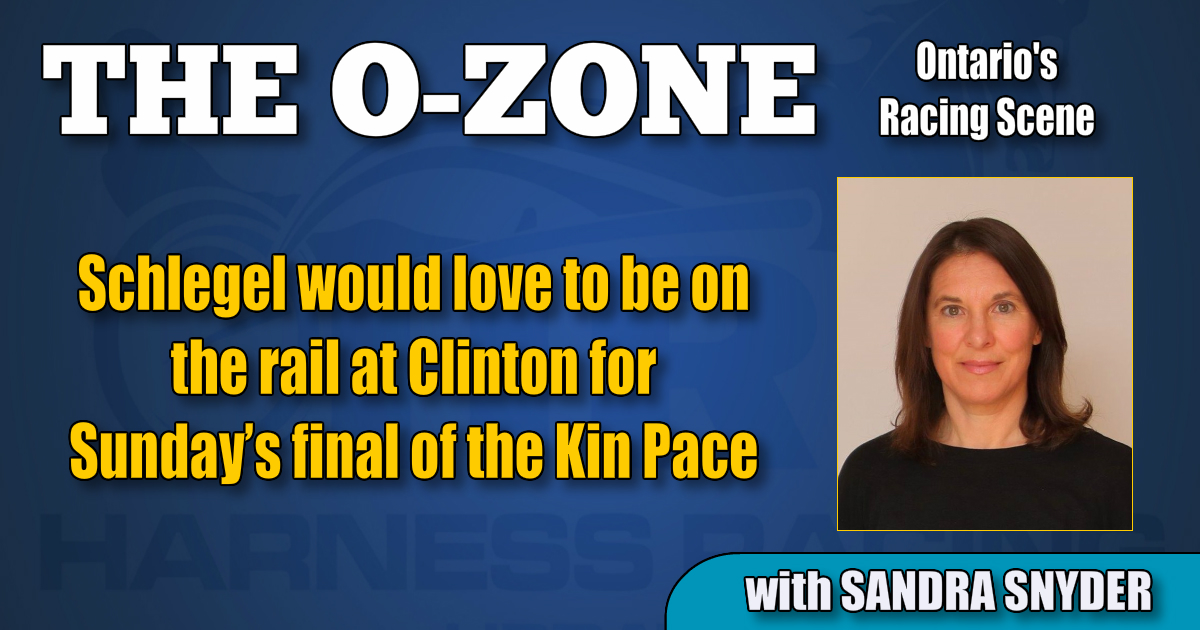 Schlegel would love to be on the rail at Clinton for Sunday's final of the Kin Pace
by Sandra Snyder
If there was any way to make it happen, Rob Schlegel would be in his usual spot on the rail at Clinton Raceway when High Roller Duke goes in behind the gate for Sunday's $64,700 Kin Pace Final.
"If you can talk Ian (Fleming) into letting me go, I'll gladly go. I think being as I did this I should at least get my regular spot at the races just to watch that one race," said Schlegel with a chuckle. "I mean it's social distancing if there's nobody else there."
In lieu of special dispensation from Clinton Raceway general manager Fleming, Schlegel will tune into Sunday's card from his cottage to watch High Roller Duke take on the field of 3-year-old pacing fillies from Post 8. Any other year, and for any other race, the Wallenstein, ON resident would be trackside.
"If I've got something running at Grand River or Hanover or Clinton I'm there for sure," said the owner. "We like racing on the small track. We live in the country, and we're just kind of country people, so we like to support those small tracks. There are a lot of nice people at those places and I like the half-mile racing. I mean you can go there and actually watch the races, like you can watch the whole race live. You go to Mohawk Woodbine you've kind of got to watch on TV if you want to really see it properly."
High Roller Duke goes into Sunday's Final on a three-race win streak that started June 16 with a 1:55.3 win in non-winners of $15,000 lifetime at Georgian Downs. The Bettors Delight daughter followed that up with a 1:56.3 win in the Prospect Series for Ontario Sired pacing fillies at Hanover Raceway on June 20 and then took her Kin Pace elimination last Sunday with a 1:58.2 effort. She has been on the front or up close in all three of her wins, so Schlegel says Post 8 may not be ideal, but hopes driver Doug McNair can work out a trip.
"We probably would have liked her to have her nose on the gate, even if it was farther out, but we'll take what we're given," said the owner. "Just the last couple starts she's been on the inside, but she can also come from the back."
If High Roller Duke and McNair can find their way to the winner's circle it will be the second straight year a Glenview Livestock Ltd. horse has claimed the Kin Pace Final. Mach Three daughter Significance captured the title last fall, upsetting heavy favorite So Much More.
Schlegel and partner Cheryl Cherry of Guelph acquired Significance from Hanover Shoe Farms at the 2017 Harrisburg Yearling Sale, while High Roller Duke is a second generation product of the Glenview Livestock breeding program.
After enjoying watching harness racing as a youngster Schlegel jumped into ownership four decades ago with pacing mare Wise N Fast. For 20 years he stuck with owning racehorses, but when Top Time Patrol's racing career came to an end in 2004 be bred the Shore Patrol mare to Astreos and the Glenview breeding program was born.
"One person that gave us a lot of good advice that really helped us when we first started years ago was Robert Hamather," said Schlegel, who named the first foal out of Top Time Patrol Robcinbobbi, for Rob, his wife Cindy and daughter Bobbi. "My friend, Paul Taylor, introduced me to Robert Hamather and he gave us a lot of great advice."
Over the last two decades Schlegel has pursued a range of strategies with the breeding side of the Glenview operation, but at present he is focused on breeding a handful of his own pacers and trotters and purchasing a few well-bred yearling fillies in hopes that they will become future broodmares.
Schlegel recently relocated the broodmare operation to a Rockwood, ON farm formerly owned by Stewart and Heidi Cockshutt and said Stewart's friendship and guidance over the past year has been invaluable.
"We were looking for a broodmare farm and we bought that place and we were fortunate enough that after the deal, when we went to look at the place that night, they had just come back before we had left and we started talking and we really got to be friends. And Stuart's a guy that's 91 or 92 years old, and they bought a house in Rockwood so they're five minutes away, and he really likes to come back," said Schlegel. "And he comes back two, three, four times a week. Whether it's to tell us how to work the water bowls or how to have the paddocks, his contribution's been very good for us."
While Cockshutt remains a hands-on participant in his ninth decade, Schlegel says he only gets out to the farm a handful of times each year, leaving things in the hands of Lacey and Andrew McCabe, who live on site and handle everything from training the racehorses to care of the breeding stock to selecting the stallion matches for each mare.
"I'm hands on with the cattle, I don't go out there too often," said the owner, whose primary business is purchasing cattle. In fact, between the Rockwood farm and First Line Training Centre, where the racehorses are stabled, Schlegel admitted he has lost count of the number of horses in residence.
"You know I'd be lying if I told because I'm not even sure. Maybe 20," he said. "There's probably about a dozen racehorses and I think that maybe there's four 2-year-olds, so then there's probably four broodmares and then there's a couple yearlings and a couple weanlings. So maybe we've got 24, 25."
A regular participant in the Ontario Sires Stakes program, Glenview Livestock's most successful provincial competitor in recent years is Pretty Handsome, who captured the pacing colt Grassroots Championship in 2017 and 2018 and has earned $216,555 lifetime. Palm Patrol, a Mach Three daughter from the operation's foundation broodmare Top Time Patrol, banked $462,912 in a seven-year career.
Watching the horses compete, especially on his favorite half-mile tracks, is what Schlegel enjoys the most about the business so he will be counting the days until he can be back in his usual spot at Hanover and Clinton Raceways on Saturday and Sunday afternoons. And Ian, if you need a personal assistant to help out with the Kin Pace Final, you can reach Rob at the cottage.
Stakes action July 3 to 9
July 3:
Woodbine Mohawk Park – OSS Gold Series (2cp)
July 4:
Woodbine Mohawk Park – OSS Gold Series (3cp)
Hanover Raceway – Prospect Series (3ft)
July 5:
Clinton Raceway – Kin Pace Final; OSS Grassroots (3ft)
July 6:
Woodbine Mohawk Park – OSS Grassroots (2cp)
July 7:
Woodbine Mohawk Park – OSS Gold Series (2fp)
July 9:
Woodbine Mohawk Park – OSS Gold Series (2ct)
Ontario handicapping picks
A deep selection of handicapping picks for Ontario racetracks — featuring the talents of Garnet Barnsdale, Michael Carter and Melissa Keith — is available on the Ontario Racing website.