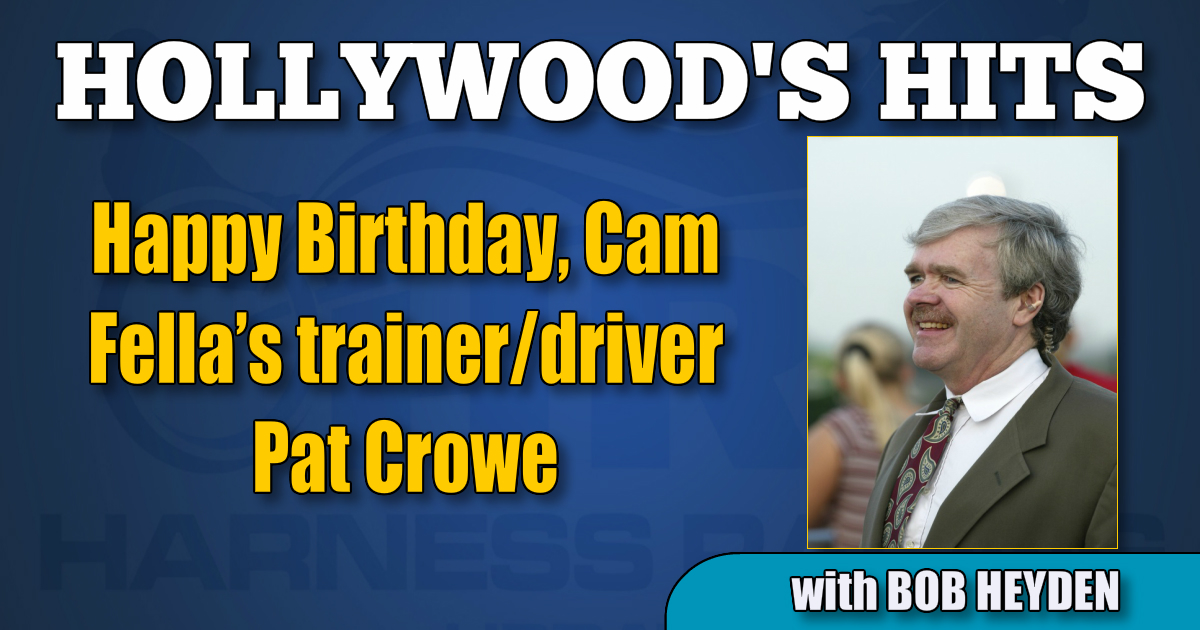 Happy Birthday to Cam Fella's trainer/driver Pat Crowe
by Bob Heyden
Today (June 28) marks the 83rd birthday for horseman Pat Crowe, best known as the trainer and driver of the great Cam Fella, the Hall of Famer that was voted Horse of the year in 1982 and 1983.
In those two years, Cam Fella had 69 starts combined. No horse has made more starts and been HOY over a two-year period.
Crowe's UDRS in 1982 was a career best .437 when he had a record of 212 70-21-16 and earned Canada's Horseman of the Year award. His second best UDRS came in 1983 when he posted a .321 with a record of 284 62-32-34
In 1984, Crowe won eight race on Dec. 30 at Kingston Raceway,
Down Under influence last weekend at Big M
Last weekend, 10 races were won by trainers from the Down Under — five each night.
On Friday, wins were posted by Ross Croghan, Nifty Norman, Peter Tritton (2) and Brett Pelling.
On Saturday, Team Tritton won three races and Croghan and Kelvin Harrison won one each.
Saturday was also a new single card record for Down Under-bred horses on one card. There were 39 in to race and they posted a collective record of 4-5-6 with 23 earning checks. In one race, Down Under-breds grabbed the first four spots.
40th anniversary of the first million-dollar race
July 18, 1980 was the sport's first million-dollar race — the $1,011,000 Meadowlands Pace won by Niatross. A new era was underway. Niatross set a new single season earnings mark of $1.414 million and earned more than any thoroughbred too — they had not yet had their first seven-figure event. (1981 Arlington Million)
Here are 10 oddities/unusual events concerning million-dollar races through the years:
1. Buddy Gilmour won three million-dollar events all after turning 50 — The 1984 Meadowlands Pace with On The Road Again, the 1986 Meadowlands Pace with Laughs and the 1986 Woodrow Wilson with Cullin Hanover.
2. If you made a winter book bet in 1983 on Stanley Dancer to win the Hambletonian you won. But you were probably thinking Dancers Crown and not Duenna. Dancers Crown was defending freshman champion, but unfortunately died of an intestinal issue inside a month of the race. Dancer was persuaded by owner Norman Woolworth to enter the filly-Duenna — a daughter of 1977 HOY Green Speed — and the rest is history. By the way, this was the first million-dollar trotting race ever held — $1,080,000 was on the line, and in the field, the first heat winner Joie De Vie would go on and became the sport's first ever single season millionaire.
3. How does a racetrack lose money on a Hambletonian final? Well, when there are only two horses and there's only win wagering and they finish in a dead heat. Like in 1989, when Park Avenue Joe and Probe tied in what many consider the most memorable Hambletonian ever. Both had to pay the minimum $2.10, and every bet made on that race was a winner.
4. Davids Pass and CA Connection both finished fourth in their Meadowlands Pace elims of 1995 with the same time. Thus a coin toss was needed to decide who would go on to race in the Pace for $1 million. Davids Pass was the winner of the coin toss and then the Meadowlands Pace as the favorite. John Campbell and Brett Pelling. Oddly, that duo finished 1-2 just two weeks earlier in the kickoff to the Triple Crown series of 1995 — the Messenger.
5. The 1984 Hambletonian was the fourth held in New Jersey at the Meadowlands. The winner, in a raceoff, was Historic Freight. Ben Webster drove for trainer Skip Lewis. Particularly noteworthy was the fact that on June 15, just seven weeks before the race, Historic Freight was in a claiming race. For $52,500 you could have had him. He wound up wiring the field from post 10 and was quickly taken out of claimers for good.
6. Cat Manzi drove Trutone Lobell, one of the choices for the 1983 Woodrow Wilson that went for $1,700,000. His cousin, Jeff Lohmeyer, trained. Noses separated the top two on the wire. Carls Bird got up at over 30-1. Carl Allen was the winning driver. It would have been The Catman's first million-dollar win. Instead, he had to wait 21 years, until 2004, when Mantacular got up in the final stages to take the North America Cup ($1,189,535). Manzi would win his second million-dollar race in 2006 taking the Meadowlands Pace with Artistic Fella. He retired with over 95,000 drives, #1 all-time. Manzi turned 70 on June 27.
7. Perfect Spirit was placed first in the 2017 Hambletonian when What The Hill was taken down, the only DQ in a million-dollar race from first to second. Ake Svanstedt was the winning driver/trainer.
8. Ray Remmen is a Hall Of Famer and one of the biggest names in the sport's history. But it was as a catch drive in 1985 when Ray won his biggest ever purse race. The $1,344,000 Woodrow Wilson was on the line and a five-horse photo separated the top 2-year-old. Grade One, a son of Slapstick for Lee Broglio won it by a head giving Remmen the richest score of his storied career. Oddly, Grade One apparently put all his eggs in his freshman years basket, he banked just $1,940 as a sophomore.
9. Mike Lachance won 10 million-dollar races — half of them with horses he had not driven prior. Straight Path in the 1998 NA Cup; Safely Kept in the 1992 NA Cup; All American Theory in the 2003 Meadowlands Pace; Amigo Hall in the 2003 Hambletonian; Mach Three in the 2001 Metro.
10. In 1995, the sport of harness racing had three million-dollar events-and all three were won by John Campbell — Davids Pass in the Meadowlands Pace and the NA Cup and the Hambletonian with Tagliabue.