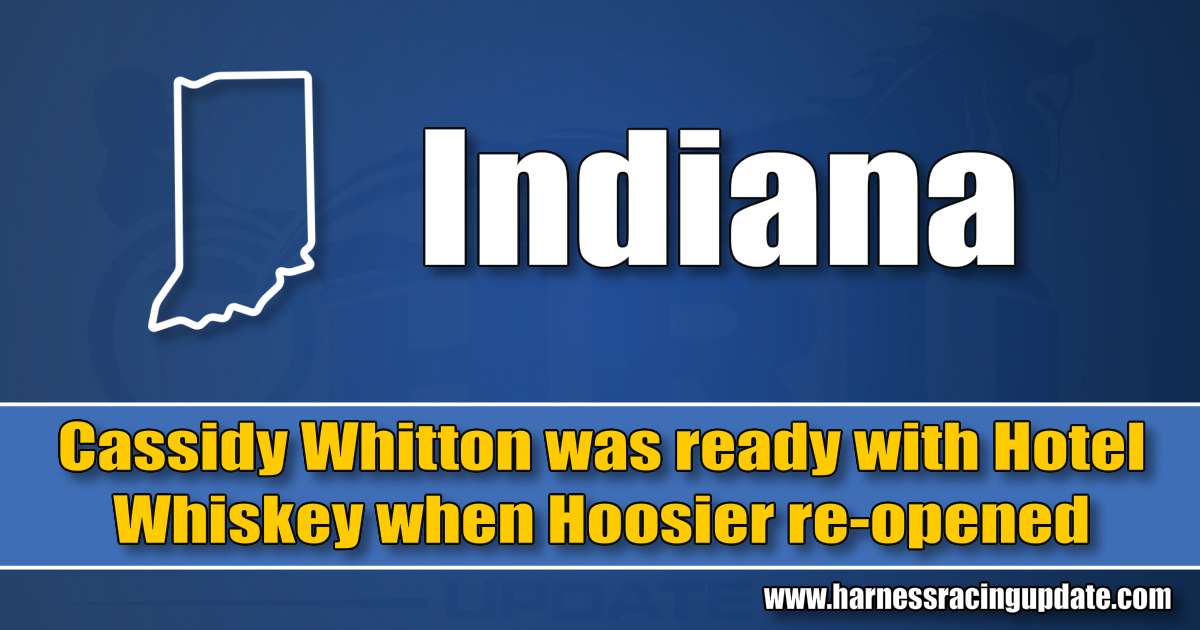 Cassidy Whitton was ready with Hotel Whiskey when Hoosier re-opened
The trainer had the trotting mare primed and ready for the opening round of The Mya Tri series held during a successful re-opening week at Harrah's Hoosier Park.
by James Platz
After a three-month delay, Harrah's Hoosier Park opened the 2020 race meet Tuesday (June 16) in a spectator-free environment. Horsepeople were anxious to return to action, and trainers had their charges ready, flooding the entry box for the first week of competition. The first three programs of the season produced 42 contests that saw 34 different trainers send out winners, putting long-awaited purse money in the hands of many. In turn, the betting public was also receptive to the product, with wagering up just over 29 per cent when compared to figures from the first three programs of 2019.
Trainer Cassidy Whitton and trotting mare Hotel Whiskey accounted for one of the victories in the first week at Hoosier Park. The duo started their 2020 campaign with a win in the opening round of The Mya Tri, held Wednesday (June 17). Driven by Trace Tetrick, the Bluto sophomore collected her first seasonal score with a 1:57.2 performance to take home half of the $9,000 purse. Queen Margherita (1:57.1) and Bluebird Keepsake (1:57.3) captured the other two Mya Tri divisions.
Whitton, the 29-year-old daughter of Illinois horseman Pat Melloy, is hoping to build on the success of Hotel Whiskey's dam, LW Jaynie Flyer. The daughter of Prague turned out to be a steal for Whitton, who purchased the trotter for $600 at the 2006 Hoosier Classic sale. LW Jaynie Flyer would make 208 starts over the next eight seasons, winning 47 times and collecting $153,884. As a 3-year-old she finished second in the $15,000 Indiana sired fair circuit championship at the Indiana State Fair with Whitton at the lines. Together they claimed the second $15,000 championship event in October 2009 at Converse. The mare took her 1:56.3 mark at Balmoral as a 7-year-old.
"She was always a nice looking horse and good-gaited," the trainer said. "I thought if she could pass that along to the babies, I might end up with something."
LW Jaynie Flyer's first foal, a Big Stick Lindy filly named Flyin Big Stick, never made it to the races. Hotel Whiskey, the dam's second foal, named after a Hank Williams Jr. song, made six starts last year for the Martinsville, IL-based owner/breeder/trainer. Whitton steered Hotel Whiskey to three runner-up finishes on the Illinois fair circuit, and Tetrick piloted the filly to her first pari-mutuel win last September at Hoosier Park. In her next start at Hoosier, the trotter made a break due to interference in the stretch but managed to finish fourth. Subsequently, Hotel Whiskey became sick and Whitton did not have enough time to get her back racing before the end of the meet.
"I just turned her out and hoped for a 3-year-old season," she said.
The trainer started back with Hotel Whiskey in December, anticipating Hoosier Park's opening in late March. When the COVID-19 pandemic forced the closure of the track, she, like many others, had to come up with a new plan.
"When they shut things down, I trained her to the point where I felt like she was where she needed to be," the trainer said. "I backed off on her for a few weeks and waited to see what direction they would take. When Indiana unveiled the plan to reopen, that gave a little bit of time to get her completely ready."
Indeed, the filly showed she was completely ready last Wednesday. In her first seasonal start, favored Hotel Whiskey and Hoosier Park's defending leading driver moved from post two to a place along the rail fourth throughout most of the mile. In the stretch, the sophomore trotted home in :27.3 – a full second faster than any filly in the field – to win by two and one-quarter lengths. Hotel Whiskey has drawn the rail for Wednesday's $18,000 Mya Tri final, and she is also Indiana Sires Stakes eligible.
"I felt like she was capable of doing what she did, but with young trotters, you just never know. She didn't really surprise me, but I didn't want to get my expectations too high," Whitton said. "She's come along and she grew up a little. She's a little stronger and bigger this year. She has always wanted to try. Hopefully, that will take her somewhere."
Whitton does not rely on racing for her livelihood. However, with only three of racing age — including Hotel Whiskey's Jailhouse Jesse brother, which she describes as needing to mature — she aspires for her racing interests to cover the costs of competing and breeding. Even though racing is a part-time "gig," the return to action and opportunity to earn valuable purse money was just as important. Starting the season with a victory was just the momentum Hotel Whiskey, and Whitton, needed.
"I'm very excited to get back going. Even though it's not my full-time job, I still try to make enough money with the horses to pay for them," she said. "With a broodmare and some yearlings, I've got a full-time gig, but they still eat and require maintenance. It's a good feeling to get started off on the right foot."
The first week of racing at Hoosier Park is complete, and there are many now on the right foot and headed in a better direction. Purse money is flowing. Horses charging down the track's long stretch are a welcomed sight, even if currently restricted to a digital-only experience.