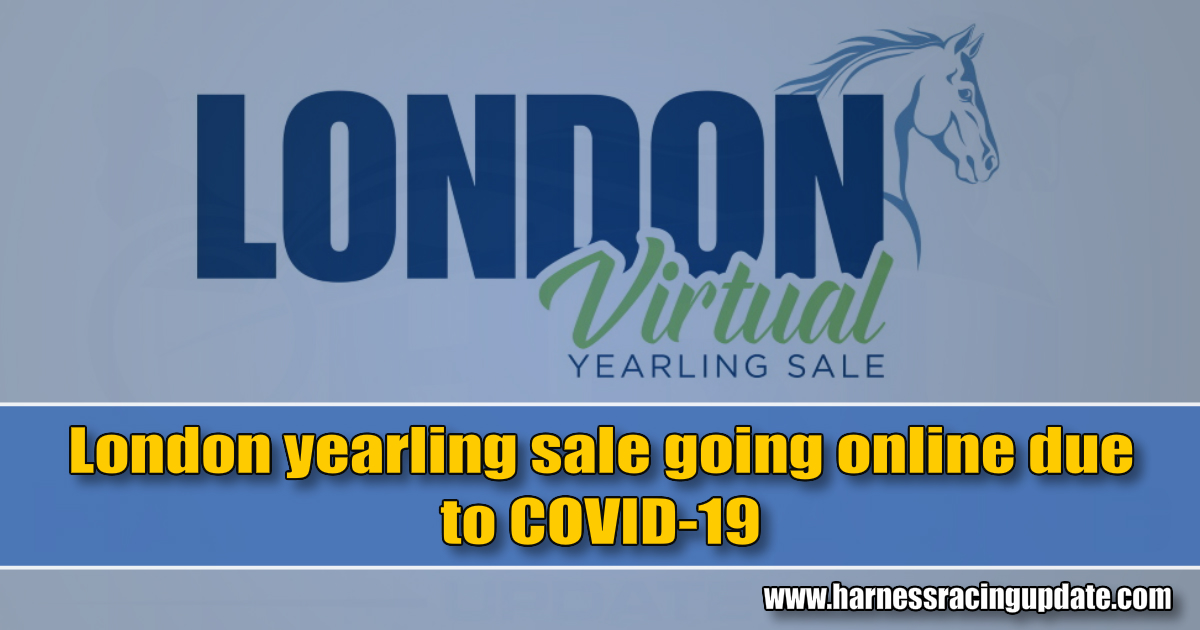 Canada's largest yearling sale going online due to COVID-19
Ann Straatman, the sale manager for the London Selected Yearling Sale, explains why she believes moving to an online sale is the right thing to do for the Ontario auction.
by Dave Briggs
Canada's largest standardbred yearling sale will be held entirely online this year due to the COVID-19 pandemic that is expected to severely limit gatherings in Ontario through the fall. The London Selected Yearling Sale (LSYS), normally held at the Agriplex at The Western Fair District in London, ON, announced Saturday it will be held entirely on www.ongait.com starting October 16.
LSYS sale manager Ann Straatman said the decision was made to be proactive and give both consignors and buyers nearly four months of notice to prepare for the new reality of a sale without auctioneers, auction rings and people bidding on horses in one facility.
"We decided to take control of our future… to create a virtual auction that we can plan for now. It won't change, no matter what happens with the pandemic," Straatman said, adding the advance notice will give consignors and buyers enough time to arrange for in-person viewing of horses at farms around Ontario.
Straatman said sale organizers began thinking about alternative arrangements for the sale in March when the COVID-19 pandemic threw North America into a lockdown.
"We all wondered how long would we be faced with these challenges during COVID-19 and what would that mean for a live auction," she said. "I was talking with Randy Manges and Bruce Brinkerhoff and Mark Horner – and of course my partners with the sale company and with Dan Gall at Standardbred Canada — that there may have to be changes to how we do business in the fall given the severe restrictions on the number of people allowed to gather at an indoor facility."
"Normally, the Agriplex is the ideal place to sell horses, no matter what the weather, but during a pandemic it may not be a suitable place for that many people to gather."
Compounding the fact Ontario currently restricts gathering to groups of no more than 10 people and has strict restrictions on indoor gatherings is the fact the Agriplex is currently being used as a COVID-19 field hospital. Straatman said the field hospital is expected to close in September, but COVID-19 has made the world much more unpredictable and the sales company did not want to be left scrambling.
"There's so much unpredictability in our world, not just here in London, Ontario, but in the world as to how this pandemic is going to unfold. Will there be a second wave? Will we go back down into a lockdown position? Everyone has been affected and everyone is suffering from it," Straatman said.
It is important to note Straatman's family, through its Seelster Farms in Lucan, ON, is the largest consignor at the London sale.
"For (Seelster), it was stressful not knowing what we were going to do. Leaving that decision to the last minute and hoping for things to be as they always were, was not something that we were comfortable sitting with for this long," said Straatman, who serves as the farm's reproduction manager. "We understand that for breeders that this is their one big payday a year and we wanted some certainty that went along with that and making a plan now I think gives people some piece of mind, knowing exactly where we're going to go, no matter what happens with the pandemic."
Last year, Seelster Farms led all consignors by a wide margin with $1,840,000 in gross sales for 47 yearlings sold. Seelster also led all consignors in average with $39,149 and sold the overall sale-topper, the second-session topper and eight of the 10 highest-priced yearlings sold overall.
A WEEK OF SELLING
Straatman said the auction will open at noon (EDT) on Friday, Oct. 16 offering the first 40 horses in the LSYS catalogue. Each horse will remain open for bidding for 48 hours. Beginning Sunday, Oct. 18 at noon, a horse will close its auction every 10 minutes in hip number order. Bidding will end for each day at 6:30 p.m.
Currently, LSYS has 280 horses entered, which means Straatman is expecting all horses to be sold on or before Sunday, Oct. 24.
Due to the change in format, LSYS has offered consignors the opportunity to withdraw from the sale and sell elsewhere. Consignors were informed via email blast and teleconference late this week. It is too early to know how many consignors, if any, will withdraw their horses.
WILL YEARLING PRICES FALL?
Last year, LSYS grossed $6,285,000 for 291 yearlings sold. The average was $21,598. In 2018, the sale grossed $7,064,800 for 312 yearlings sold (average of $22,644).
One of the concerns about this year's format is that yearling prices may suffer absent a live auction setting where rapid-fire bidding can sometimes create a buying frenzy that drives bids.
Straatman said, "one of the features on Ongait still allows buyers to get into a bidding war. The horses close at a certain time, but as long as there is still active bidding it resets the 'sale close' clock 90 seconds every time a new bid comes in. So there is still an opportunity for people to have a bidding war right at the very close of each horse."
Also, having more time to bid on horses than the traditional three-minute live window, "allows people to bid ahead of time and if they have a horse that they are very interested in that is suddenly up to an amount that they were willing to stop at, they still have an opportunity to get in more partners on a horse that they are very interested in. It's not a split-second decision anymore," Straatman said. "It could be an afternoon of gathering more people to be able to bid more money on the horse they are most interested in."
WHY NOT A HYBRID MODEL?
Reportedly, other sales companies are considering something of a hybrid model where horses still go through an auction ring with a limited number of bidders onsite and the rest bidding online or by phone. Straatman said that model was considered for the LSYS, but was ultimately rejected for several reasons:
1. The Agriplex is a multi-use facility not a dedicated auction house such as Fasig-Tipton in Kentucky and the Pennsylvania State Farm Show Complex. That means there would need to be a major technological upgrade to ensure online bidding would work smoothly at the LSYS.
2. LSYS had concerns about some of its rural customers not having access to high-speed Internet to facilitate timely bidding in a rapid-fire session.
3. Even just having consignors, support staff and auctioneers working at the Agriplex — with all bidders off-site — would involve too many people under one roof. Straatman said last year more than 250 people were involved on just the selling end of the sale.
"We're not completely comfortable with the live auction format, especially for indoor facilities, which is much more precarious," she said. "I've heard these large indoor gatherings referred to as a 'super spreader' and wouldn't it be tragic if someone got sick when we had all of our best trainers, owners, breeders and consignors gathered in one place? What if someone passed away from getting this virus while trying to buy horses or even then spread it to those in racing on track or in the paddocks? I think that this is the most responsible way for us to handle the sale, at least for us in Ontario at this time."
TECHNOLOGY WILL HELP
Straatman said the LSYS will produce full pedigree pages and print catalogues as in past years — with both hip numbers and the days and times the auction opens and closes for each yearling — and will upgrade its website to include a photo and video component for each yearling (website here), along with other information.
"Radiographs can be posted, vet statements and the like. We will make it as comprehensive as we possibly can and give as much information to buyers as we can," she said, adding that ongait.com also has a photo and video component to its site.
She said the site will also add a Google Maps section pinpointing exactly where each yearling is located so people that want to inspect them at the farm can easily plan out a route.
"Consignors can take appointments and schedule them so people are physically distanced and safe in doing those inspections. We want to be proactive as we can in helping people see the horses that they want to see," Straatman said.
For those consignors in very remote places, Straatman said they could use FaceTime or similar applications to do a virtual inspection of yearlings at a potential buyer's request.
"They could, with their iPhone or cell phone, do a virtual walk-around with the horse and have the horse walked to and from the camera, as you would at the sale, while still having that conversation where you could say to the consignor, 'Can I have a closer look at that hock?' or 'Could you pick up his front foot? Could I get a closer look at the horse's head?' All of those things can still be done virtually for those horses in remote locations, so we're hoping that people will take advantage of technology where they can," Straatman said.
"There's also an opportunity, if you're unable to inspect the horses yourself, to engage an agent to look at the horse's for you. The London Sale will be happy to provide contact information for agents in the area to engage with so they can do an inspection on behalf of the buyer."
Straatman said Seelster may consider doing a virtual open house to show off its yearlings, but, for sure, the farm will produce additional videos and photographs, "to make the presentation for yearlings as 'live' as possible."
POSSIBLE PLUS SIDE?
LSYS is the first major standardbred yearling sale to announce it was going online this year. There is no word, yet, what other major yearling sales are planning for their fall auctions, but Straatman said she is relieved to be the first to "jump in the pool."
Doing a major yearling auction entirely online for the first time isn't without its risk, but on the plus side, Straatman said it will open the sale up to buyers anywhere in the world.
"It breaks down the borders and the barriers of having to have a buyer in the same building to purchase your yearling," she said. "Yes, (having an online sale) presents a challenge. There's additional work that will be required up front, but I think that this is more of an opportunity for everyone than it is a detriment. I think we can still have a really good sale doing it online."