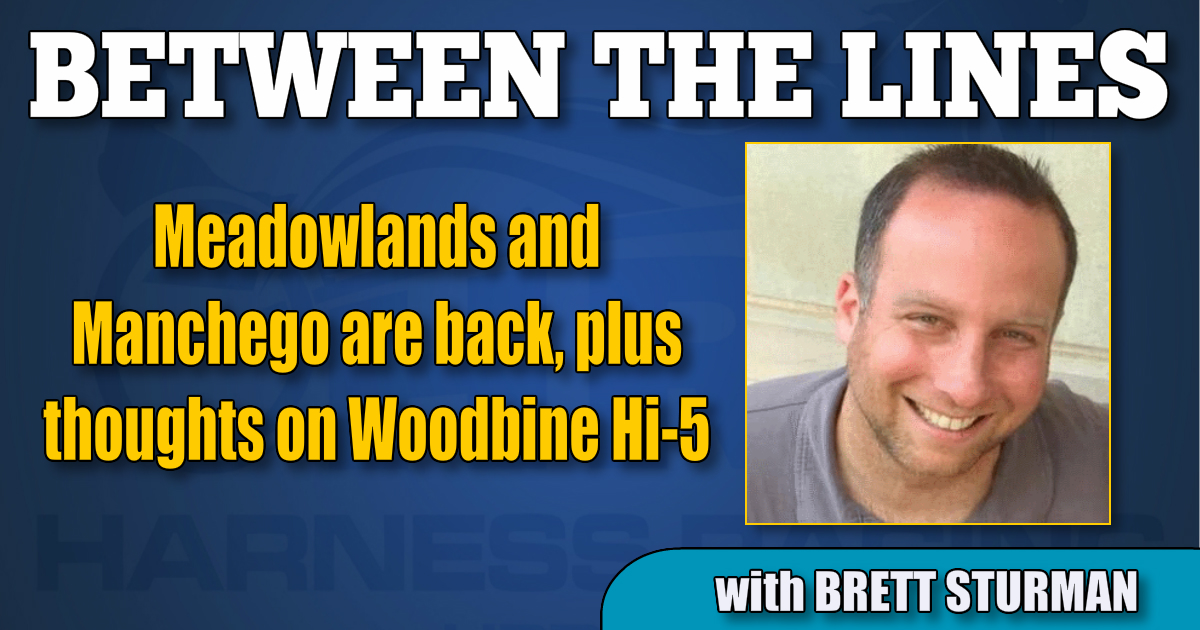 Meadowlands and Manchego are back, plus thoughts on Woodbine Hi-5
by Brett Sturman
Officially, harness racing resumed live racing with Scioto Downs kicking things off exactly two weeks ago. The string of $1 million handles coming out of that track as well as a $2 million handle coming out of their northern Ohio counterpart Northfield Park has been a feel-good story. With total respect to those and other tracks now resuming, it's the return of the Meadowlands that completes the feeling that harness racing is "back."
The Meadowlands' Championship Meet is normally underway by this point, and as racing returns for the first weekend in June there's obviously a different feel from when racing ceased in the middle of March. Not because of new protocols in place, but with Brian Sears and other top drivers returning in action as well as some of the sport's best horses, it won't take long to recognize summer racing at the Meadowlands as it should be.
You don't have to look long to find the headliner in all the entries this weekend. It comes tonight (June 5) at 7:15 p.m. with the first horse in the first race on the first night back, in the form of Manchego. Now 5, the Muscle Hill mare made some late noise in last year's Horse of the Year discussions as she was unquestionably the best horse in training throughout the second half of last year.
Making her first appearance since a gutsy try in last November's TVG Open, she qualified last Saturday impressively and was well within herself in a 1:53 mile. In that race, she distanced herself for new Swedish import Felicityshagwell S, as well as beating top trotting mare Phaetosive by over eight lengths.
Racing tonight against some top males, who like everyone else has been absent in recent months, what can we expect from now Manchego since last season?
"We actually never turned her out this year," said trainer Nancy Takter. "We just kept training her all through the winter on the straight track, and she filled out quite a bit. Her hind end and everything is a little bigger than it was last year, but she's also put on a lot of muscle."
With not having formally been turned out, the delay in racing did present some challenges for the trainer. "We were actually going to have her qualify the beginning of April, and we were getting ready to do that when all of this happened. So, we kind of had to pull an audible and just keep training. But she's been great; she's got a lot of training miles under her and she should be just fine," Takter said.
Manchego will get tested early against some of the best older male trotters. Horses such as Crystal Fashion and Lindy The Great are legitimate free-for-all trotters, but from the sound of it, racing against the boys will be consistent this year for Manchego.
"We don't have a lot of options right now to get her raced," said Takter. "I wanted to get her started before the Miss Versatility which is June 19 at the Meadowlands. So, it was either race her or qualify her again, so you might as well put her in a race if you're going to go that type of same mile in a qualifier anyway."
Takter said there are a number of free-for-all stakes against male rivals that could be on Manchego's schedule this year. Some of those races may potentially include the Arthur Cutler, the John Steele on Hambletonian Day, the Maple Leaf Trot and the Yonkers International, though the latter remains in question along with Yonkers, which as a whole is still in flux.
In addition to Manchego, Takter has been hard at work to get other horses from her barn qualified and back in-to-go. Last Saturday she qualified 17 at the Meadowlands and for the most part there hasn't been much deviation on how different horses have been impacted by the delay.
"The horses that were stakes horses last year – they haven't really been affected; it's just that they're getting started a little bit later in the season by a couple of weeks," said Takter. The trainer added that the ones most impacted were horses that didn't have the same foundation and otherwise would have gained some experience earlier in the year through non-winners of 1 and non-winners of 2 races.
"I feel that my horses have a really good foundation on them, have lots of training miles in them and I think we should be in pretty good shape overall. It's just a matter of getting going and getting to the races at this point," said Takter.
In Jackpot Hi-5, Woodbine is making the wrong call
Standardbred racing at Woodbine Mohawk Park gets many things right, but the track couldn't be any more wrong in its handling of horses returning from the interruption.
As bad a decision to allow horses to race without having to qualify is, it's been compounded by the fact that the track is having a mandatory payout on its pre-COVID-19 Jackpot Hi-5 wager. I don't agree with it, but I see the argument from the horsemen's side of wanting to get horses racing again and thus bypass qualifying even if it means some horses don't show a racing line for close to 90 days. But, what is the point of having the mandatory payout in that same circumstance?
The mandatory payout consists of a carryover amount of $236,338. This amount was accumulated on the backs of nightly horseplayers who at the time had current information at their disposal as they played the wager. Now, the track is giving its customer the poor option of either not betting because there is no up-to-date information on horses, or coax them into betting nonetheless as to not miss out on a wager with a potentially life-changing payout.
It really makes no sense, and it's clearly not the right thing to do. The track could have easily moved the mandatory payout to next week, giving handicappers at least one new line on a horse. For a track that usually gets it, this is a bad look.