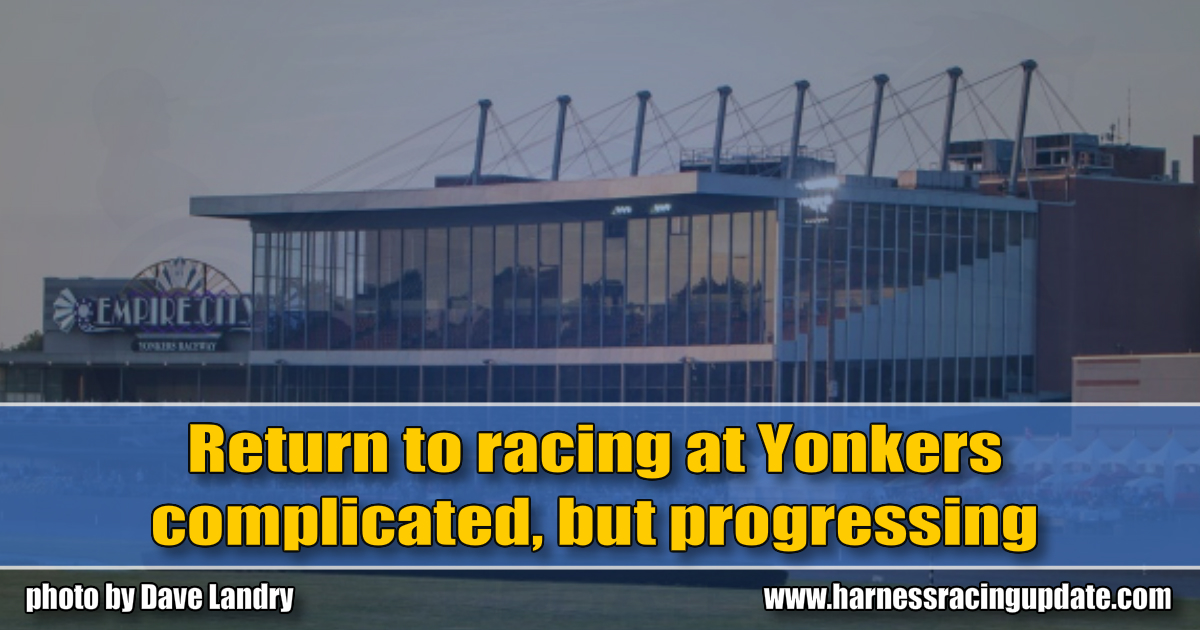 Return to racing at Yonkers complicated, but progressing
The same can't be said for Monticello, which Joe Faraldo called a tinderbox.
by Dave Briggs
Standardbred Owners Association of New York (SOA of NY) president Joe Faraldo said the re-opening of Yonkers Raceway could happen as soon as the second or third week of June, but is fraught with complications. Fortunately, the track's management, casino company MGM, has shown interest in returning to racing as soon as possible, Faraldo said.
"Yonkers is in a unique situation because Yonkers does not have a large, substantial horse population on site," Faraldo said. "So, the terms and conditions that are being given to (Yonkers) management to comply with are stricter and more difficult to comply with than any of the upstate tracks like Vernon, Tioga, Buffalo, Saratoga and Batavia. They have big barn areas and a horse population that's on site.
"(Yonkers has) ship ins, so the Gaming Commission is requiring that, basically, we quarantine people who are shipping in. Yonkers is required to make sure the people that are shipping in have tested for antibodies and have antibodies. If someone stayed home and never got sick and never contracted this disease, they aren't going to have any antibodies. They complied with the regulations, so they are making life difficult for us because we're in a unique situation.
"To MGM's credit, they have been trying to address all of these things. They are putting in faucets where you don't have to touch the handle. They are putting plastic shields up in the race office. They are setting out points where people who want to go in and claim a horse or have business in the race office, have to stand behind a shield. They are doing all these things. We've had conference calls with them (Friday) at 4 o'clock and the day before at 3 o'clock. I think they are actually acting in good faith to try to be in compliance with these really, really strict requirements, some of which I don't know how we're going to address. I think they are trying to do that and we're working with them to do exactly that."
Faraldo said there is between $4 million and $5 million in reserve in the Yonkers purse account, but he has to manage any re-opening of racing to avoid a shortfall before the track's casino re-opens. Faraldo estimates the casino won't re-open before July 1, "so I have to manage the purse account — along with the racetrack's okay — so that we don't run out of money and have to start and stop again, because the casino doesn't open. Then I have to worry about will the casino generate 50 per cent of its normal income, whatever restrictions will be set for them at first? Will it be 25 per cent or 75 per cent of their income? If they only have 50 per cent and I blow the $4-5 million because I want to race five days a week, like a jerk, then that means I'm going to have to shut down… or, when we get up and running, cut the purses by 50 per cent. Nobody wants to do that, so we're working together."
MONTICELLO A "TINDERBOX"
Faraldo said there's much less harmony between horsepeople and management at Monticello Raceway.
"The real tinderbox is going to be Monticello," Faraldo said. "The casino company has told us that they are not going to open unless the horsemen give up their share of on-track handle to the casino company, give up OTB revenue to the casino company, give up intrastate and interstate simulcasting share… My feeling is that it is very, very critical that we stand up against each and every one of these forces that's working against the health of this industry going forward. I cannot have a casino company dictating the terms and conditions under which racing is conducted in New York state that trumps the legislature, the contract, the governor. The casino company is basically saying that they are going to control racing. That's something that… whether you agree with me or disagree with me, I think on this level we're all in agreement. You cannot have that become the dynamic that drives this game because I guarantee you that this game is done.
"You cannot let — even under these (COVID-19) circumstances — these casino companies get a foot in the door and control racing because they'll kill it… I know there are extraordinary circumstances, but I don't want them to use these extraordinary circumstances to browbeat and bully the horsemen."