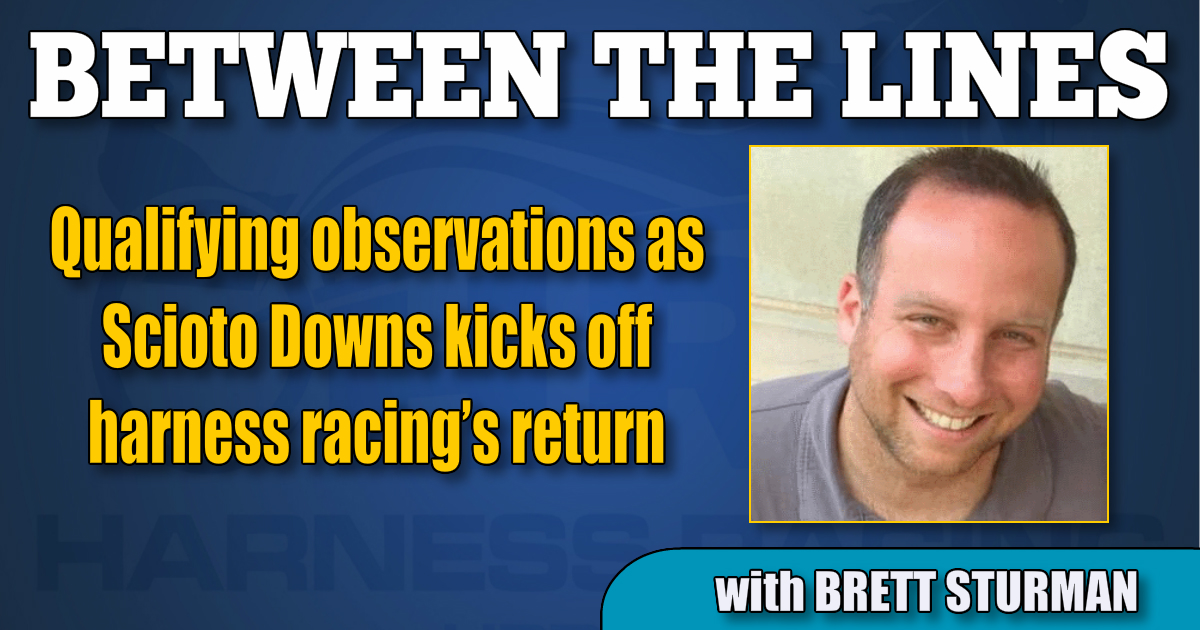 Qualifying observations as Scioto Downs kicks off harness racing's return
by Brett Sturman
For the first time in almost two months, live harness racing returns to North America on Friday. Scioto Downs in Ohio will play host to the first harness races in this part of the world since racing ceased at Cal Expo on the first day of April as part of measures taken globally to reduce the spread of COVID-19.
For a track that typically handles only a couple hundred thousand per race card, they'll have the harness racing spotlight to themselves upon return and the expectation is that they should be able to handle well above normal. For the bettor-friendly actions they're taking upon return, they deserve to.
Since the announcement that Ohio tracks were given the go ahead to resume racing operations (albeit without live fans, which is almost normal at most tracks anyway), Ohio has done everything you could possibly expect considering the number of horses that are gearing up ready to race.
Unlike other jurisdictions which have made the inexplicable decision to do away with return qualifiers (looking at you, AGCO) where horses could potentially return with up to six months off without racing as a big screw you to bettors, Ohio has taken the opposite approach.
Since last Saturday, Ohio has been having 16 and 17 race qualifying cards held at pari-mutuel and fair tracks across the state. This includes qualifiers at Scioto, Northfield, Lebanon and the hallowed Delaware County Fairgrounds. Not only that, but all the qualifiers have been streamed live by the Ohio Harness Horsemen's Association and then uploaded to view later so that anyone at any point can watch the races as a handicapping tool. Remarkably, the videos of the races that I watched in preparation for Friday's opening card were at quality levels better than many track simulcast feeds.
What's more is that Scioto was able to secure free programs for not only opening night, but for all three cards across the weekend. Between the complete transparency with not only conducting qualifiers for hundreds of horses in a short period, along with broadcasting all races while providing bettors with free handicapping materials as the first track running, it should entice those to give Scioto a look that otherwise normally wouldn't.
Qualifiers in of themselves are only one piece of the handicapping puzzle, but in this case it's the only sign of recent form that there is to go on. The overwhelming majority of horses on tonight's (May 22) card come off Scioto qualifiers from Saturday 5/16, so with that, here are some visual observations from those races for horses who race tonight:
Race 5 kicks off the Pick-5 (races 5 through 9) as a mid-upper level conditioned race for fillies and mares, and things appear completely up for grabs in the full 10-horse field. #9 JOHN'S BABY GIRL is one of the few that qualified on Monday as opposed to Saturday, but nevertheless couldn't have been more overloaded. She found herself buried in traffic on the rail around the final turn, had a wall of horses in front of her until late in the stretch before she burst through. The qualifying time wasn't as fast as others, but she left racing on a strong note in March; seems to be a possibility as a longshot candidate. #4 LET ME FLOW rallied to be a distant second in her qualifier against a strong winner but I think her finish was more a result of passing tired horses; I'd be inclined to pass if the price is short. Same comment could be said for WESTERN SECRET A in tonight's 4thrace. #8 ARRIVAL is another one that won slowly on paper, but visually was more impressive how she rolled off the back of a mare that had first run into the stretch for a measured win. #2 WESTSLUCKYCAM won in 1:51 at Northfield when last seen; let's see how she returns. Qualifier wasn't anything great, but it was won by the likely favorite in tonight's Fillies & Mares Open.
Speaking of which, race 6 is the fillies and mares open and the horse to beat is the one that had the fastest last quarter of any horse through the 16 qualifiers from last Saturday. In her qualifier, #3 ROSEMARY ROSE was forced wider than she would have liked to have been around the final turn losing momentum, but still gathered up enough steam to reel in a mare that had opened up four lengths after getting first run. Page did chase after her a bit to get home in that fast :26:4 closing quarter and he unsurprisingly sides here for Burke over the #5 SALLY FLETCHER A.
Race 7 is an optional claimer, where the 5-2 morning line favorite #2 I CHOOSE YOU is one of only two horses entered for the $20,000 claiming tag. I'm guessing she gets programmed favoritism off the fast 1:51 mile from Dover in March and the high percentage barn, but that qualifier was just fair. #4 PRINCESS ROUGAROU despite being caught by ROSEMARY ROSE (race 5) raced better, but when all is said and done it looks like the one to beat is #8 LIBBY'S IDEA. Post 8 shouldn't matter for Burke and Page. Crushed them in that qualifier and could clear to the lead in a matter of strides.
In race 10, the early 5-2 favorite is #5 NEVER SAY UNCLE who makes his first start since last July. Around this time last year, he was trotting 1:54 miles over this track which would obviously be good enough but now returns off a lone qualifier in 1:59 at Spring Garden. The next two contenders in wagering squared off last week in the same qualifier. In that race, TRUMPETS (#1 tonight) tipped from the pocket and had the entire length of the stretch to go by #4 MANNY L but couldn't do so. With Merriman aboard, seems like he'll be going right to the front again; the one to catch.
Race 11, the first half of the late double is another that looks wide open and some of the favorites look vulnerable if you base it solely on the qualifiers. #1 TELL ME LIKEITIS is the 2-1 favorite from the rail as she paced the fastest qualifier of these last week yet couldn't gain at all in the stretch despite a perfect trip. If anything, was lucky to somehow hold for second. Conversely, #4 ARTINI was involved in the slowest pacing qualifier last Saturday, but grinded his way first over from 6thstarting at the three-eight's and held together well. He's been off since December but Merriman driving gives confidence; possible longshot. #8 ROCK THE BABY had it all her own way in her qualifier this spot won't be as easy; probable play-against.
One other note that you might find of interest, a horse named SECTIONLINE BIGRY finished 5thin race 11 of his 5/16 qualifier. His chart from that race doesn't show it, but it looked to me like he broke stride briefly three different times around the final turn. If not for those miscues he almost certainly would have won in my opinion, and he's in-to-go on Saturday as the 7-2 second choice. The 5-2 favorite in that race is My Hero Ron. They were both in that same qualifier and SECTIONLINE BIGRY was better; we'll see what happens on Saturday and if he offers any value.