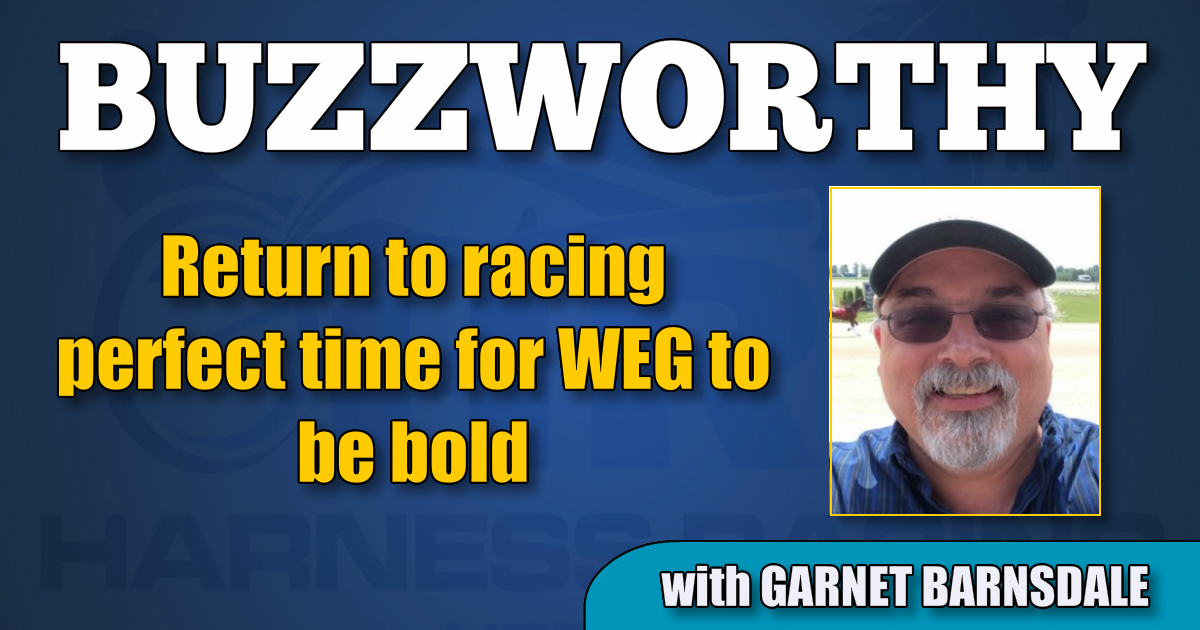 Return to racing perfect time for WEG to be bold
With Woodbine Mohawk Park likely to be the biggest harness track to reopen soon, rewarding bettors with special promotions would provide huge returns in terms of handle.
by Garnet Barnsdale
If you open it, they – bettors – will come, at least with online wagers. At this point, I don't doubt it for a second. Speaking for myself, by the time this column is published, I will have reached day 25 of no wagering. Not a dime. That will be the second-longest streak of the past 35 years for me, and by the time Woodbine Mohawk Park starts back up in early June, I am sure to set a record, beating the old standard of one month. Not unlike many that prefer betting on harness racing, I have my nose on the gate ready to blast off when action resumes.
This will be an unprecedented position of power for my local track Mohawk Park and the Woodbine Entertainment Group (WEG) because when they start racing again, there will likely only be standardbred competition from smaller tracks in Ohio and New York, with the Meadowlands expected to reopen about a week later and no racing in Pennsylvania for the foreseeable future, sadly. So, yes, the bettors will come. But should WEG be content with just throwing the doors open, or is there something that could be done to create an additional buzz leading up to the re-opening?
Here are some of my ideas on how a buzz could be created in advance of the first card of racing, which by all recent indications should happen on the first weekend in June.
Imagine for a second that the doors were going to be thrown open and throngs of fans allowed in and it was business as usual? Would there be giveaways, promotions and food specials? Based on past performances, I am going to suggest that would be about a 1-5 shot. Woodbine does a great job promoting their biggest events.
However, we know that racing is going to be conducted without on track fans due to COVID-19 regulations that have been established by the province of Ontario. Therefore, there won't be any money spent on giveaways or promotions at the track itself. So, how do you create a buzz? There will never be a bigger opportunity than this for Mohawk Park to dominate the wagering market, which is great for WEG and CEO Jim Lawson, who did an outstanding job during the pandemic providing regular updates on various media seemingly daily.
I'm not going to pretend to understand the machinations of the Canadian pari-mutuel system and if and how you could achieve some of these suggestions, but in a perfect world, I think that Mohawk Park could create a huge buzz that would likely lead to record handles if they took the wagering bull by the horns and tried any of these promotions:
If opening night is June 5, kick off the action by seeding the Jackpot High-5 with a starting pool of $50,000 which is sure to attract more than the typical action that night. Assuming there are no lone jackpot winners and the pool grows quickly, set a mandatory payout date of Saturday June 20 and line up the typical 12-horse field for that race. Assuming Mohawk Park is still the only major circuit racing that night, the action should be huge on that pool. One only needs to look at some of the massive pools tiny thoroughbred track Fonner Park in Nebraska created with mandatory payouts that included carryovers during the pandemic to this point to know how much handle can be attracted here.
Come right back on Saturday night with a 10 per cent takeout Pick 5 pool in the early Pick 5. Considering handle on this wager regularly attracts handle in the $100,000 range with a takeout of 15 per cent, imagine what it would handle at a one-time reduced takeout on a night with close to zero competition for the wagering dollar? Is $500,000 plus a bad guess? I don't think it is.
If there was ever a time to mass promote new account sign ups and offer as many incentives as possible, this is it. This one should be a no-brainer.
Either way, it'll be great to see familiar horses and drivers back in action and play the odd race while making some notes for future bets – which I strongly recommend as a valuable handicapping tool for at least the opening week of racing action.