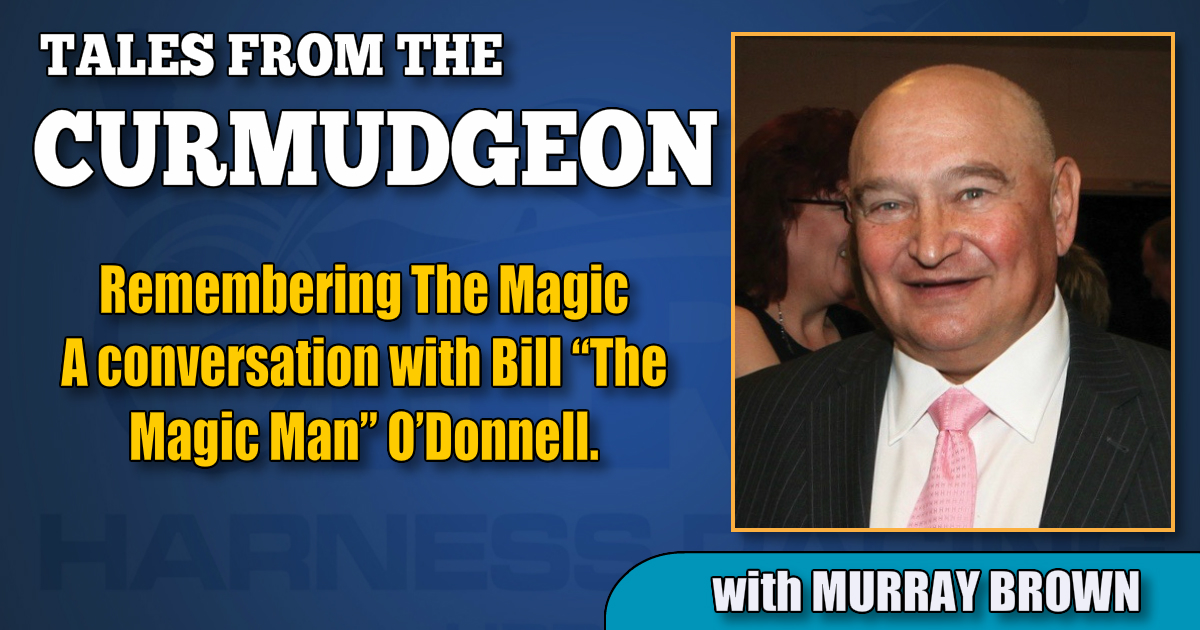 A conversation with Bill "The Magic Man" O'Donnell.
by Murray Brown
I had a chance to speak extensively with the man that I consider, for a stretch of maybe five to eight years, to be the greatest driver that ever put on a set of colors.
In the grand scheme of things, have there been better drivers than Bill O'Donnell over a longer period of time? John Campbell, Herve Filion, Michel Lachance and perhaps Brian Sears come to mind.
But for that proscribed period, to these fading eyes, there was nobody I've ever seen like the aptly named Magic Man.
In my conversation with him, O'Donnell referred to several people he has known through the years as being "part horse". That description applies equally to him.
He was able to think like a horse, act like a horse and perhaps most importantly show empathy to his "fellow horses."
I'm guessing that most of you reading this never got the chance to see Billy O weave his magic. What a show it was.
With the drivers of that era, there was Billy O, JC Superstar and when he came over from New York, Iron Mike Lachance. Everybody else trailed this trio.
Not that there weren't good, maybe even great drivers behind them, but these three stood out.
If you missed seeing them and the great horses they were privileged to drive, you missed a significant part of what was great in the history of our sport.
One could say it was mostly the horses. No doubt, that was the biggest part of it, but these three all came from fairly humble beginnings and worked hard to earn the privilege of driving these great horses.
To see them in action was a truly great treat. Sure the horses were the number one draw, but the drivers were not that far behind.
How did William O'Donnell reach that status?
His father was a part-time horseman who worked the coal mines on the night shift and trained his horses in the morning in Sydney Mines, Nova Scotia.
However, Bill says the truly outstanding horseman in the family was his uncle Art Porter who was his greatest teacher.
His uncle, although racing in what would be described as a small-time milieu, operated a first class operation.
Beginning at age 14, O'Donnell left Sydney Mines for Sackville Downs each summer to work for his uncle Art's stable of eight horses.
When Bill came to Art with a question relating to the horses, Porter would generally answer with a question of his own, "What would you do?" Bill would come up with a solution by himself with which Art might agree, disagree or amplify upon. This enabled Bill to think and figure things out himself — to think like a horse (my choice of words).
At the age of 17, he spent the summer in Ontario working for Ron Feagan. The next year he returned to Ontario to work for Bill Wellwood. O'Donnell returned home for a few years until the opportunity to work for Jim Doherty in New England came up.
A few years later, Doherty recommended O'Donnell to Pete and Iva Gray to be their trainer. Although O'Donnell didn't have a master plan of becoming a driver it just evolved because of a horse called Travelin Boy who was a top horse in New England. After a few years, more trainers were listing O'Donnell on horses to drive. O'Donnell moved to Saratoga in 1977 where things really changed for him as a driver. He then moved his small stable to the Meadowlands in 1980 where he raced for 21 years. In 1983, he gave up his stable and stuck to only catch driving.
"During my time there I was privileged to meet a lot of very good people who supported my career and became lifelong friends," O'Donnell said. "I was privileged to drive some of harness racing's greatest horses of that era. It was a long way from a small coal mining town in Nova Scotia to be a part of an industry that we all love."
Around the same time, another young Canadian named John Campbell gave up his stable and decided to concentrate solely on being a catch driver.
Thus began the O'Donnell/Campbell show.
Here are some of the questions I asked of O'Donnell during our conversation.
Who was the best pacer and the best trotter that first, you've ever seen and also driven?
"Niatross and Mack Lobell that I've seen; Nihilator and Valley Victory that I've driven.
Although, for a long eighth of a mile I never sat behind a horse as fast as Cambest."
Who of your contemporaries were the greatest trainers?
"In order I'd say Billy Haughton, Brett Pelling, Stanley Dancer, Steve Elliott and Bill Wellwood, Chuck Sylvester. I'd give Howard Beissinger and Lofty Bruce also eligible status."
Who was the toughest trainer you ever drove for?
"Lofty Bruce by far. Most anything less than a win was unacceptable. His instructions were: Leave, but not hard; Pull, but not early, hit him but not hard and win, by not by much."
Are today's drivers better than those in your day?
"Maybe, but not by much, if at all. There are likely more good ones than there were then. But great is great. The big difference is in the horses. Today's horses are just so much better. They are bigger, stronger, more athletic and can carry their speed for longer distance than horses of even 20 years ago."
Tell me about some of the owners you've dealt with.
"Most were great people, the first were Pete and Iva Gray who had the dam of Mountain Skipper, the Whebby Brothers, of course Lou Guida and Billy Haughton. Probably the one with who I had the longest relationship was Jack Rollins, a noted show business impressario who managed Woody Allen among many noted show business types. I believe he produced all of Allen's movies. He passed away just shortly after his 100th birthday."
Did you ever get nervous before a big race?
"Not really. Maybe early in my career. Probably the first time I jogged one at the age of 8. I never did much planning before a race. I kind of let the race come to me and reacted as things played out."
Who had the greatest influence on your career?
"In order, I think I'd say my uncle Art, WRH, Jimmy Doherty and Bill Wellwood."
What do you want written on your tombstone?
"He had compassion."
How bad do you think we will be hurt by this Covid 19 pandemic?
"The sooner we get to racing, the less we will be hurt. Some people have been hurt irreparably. As Al Libfeld said last week, the yearling sales will be hurt. It's a question of by how much."
Please let me know the first thing that comes to mind when you hear the following names.
Herve Filion —"Part Horse. Maybe mostly horse. They broke the mould after GOD made him."
John Campbell —"Smart. Would have been successful at anything he tried."
Ted Wing —"Extremely well prepared. Did all the little things. Perfectionist."
Jim Doherty —"Gentleman Jim, but not on the racetrack.
Mike Lachance —"Tough competitor. Good guy. Never complained."
Bill Wellwood —"Great friend. Great teacher. Part horse."
Jim Whelan —"We both have the same goals, but work differently to achieve them."
Jim Lawson —"Great to work with. Committed to world class racing."
Henri Filion —"Great horseman. Made great speed."
Jack Darling —"Great guy. Loves business and is a credit to it."
Trevor Ritchie —"Great driver. Usually there when it counted. Careful."
Bill Haughton —"Great eye for everything. There never has been, nor will there ever be anybody like him."
Stanley Dancer —"One of the tops ever. Perfectionist in everything."
Chuck Sylvester —"No better person anywhere. Great horseman. Extremely patient. Could tell you very early what you had."
Delvin Miller —"Great person. Great horseman. Contrary to many older people he embraced change."
Myron Bell —"Great friend and supporter of mine. Loves and knows the business."
John Simpson Sr. —"I loved listening to him. Doug Ackerman told me a great story about him. Someone asked him why Simpson was so successful. Doug said, 'That's easy, it's because he's the best damned horseman that ever lived.'"
* Author's Note- Stanley Dancer said the same thing to me.
Hakan Walner —"Europe's equivalent of Delvin Miller. Always looked ahead. A really good guy. If not for him American trotting would not have the European presence that it has."
Ron Waples —"Friends forever. Incredibly hard worker. Ran a big stable as well as anybody ever. Great money driver."
Keith Waples —"Canada's Harness Racing God. Now in his 90s and sharp as a tack. When reminiscing with most of the senior horseman it's seldom that Keith's name does not come up in a good way."
Fred Grant —"We've been friends since we were kids. Freddie worked for my dad in Nova Scotia."
* Author's Note— Fred told me a few stories about Bill. I'll tell one. There was a time when drivers, even catch drivers, warmed up their horses before races. At about the time when that was changing and the drivers were becoming one trick ponies — kibitzing in the drivers room until they went out to race — more and more of them didn't want to do it anymore. Fred, being from the old school had Impressive Lad in to race at The Meadowlands one night. He asked Billy if he would warm him up. "Sure," Billy said. "What race is he in?" Fred said he was in the eighth. Billy said, "Okay, I'll go with him after the seventh." It took me a little while to catch on as well.