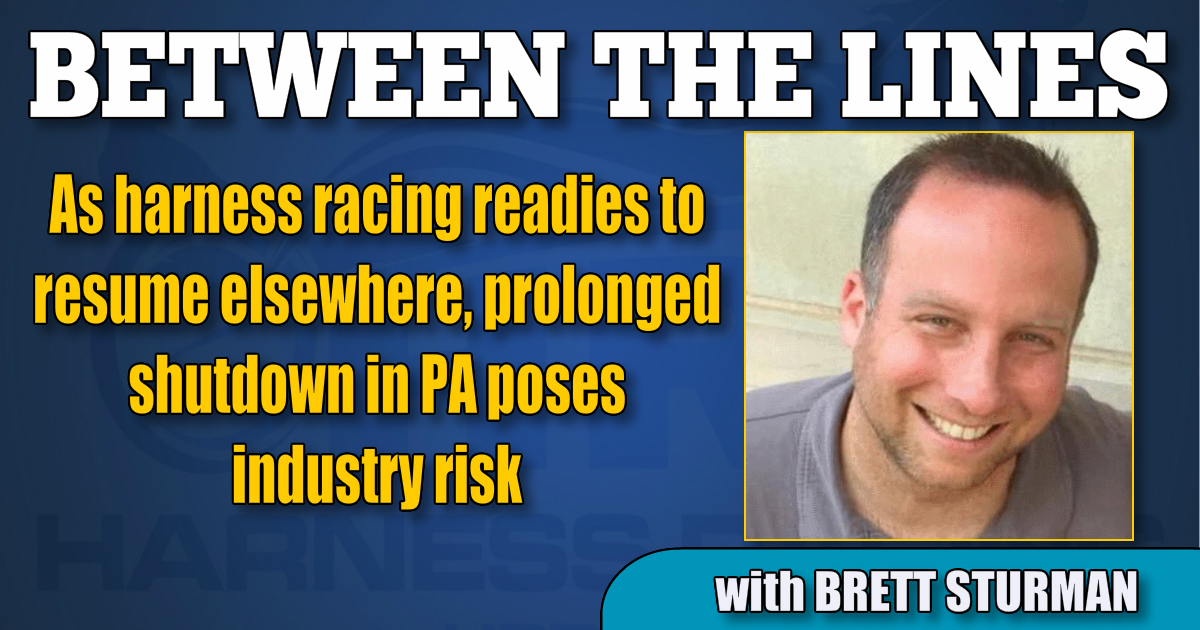 As harness racing readies to resume elsewhere, prolonged shutdown in PA poses industry risk
Mark Weaver shares his assessment of the news that racing isn't expected to return anytime soon in Pennsylvania.
by Brett Sturman
At the time I spoke with one of harness racing's largest owners one month ago, Mark Weaver lent his perspective into how long a shutdown of racing could be sustained. Now, into the middle of May, with an end in sight hard to see in Pennsylvania, a real threat to the current industry dynamic could be a reality.
Just in the past couple of days there have been breakthroughs in the industry. Announcements were made and dates were set on the resumption of racing in Ohio, Ontario and Indiana. Racing in Ohio will commence next Friday on May 22, Woodbine Mohawk will start back with live racing on June 6 and racing in Indiana will follow on June 16. Other states may announce openings shortly too, but one state that may not be going anywhere soon is Pennsylvania.
This week, PA governor Tom Wolf responded to the PA State Horse Racing Commission noting that while he appreciated the industry's detailed efforts to mitigate against COVID-19, that he doesn't envision horse racing in the state being able to open until counties that host racing are deemed to enter the "green" phase as part of the governor's coded matrix of COVID-19 severity. In the letter, Wolf considered horse racing to be judged similar as to when other entertainment such as casinos and theaters may be able to open.
Not one to be bashful, Weaver – a PA resident – shares a sense of frustration following a couple months of goodwill that most industry participants in the state now feel.
"I care about harness racing first and foremost, but I'm trying to be appreciative that a lot of people are in a similar situation no matter what industry they're in. And I'm sure everyone feels that their industry should be the exception to the rules and be allowed to go, but it's very disappointing when you see other jurisdictions that have raced non-stop through the peak time of the virus at a half dozen tracks in different parts of the country and to my knowledge there's been no outbreaks, nothing," said Weaver.
"For us to be grouped in with the casinos and movie theaters, that's hard to take. You see the other tracks and the precedent has been set. It's do-able. I'm pretty sure our horsemen's group came up with a plan that was good enough to be approved to race – obviously without spectators – and the governor basically just said no. People in the business, we know that he really hasn't been a friend to racing, but I don't know what our recourse is."
For those unfamiliar with the PA landscape, The Meadows resides in Washington County, a county that had recently been moved by the governor from the "red" phase of a full shutdown to the "yellow" phase of a lessening of some restrictions. With harness racing being an outdoor activity and one that be conducted without spectators unlike other sports, there was an assumption that The Meadows would be safe to resume.
To anyone looking at the matter with any degree of objectivity, it's hard to comprehend why racing at The Meadows can't yet resume.
"On any given day I would guess there are a couple hundred people on the backstretch exercising the horses and basically doing all the same things that would be required to race them," Weaver said. "Anybody that's been out there for the past couple of months, there's clearly a difference in the culture in how people conduct themselves and act and stay away from each other and I think that's going to be here maybe forever," Weaver said.
He was speaking only with regards to The Meadows since the other PA harness tracks, including Pocono and Philadelphia, don't have horses stabled on the grounds, but in all honesty the same questions as to why racing can't resume in those areas deserves to be called into question as well.
Here's the thing. If these harness tracks have to end up waiting until their counties change to "green" in order to race, they could be waiting for an awfully long time.
Some statistics as of May 14 taken from the PA department of health are as follows: In the county where The Meadows is, ("yellow") there have been a total of three deaths outside of nursing homes attributed to COVID-19. The number three is out of a population of 206,000. In Chester county ("red") where Harrah's Philadelphia is, there have been just 32 non-nursing home deaths out of a population of over a half-million. The numbers are equally similar for Luzerne county ("red") where Mohegan Sun at Pocono Downs is. There's actually a couple dozen counties that have either never had a single death or who have had one, and even those are still in "yellow." From that, it would seem that the industry's best bet is to convince the governor to consider spectator-less racing as a "yellow" function as it truly should be, rather than helplessly wait for a change to "green."
The troubling part for harness racing is that PA is the cornerstone of the industry as far as breeding goes and the longer that racing is closed, the greater the economic threat. The state is home to sires such as Captaintreacherous, Father Patrick, Greenshoe, as well as Weaver's Sweet Lou and Southwind Frank.
"I tell people all the time that PA is the best. The sire stakes program is awesome. We have the best sires, Hanover Shoe Farms, and we are kind of the lead as far as if you've got a good mare, you're going to breed to a PA stallion. And to me, this does jeopardize that. What's disappointing is that I'm not going to say it's by design, but I don't think Gov. Wolf would lose any sleep if he negatively impacted harness racing in Pennsylvania," Weaver said.
Through the natural extension of economic woes in the state's industry should they be prolonged, what impact could there be to Harrisburg sale coming up in the fall?
"It's going to have a huge impact, it's just a matter of how huge," said Weaver. "It's going to hurt. It's hard to put a number on it, but I'd guess on the highest end it would hurt maybe 20 per cent because you're still going to have people wanting the best of the best and many of the people in our industry do have deep pockets. But in the middle market there are a lot of people – and I consider myself right in that middle market – I could see it hurting 40-50 per cent."