by Victoria M. Howard
Growing up in the small town of Mt. Carroll, IL (pop. 2,000), harness racing was the exciting thing to go watch. If you were a member of the Schaut family, the 140-mile trip to Chicago to see a 10-race card of trotters and pacers was made frequently, fanning flames to one day become participants.
Richard and Evelyn Schaut were big harness racing fans and decided to take the plunge and buy a racehorse. They took partners on their first venture—a horse named Date Line.
The pacer had some success on the Illinois circuit at 3 and shortly after, achieved notoriety.
So it was no surprise that their three children, Nancy, Rick, and Trish were avid horse lovers and would make the exciting sport their life careers.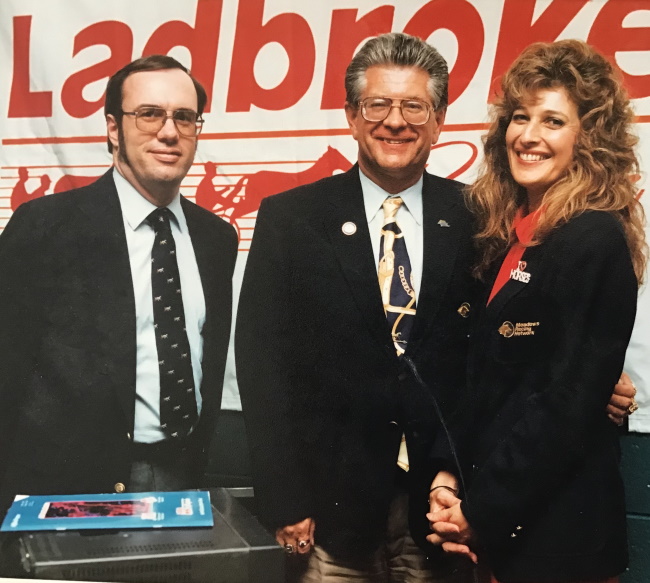 "My sister Nancy rode and showed horses," said Trish. "Brother Rick used to tie lines to our barbecue grill and 'play drive,' and on my 5th birthday I got a Shetland pony — my first of many 4-legged kids I would own in my life.
"My dad built a cart for my pony and Rick would drive him around. That was it — my brother was hooked and became a trainer/driver, operating a stable in Illinois, Michigan, Florida, Ohio and Indiana throughout his career."
He is still going.
"In my younger years, my first job was hanging numbers at Northville Downs," Trish said, "but my ambitions were much greater. In a series of wearing different hats, I was a secretary to the horseman's representative for the Michigan Harness Horsemen's Association and worked as a charter at Hazel Park and Jackson Raceway before setting my sights on publicizing in the sport I loved.
"My big break came when I convinced management at DRC/Wolverine Harness Raceway to hire me in the publicity office.
"I earned $12 a day working with Frank Schlessinger, and supplemented that by waitressing in the clubhouse at night. I submitted weekly stories to newspapers and trade publications to The Horseman and Fair World and Harness Horse magazines. Not long after I became the publicity director, handling all press related matters and writing articles."
This was the beginning of a full-blown career in the sport that would continue for decades.
"I heard of an opening in the PR department at Hollywood Park. I really wanted the job and after my persistent numerous phone calls, I was hired. I started to do television — doing features to help educate people, such as, 'No Shoes, No Horse: The art of shoeing a horse'; 'What qualifying races are and their purpose'; and 'The tattoo man: How a horse is identified.' I also co-hosted a weekly show on KCSM with announcer Robin Burns during the meet.
"From there I worked alongside Dick Feinberg for Lloyd Arnold in the publicity department at Los Alamitos. Arnold pushed me to exercise my knowledge and educate the public. My job there was to write a cover story for each night's racing program and interview horsemen with a human-interest slant. Never could a story appear two nights in a row.
"I wrote stories that were unique to harness programs. For example, a UC Davis student who worked with horses; a man who quit making draperies to make racing colors for the drivers; Suzanne Broughton — a major female figure in the California breeding business, and Jimmy Greene who ran the drivers' room, and literally more than a hundred others.
"Eventually, I did the circuit — Bay Meadows and Sacramento (Golden Bear Raceway) and even won a dash race in a Pacing Pony Race. What a thrill it was to get behind the gate and win."
After Trish left California, she moved to sunny Florida where she worked with brother Rick at Pompano Park Raceway.
"I got my trainers' license and that year a horse we purchased from Jerry Procino was sent to our stable. He was a pacing gelding named Fly Fly Jules who was named 'Claimer of the Year' at Pompano Park.
"Jules had been racing at The Meadowlands and needed some rehabilitation. He was and always will be one of my all-time favorites for he was a determined, gritty racehorse.
"Although Jules gave me lots of thrills, I also got my first heartbreak when he was sent out east and never heard from again. That's the part of the business I hate."
After leaving Florida, Trish went to work for Frank DeFrancis at Freestate Raceway, writing articles, operating the new Racetrack System known as RTS, working in the program department and chartered at night.
"I worked at Freestate for two summer meets. DeFrancis was one of the best bosses I ever worked for — even though he intimidated most people. I remember one time talking to him about publicity. He pointed to several magazines which had his photo on the cover and said, 'I AM the publicity!
"My next move was back home to Illinois where I worked at both Sportsman Park and Maywood Park. I did double duty, working with Phil Langley in the race office, and the 'Clerk of Course' at Sportsman Park.
"At Maywood I was in the press box doing publicity and television. At night I did interviews in the winner's circle with the regulars and special guests like the great Herve Filion. I also handicapped and shared live televised tidbits called 'Maywood Alerts' with track announcer Tony Salvaro."
Trish then moved on to Pennsylvania joining The Meadows Network that was operated by Ladbrokes. She got a job as the color person and on-air talent, interviewing owners, trainers, and pioneers in the field of live racing broadcast from the paddock.
"At The Meadows we did a weekly show called 'Racing Wire-To-Wire.' The broadcast team consisted of inimitable announcer, Roger Huston, and the late handicapping guru, Jerry Ernstein. We also did simulcast shows from Delaware, Ohio, for the Little Brown Jug."
In 1996, Trish left The Meadows for perhaps her best assignment yet — marrying PGA professional golfer and horse owner Bruce Soulsby, whom she met while interviewing him on The Meadows Racing Network. She re-located to Powel, OH and gave birth to son J.R. who is now 21 and a student at Kent State.
"Harness racing has been a very important part of my life and the horses are my 'other' children — starting with my first horse, a homebred named Performer who was born in 1974," Trish said.
"The first horse I purchased in partnership with my husband (before marrying him) was a colt I picked out named Helsa's Sam. My brother Rick broke him in Florida and he won the Preview series for 2-year-olds before shipping to Ohio.
"When Helsa's Sam came back to Florida he captured the Artsplace Race at Pompano Park. Sam was definitely one of my heart horses."
That brings us to her all-time favorite.
"In 2014, Rick picked out and bid on a horse at the Ohio Select Sale — a $7,500 trotting bred yearling named ATC Queenie. I can't say enough good things about what she is like on and off the track. Her statistics speak for itself.
"Her record is 1:53 on a 5/8's and 1:53.2 on a ½, and she's earned $410,000 for us. My brother and I share custody of her. He has her during the winter months in Florida and I am her caretaker 7 days a week in the Steck Stable at Delaware County Fairgrounds in Ohio during the spring/summer months.
"Today, my husband, Bruce and I have so many nice horses — most notably former Levy stakes winner Domethatagain, who is now standing stud at Abby Stables in Ohio. (His first crop will be racing this year)
"We also co-own 4-year-old trotting filly and Hambletonian Oaks winner Whendovescry, Grand Swan Ostro Hanover, Springsteen, Air Force Hanover, Smalltownthrowdown, and others."