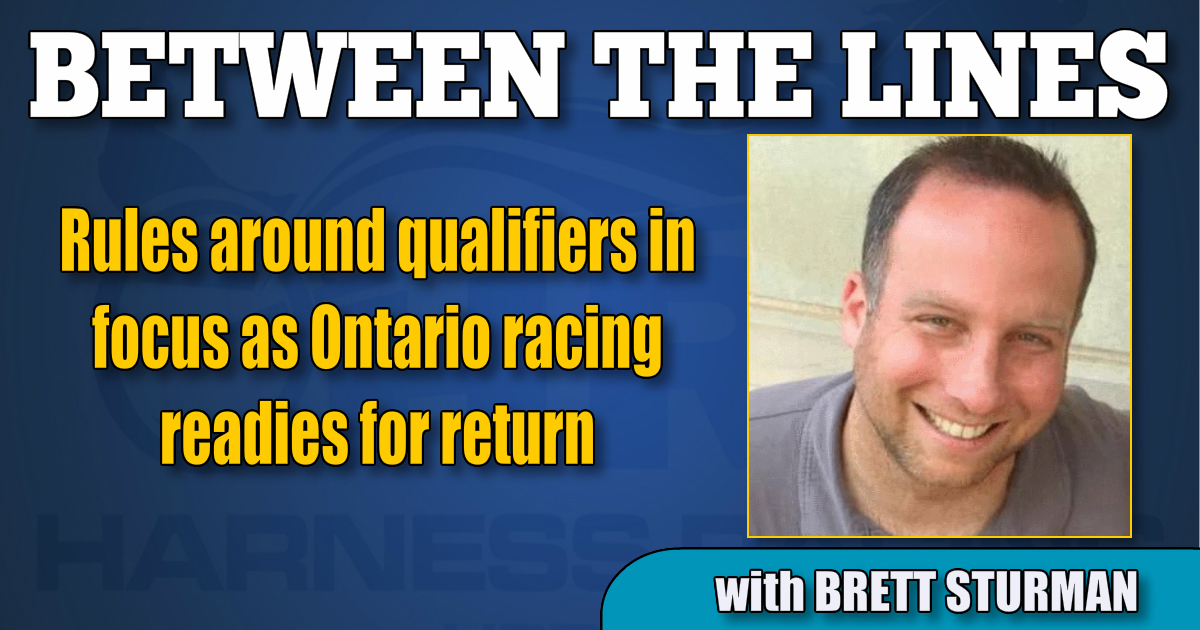 Rules around qualifiers in focus as Ontario racing readies for return
by Brett Sturman
Earlier this week, Woodbine CEO Jim Lawson was quoted in the Toronto Sun as estimating being six weeks away to resuming live racing, as the Alcohol and Gaming Commission of Ontario (AGCO) is currently working through strict conditions to race under should the Provincial Declaration of Emergency soon be lifted. That article was in the context of thoroughbred racing at Woodbine Racetrack, but Lawson separately confirmed for me via email that the (optimistic) six-week estimation would apply to standardbreds, as well.
In adjusting the Rules of Racing to accommodate the new guidelines that Woodbine Mohawk would surely have to function under in order to race, one of those matters is working through the process of qualifiers on the standardbred side, said Lawson.
Earlier this week, I was fortunate enough to have been included in one of those discussions with AGCO officials and other racing experts; this meeting being primarily designed to discuss matters from a bettor's perspective in advance of getting back to racing in Ontario. The forefront of the discussions was about qualifiers.
Under the unique conditions we're currently operating in, and as a starting point, I feel that qualifiers must be a certainty. There can be different forms that these qualifiers take on, but there has to be at least a single charted line for a horse upon returning to race.
Different scenarios around qualifiers are currently being explored by various tracks based on what's in the best interest of the horses and the wagering public. One of those scenarios floats the proposal that as long as a horse shows a charted line as of a certain date from before racing was suspended, then those horses would be allowed to race without having to first qualify.
The main issue with that idea is that by the time racing finally does resume, all horses will have stale dates of, at the very least, two months since their last race. Normally, you would see horses qualify after 30 days and in some cases, you see it go longer than that and it's usually no issue. But once days between races goes over 60 – and in all likelihood it's going to go much further than that for a majority of horses – there's no way one could realistically expect bettors to bet on races having no idea of the form that horses are in. Form from February or March will mean nothing come June or July.
Though just because a qualifier is essential, I wouldn't think that it necessarily has to be on the premises of a racetrack. One possibility that was brought up in the AGCO meeting was that of accepting horses who qualify at either a farm or training center.
This seems like a completely reasonable and feasible alternative where there will be thousands of horses qualifying and it may be not be conducive for all of those to go to the tracks to qualify. Provided there are the appropriate officials in place, there wouldn't be any issue at all. Each year, for example, Gaitway Farms in New Jersey plays host to baby races and qualifiers throughout June and those races are recorded as a qualifying line the same way it would be as if they qualified down the street at Freehold.
It's also no different than qualifiers recorded at the South Florida Trotting Center or Spring Garden Ranch in Florida. And in the cases of both those Florida training centers; videos of those qualifiers complete with announcers can be seen online – that's more than you can say for qualifiers at a lot of racetracks.
In either case – whether the qualifier takes place at a track or training center – it comes down to giving the horseplayer something to go on. It's may not be practical to get multiple qualifiers into the horses, and even if it were it still may not matter that much. Most bettors will give some credence to a qualifier and in some cases they can be useful, but in this situation there's only so much information that can be gained from a single qualifying race over the course of multiple months. Qualifying a single time, wherever it may be, will at least show that a horse can safely get around the track and may point to a certain level of fitness.
Even with a return qualifier, handle may decrease at first, as there will still be too much of an unknown when the horses first return. Harness horses are accustomed to racing nearly every week and it'll take some time to reassess form following months off. But while handle may be down a little off a single qualifier, it would be off far more if there were no qualifiers at all.
In the spirit of arming horseplayers with as much information as possible, another topic discussed was that of trainers providing information on their horse at time of entry. This is something that the Meadowlands has implemented at times, where a trainer's comment on how its horse is training is published in the track program.
I realize this may be burdensome for trainers and even if their comments are an honest assessment the horse still may not race accordingly, but any additional piece of information would be welcomed. And it wouldn't have to be forever, either. Perhaps, it's information provided just for the first start or two as horses begin to put back together their past performance lines.
As the industry inches closer to racing again, new safety measures for all the participants will be in place when it does. This should include qualifiers, for both the safety of the horses and those who wager on them.