The son of noted Ontario trainer John Bax said he is relishing the opportunity to share his passion with his young children.
by Chris Lomon
It's a scene very familiar to Matt Bax.
Over the last five or so weeks, nearly every day, 5-year-old Elliott Bax and her 2-year-old brother Tucker can be found helping tend to the over two dozen standardbreds stationed at Bax Stables in Campbellville, ON.
For their trainer/driver/owner father, it's always a welcome sight, something that's taken on even more meaning in the midst of the COVID-19 pandemic.
"My wife is working from home, so I take the kids down to the barn every morn and they run around," said Bax. "Their job is to feed the horses carrots and fill the water pails. I guess watching them is the only other thing, along with watching Netflix, that we're doing these days.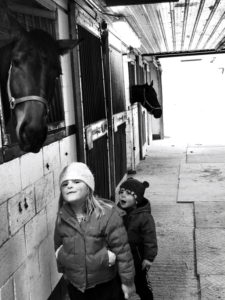 "If you are looking for a silver lining with everything going on in the world today, it would be getting to spend more time with my family. Normally, the kids would be at school or in daycare. Having them running around the farm is pretty special. It might be stressful times right now, but down the road, you'll look back and realize you had that time and those moments with them."
Just like the times Bax had with his father, John, one of standardbred racing's most decorated trainers.
Seeing his own children enjoying their time in the barn prompted the younger Bax to reminisce about his own childhood experiences around the horses.
"I remember always running around the barn and doing little jobs around there. I always loved it because I was big into sports. Any rep sport there was – whether it was football, hockey or soccer – I was always on the road. I wasn't around a whole lot when I was younger, but the aspect of racing being competitive, all the planning involved, in both the short and long term, it really resonated with me. I think this is a sport that draws in people who are competitive at heart. A lot of sports people love racing."
Even when he was somewhat removed from horse racing, Bax's affinity for it never waned.
Not even during his university days in Guelph, ON.
"My parents told me they didn't care what I did in life, but I had to get a piece of paper. Whether it was a one-year diploma, a four-year degree, I had to get that piece of paper to fall back on. I scraped my way into university and through university, and got my degree. But I remember the moment I wanted to be in racing. I was in my first year and it was March break. I was looking forward to getting home because it was the time you start training the 2-year-olds. They're starting to go faster, and the weather – it's those nice days in the spring. And I remember getting to the farm and thinking, 'What's that smell?' It was the smell of sweat on the horses. And I thought, 'That reminds me of home and I miss that.' Then I realized that this life was for me. It was a part of me more than I realized."
In 2010, Bax officially joined the standardbred world as a trainer. Two years later, he was in the driver's seat. Soon after, he added owner to his resume.
Ten years after it all began, the 30-year-old is still feeling right at home in a sport that continues to fuel his competitive spirit.
"You get each horse ready the best way you can. It's like you're a coach of a hockey team and you know the tendencies of each individual. Every one is different and you're trying to get the best out of each one. They're not all superstars, but they all have a role to play. If you can get the most value out of them, at the end of the day, the owners will be happy, you'll have a little fun, and then you get back out there again."
While he hasn't won his version of the Stanley Cup yet, Bax has still celebrated some memorable winning moments over his career.
One of the biggest highlights, to date, came in the form of a $1,500 purchase.
"I bought a horse, Balance Squared, off my uncle. She broke a couple of jog carts on him… she was a very difficult horse. She was a double cross of Balanced Image. We broke her for my uncle and sent her back to him. She was some of my first drives. I drove her twice and sold her for a little more money, and bought a yearling the next year with my dad. Her name is Random Majority and she won her first three Grassroots races. She made a little money and we sold her."
With the money they earned from the sale, father and son purchased a share in Hemi Seelster.
The now 8-year-old trotting son of Holiday Road, bred by Seelster Farms (Lucan, ON), has recorded 33 career wins from 138 starts.
In 2015, Hemi Seelster pulled off a 76-1 shocker in the final of the Goodtimes Stakes, crossing the wire nearly two lengths in front in a time of 1:54.
The win was even more special considering John Bax trained and sometimes drove the horse the stake was named after, a Hall of Fame trotter — inducted into the Canadian Horse Racing Hall of Fame in 2004 — who won 50 of 244 starts, along with 130 top-three finishes, and earned over $2 million.
"I feel like that victory by Hemi Seelster is a very special one, considering what Goodtimes has meant to our family, and to my dad. That was a big moment for me."
There have also been challenging times.
One that quickly comes to Bax's mind is something, he noted, that would likely be found at the top, or near the top, of almost every standardbred horseperson's list.
"It's a tough business and it requires seven days a week of your time. Before I got into it, I thought, 'I have a degree and I can become an accountant.' There's nothing wrong with being an accountant, but I would say it's an easier way of life than having to work every day of the week. But my wife reminds me that I enjoy this sport and when I go to work, it doesn't feel like a job. A lot of people don't a get a crack at their in their lifetime, so I'm happy I gave it a shot."
Amid the struggles of current times, including racing being put on pause at numerous racetracks across North America, Bax remains unwavering in his passion for horses and horse racing.
When live racing does get the green light, he'll be ready. So, too, will the string of horses at Bax Stables.
"We have 26 in training in now, 17 of them are 2-year-olds, eight are 3-year-olds, and there's one older horse. Most of the barn, it's been business as usual, especially with the 2-year-olds. Dad and I sat down and talked about what we should be aiming the 3-year-olds for. We had a couple ready and we had a couple more than ready to qualify. We said that we'll manage them each differently, and try to have them all ready for May 1, but I'm thinking that might be the second week of May now. That's tough part, trying to know when to have them ready. You kind of have to have them close.
"We have a really nice group of younger horses. A lot of the owners went out and spent some big money. There are some very nice individuals. (Owner/breeders) Al Libfeld and Marvin Katz bought a Kadabra filly, Up And Ready, for $300,000 at Lexington. She's not very nice to deal with in the barn or the paddock, but she's all business on the track. When a horse comes at her on the track, she pins her ears and she goes. When they have that competitive instinct – that's something you can't tell when they're at the sale – it's something that puts a smile on your face when you get them home."
For now, Bax's biggest smile will be reserved for the moments spent with his young children around the barn.
"It's something you never tire of seeing, and it's something that brings you back to your younger days. It's a nice connection to have."